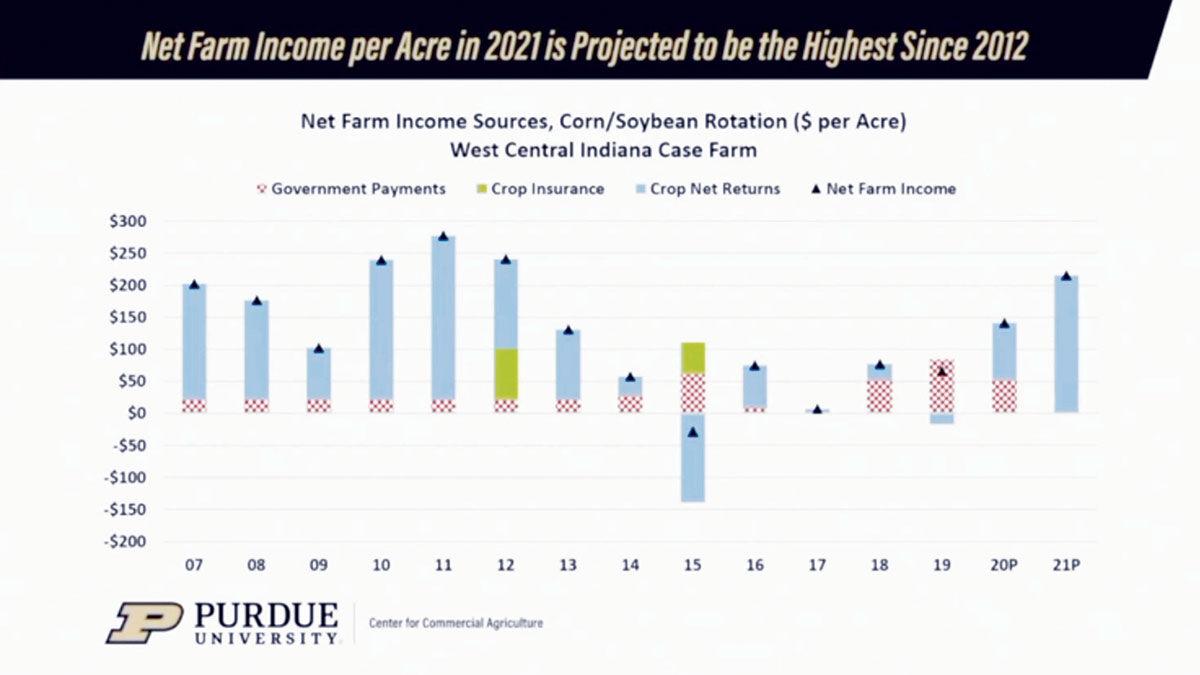 Farmers should take advantage of higher prices, but analysts at Commodity Classic said not to relax and celebrate just yet as there is still work to be done to claim those prices.
At the virtual event, held in early March, Michael Langemeier, professor and associate director at the Center for Commercial Agriculture at Purdue University, said net farm income for the upcoming year is projected to be the highest since 2012. He pegged farm income at more than $200 per acre for net crop returns for a west central Indiana farm.
"2021 looks like it's going to be a pretty good year, and we want to protect those margins as much as possible," he said.
Adding to the positivity, he said breakeven prices have been lower than in some recent years, with $4 per bushel for corn and just under $10 for soybeans being Langemeier's projected marks.
While high prices will help farmers bring in an income, the markets have stayed on a "roller coaster ride" in recent weeks, said Matt Bennet, a marketing consultant with Channel Seed.
"We are hitting some headwinds and are stalling out a bit," Bennett said. "You have to feed a bull every day. Everyone knows acreage could be robust this year and production could be big. Without a weather issue, we could be at some levels now that we might not see for a while."
With prices seemingly at a high, Bennett said this is a good chance to take advantage of forward selling the 2021 crop, but it can be different for every operation.
"I'm probably going to be about 30-40% at least for sales," Bennett said. "As far as being aggressive, you might want to keep flexibility in 2021 because I don't want to be in a situation where I'm oversold. If there are weather issues, there could be wildly higher prices."
He also said having some call options available will be helpful for farmers.
"If I'm selling to an elevator — or my preference would be to an HTA where I'm not quantifying basis because it could be wild this year — I want to be covering with a call," he said.
"But I don't want to give up too much of a good thing. For producers getting aggressive, calls should be purchased."
While many are rightfully excited about prices at the moment, the rise in prices over the past six months serves as a cautionary tale for just how quickly things can change, either for better or worse.
"Farmers cannot control their macro environment, and if farmers ignore the economic environment, they will get rolled by economic waves," Jason Henderson, senior associate dean and director of Extension at Purdue University, said. "Last year, the big wave was COVID and the depths of the COVID recession was hit in the summer of 2020."
Henderson said the economic recovery is going better than expected overall since the downturn that hit much of the world, and it should get back to normal rates of growth soon. With that, he expects short-term interest rates to stay low, which can be good for farmers who are asset rich and cash poor. Low rates also boost land values, making debt cheap.