CHAMPAIGN, Ill. — Organic farming is a dirty business, and Francis Thicke wants to keep it that way.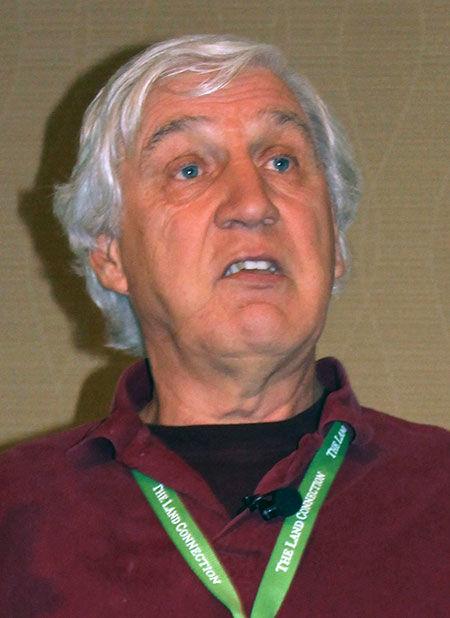 He is among farmers who object to what they consider a weakening of standards, including farming methods in which certified organic produce is grown in containers, and livestock is raised in virtual confinement instead of on pasture.
"Most organic farmers are following the spirit and letter of the law. It's a small minority that are causing the problems," said Thicke, an Iowa organic dairy producer. "In some cases, they have the majority of an organic product, so they're having a huge effect."
Thicke, who spoke at the Organic Grain Conference Feb. 14 in Champaign, has deep roots in the industry. He began farming organically in 1975. A soil scientist with the USDA, he served on the National Organics Standards Board and now chairs the policy committee of the Organic Farmers Association.
"Organics is a $50 billion-a-year industry. That means that the big players want to get in," he said. "And it seems like they don't just want a piece of the pie — they want the whole pie, in many cases."
Many large producers are growing crops indoors, in containers. An example is California-based Driscoll's, one of the nation's largest suppliers of conventional and organic berries. Thicke claims the company grows some of its produce hydroponically.
"Since 2010, Driscoll's has put in 1,000 acres of hydroponic berries," he said. "They are not growing plants in a bucket of water. But it really is hydroponics."
The company disputes Thicke's claim.
"Driscoll's does not grow hydroponic, aquaponic or aeroponic crops," spokeswoman Emily Nauseda told IFT. "Containerized production is not the same production system as hydroponics, which is a water-based production system. Driscoll's organic supply comes from both certified in-ground production and certified containerized production."
The National Organics Board in 2010 recommended that hydroponics or aquaponics not be certified as organic growing systems.
"But this is one of the cases where the USDA did not put that recommendation in place," Thicke said.
Thicke said he believes that soil is at the heart of organic farming. Language in industry standards define it as an ecologically balanced system.
"There are a lot of references to soil," he said. "Hydroponics don't fit that. Soil fertility is mentioned many times in regulations."
Thicke claims organic livestock production also sometimes runs awry of industry standards. He said that while regulations require animals to have access to the outdoors, some large organic poultry farms are de facto CAFOs (concentrated animal feeding operations).
"These are big chicken factories, with as many as 10,000 chickens," he said. "They have a few doors, but the chickens never really find he doors."
He said he believes the movement to return to soil-based organic farming is growing.
"There is broad support to bring these organic standards back to where they should be," Thicke said.