COLUMBIA, Mo. — At the annual University of Missouri crop management conference in Columbia, MU Extension agronomist Peter Scharf spoke about the connections among erosion, cover crops and yield.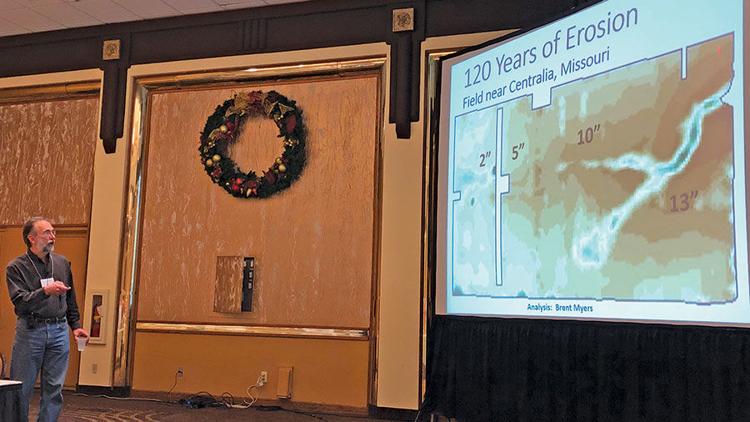 Scharf has been searching for ways to protect soil from erosion after growing soybeans, which doesn't leave as much residue in fields as corn.
"That's our Achilles heel, that's our No. 1 problem in protecting soil from erosion," he says.
Scharf says soybeans are Missouri's top grain crop, so the industry needs to find a way to address this.
"It's a really good fit of us," he says of soybeans. "But how do we do it, and how do we keep our soil?"
Losing topsoil is a huge issue for agriculture, Scharf says. He cited studies showing that on average, central Missouri has lost 8 inches of topsoil depth over the farming history of the land. He says every inch of topsoil lost costs 3 bushels per acre in yield potential. Also, eroded soils are more susceptible to compaction issues.
Scharf says 8 inches of lost topsoil cost producers in a corn-soybean rotation on average $73 per acre per year.
And the real problem is what happens if growers lose the rest of the topsoil.
"We've lost about half of our topsoil," he says. "If we lose the other half, we're in trouble."
Cover crops provide part of the answer to reducing erosion, and Scharf says rye is a popular option because it is relatively cheap and effective.
"I'm thinking a lot about protecting our soil, and that's why I'm thinking about rye," he says.
The problem is studies show rye costs producers yield on corn the following year. It also lowers soybean yields the year after, although not as much as corn.
Looking at 45 Missouri experiments, conducted by six different researchers, Scharf says that on average, growing rye as a cover crop before growing corn caused a 12-bushel penalty in corn yield. He says the data provided a 99.97 percent certainty the yield penalty is real.
Scharf says Illinois test data showed a 20-bushel yield penalty, and Iowa's nutrient loss reduction plan estimates a 6 percent corn yield penalty after growing rye. He says that if Iowa can grow 200-bushel corn, that also shows a 12-bushel penalty.
They could not overcome the yield penalty with different types of nitrogen management, including in-furrow, extra sidedress and color-based nitrogen rate diagnosis, Scharf says. However, the extra sidedress and color-based nitrogen rate diagnosis did reduce the yield penalty somewhat.
Scharf specializes in nitrogen, and he says it's important to get it right on corn to keep the after-rye yield penalty as low as possible.
"Doing a good job with nitrogen is very important," he says. "Even though we couldn't overcome it with nitrogen, it's really going to hurt you if you do a poor job with nitrogen."
Corn lacking nitrogen after growing rye as a cover crop showed a more than 30-bushel yield decline in studies.
The search continues for an effective cover crop that doesn't lower cash crop yields.
"I thought rye was the answer," Scharf says. "Now I don't think rye is the answer, but we've got to have an answer. I'd hoped it was rye, now I'm looking for something else."
He says oat and crimson clover could be options, but there needs to be more data on yield impact and whether they provide enough protection from erosion.
"I want to protect the soil all the way to June 20," Scharf says. "The corn will canopy by then."
There are still some studies on ways to use rye without the yield penalty. Scharf says researchers don't fully know why rye hurts corn yield. But there are some theories, including that rye residue ties up nitrogen, pathogens in rye, the possibility it releases poisonous chemicals, and cooling effects on soil temperature. Corn grows slower in a cooler field.
One option could be letting natural winter annuals, like henbit, grow as a cover crop, Scharf says. It's free and it kills itself, although there are concerns it could make soybean cyst nematode a bigger problem. He says there needs to be more study on natural cover crop options.
Scharf says this issue needs to be addressed as soon as possible.
"I think we need to find out how to protect the soil without taking the yield hit," he says. "We need to do that fast."