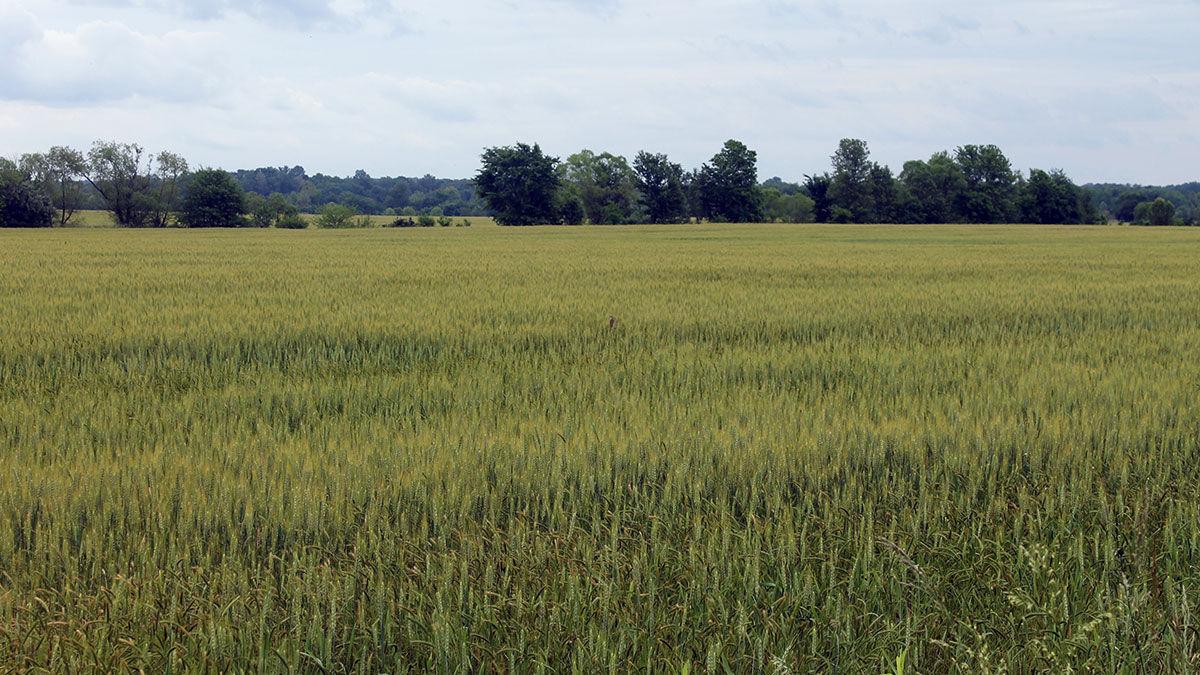 The key to high-yielding wheat is standability. And timely fertilizer application. And use of fungicides. And planting population.
The list goes on and on, of course, and that may be the point. There is no one thing that growers can do to improve yields. Illinois yield contest winners David Justison, Dan Rubin and Dale Wehmeyer discussed their strategies at the recent Illinois Wheat Association's Double Crop Forum, held virtually.
Justison, Rubin and Wehmeyer yielded 127, 125 and 111 bushels per acre, respectively, in the 2020 double-crop season, with wheat planted in the fall of 2019. Justison considers the seedbed a vital component.
"One of the most important things when planting wheat is to get an even spread of the residue of the previous crop," he said.
He no longer plants wheat after corn, only after soybeans. After fertilization, he turbo-tills the fields and then seeds the wheat with a John Deere air drill.
"That drill is equipped with scales that automatically sets the seeding rate that I select," Justison said. "I also have hydraulic down pressure. I've seen tremendous stands."
Rubin also plants only following soybeans. He uses early to mid Group 3 varieties to ensure the beans are harvested and the stubble has time to dry before planting.
"We disk it, then run an accelerator over it ahead of the drill, so we till it two times," he said. "We get as good a seedbed as we possibly can."
Wehmeyer puts much emphasis on getting good stands. That means getting the seed where it needs to be. He uses a mix of no-till and conventional tillage.
"We make an assumption that we get every seed in the ground," he said. "If I plant 1.5 million (seeds per acre) I want it in the ground, not lying on residue. I want it at least 1 inch in the ground."
The growers practice a variety of fertilization techniques. Rubin, who grows much of his wheat for seed production, gets a good start by applying nitrogen, potassium and potash in the fall, then making two passes in the spring.
"Seed companies have zero tolerance for rye," he said. "That's the safest way I know to keep the rye out. On the first of February we evaluate the stand and apply nitrogen. If we have a good, thick stand we'll put less on our first pass. If it's a thinner stand, we'll increase the rate."
Wehmeyer splits 120 pounds of nitrogen based on tiller counts. The amount of the second spring application depends on if there has been a wet spell and how much nitrogen he believes is available.
"If we think we've lost some nitrogen, we'll put on a full load of 130 to 135 pounds," he said. "Our theory is that you should see a little bit of lodging out there. If you don't have any lodging, you've probably short-changed that crop somewhere along the line."
Justison makes a single application of nitrogen and uses urea rather than liquid nitrogen. He applies 120 to 150 pounds, depending on the seed variety and how the crop looks.
One critical element to a successful double-crop operation is dealing with the stubble left following wheat harvest.
"When you're dealing with 100- to 120-bushel wheat, that creates a challenge, because you have a lot of straw to deal with, and the straw is green and tough," Rubin said. "We have a combine and premium chopper-spreader, and that helps a lot. We've tried burning it and we've had excellent results. Getting the beans timely in the stand is so important."
A dairy farmer near Wehmeyer takes wheat straw from his acreage, but it requires a day for drying before baling.
All agreed that choosing the best variety is critical to double- crop success. Justison studies variety tests from the University of Kentucky, the University of Missouri and the University of Illinois.
Rubin plants two varieties for seed production. He usually avoids early-maturing wheat because he doesn't want the wheat getting too big in the fall. His most important traits are yield and scab resistance.
"You need to know the variety you're planting," said Wehmeyer, who also owns a seed company. "We want to know the weaknesses so we can mitigate that risk factor."