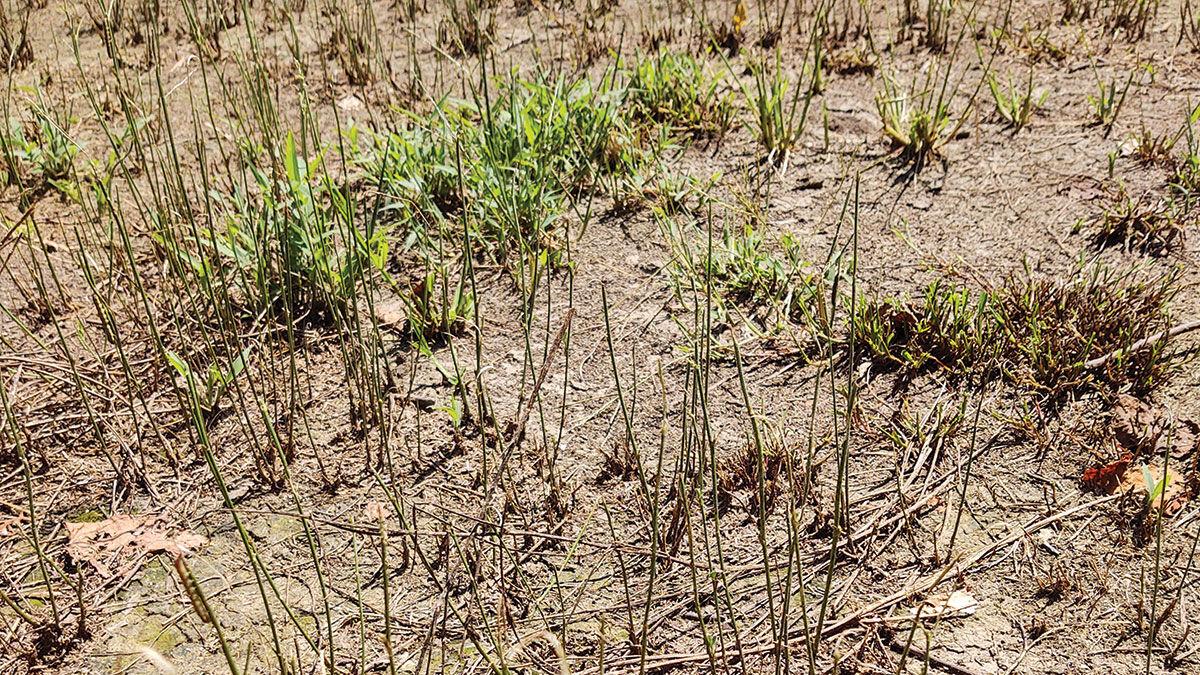 Fall armyworms have been on the attack in southern Illinois with an intensity not seen in a long time.
"It's a pretty serious year," said University of Illinois entomologist Nick Seiter. "It's a big year and it's a little earlier than usual. Several of my colleagues in the southern U.S. said it was the worst they'd ever seen it. It's earlier and in higher numbers than they've seen in the past. It's a migratory pest, so it's flying in from the South. It comes in this wave, and now it's our turn in Illinois."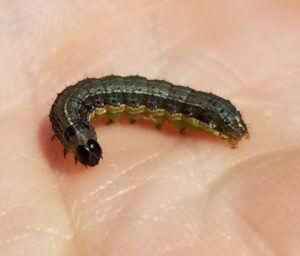 That means the pests — which arrive in great numbers and can virtually mow down a field — pose a threat not only to pastures but also double-crop soybeans following wheat. Those fields that were planted late are in particular peril.
"They're at epidemic proportions this year," said Terry Wyciskalla, a crop consultant based in Jefferson County. "It's bad."
He has heard of infestations as far north as northeastern Missouri.
"There are also reports coming out of southern Indiana and Kentucky that they're facing round two of armyworm in double-crop soybeans," Wyciskalla said.
Syngenta agronomist Seth Adams is dealing with the problem in a big way.
"They're as bad as I've ever seen them," said Adams, who covers southern Illinois for the company. "They're running through pasture fields. They are also, in places, starting to run into the double-crop soybeans. They'd rather be in grass, but once the grass is depleted they get into the soybeans."
Seiter explained that two species of armyworm can affect Illinois farms. The so-called "true" armyworm visits heading wheat in the spring. It does well on grasses and alfalfa but not on soybeans.
Fall armyworms can cause more damage on more crops.
"It does very well on grasses, corn, small grains and alfalfa but also has the potential to do pretty significant damage to double-crop soybeans, especially if it is in vegetative growth," he said. "Also, it can cause problems in weedy fields."
Armyworms are an ear-feeding pest in corn, but rarely pose a problem in cornfields, Seiter said. The same cannot be said for soybeans.
"We don't see a lot in corn, and damage tends to be fairly minor," he said. "I think the reason is they have other things to feed on. In soybean fields they're feeding on the leaves; they don't really do damage to the pods."
Teresa Steckler, a University of Illinois beef educator stationed at the Dixon Springs Agricultural Center, said several cattlemen said at a recent field day that armyworms were eating their sudangrass fields.
"One day they were fine and two days later they were not worth harvesting," Steckler said.
Wyciskalla said he was in a hay field on Aug. 22 and saw armyworms ranging in size from a quarter-inch to 1.75 inches. Hay and cattle producers are advised to avoid the pests however possible.
"The problem is not going to go away. The hay and pasture guys probably need to cut their hay soon, get it off the field and spray," he said. "Cutting the hay will not kill the armyworms. We're going to have to use chemical control measures."
Seiter said the economic threshold for treatment in double-crop soybeans post-bloom beans is about 20% defoliation, or up to two worms per square foot.
"You're also looking for it in forage," he said. "If you cut it early and salvage it, that would be the way to go. In pastures it's a judgment call."
Indeed, the problem may persist.
"They say there's a possibility of one more wave," Adams said. "They can be around until it frosts or freezes. I'd call the retailer and ask what they recommend on soybeans, as far as what the label (allows). You can still spray, of course, if you need a level you think may hurt your yield."