Ken Beck has carefully planned what to plant on the majority of his 1,800 acres this spring, but he also gave himself a little leeway. On 240 acres of his LaSalle County land, he will make the verdict of corn or soybeans just before the seed goes into the ground — depending on weather and market signals.
Last year taught him the best plans can be scuttled — more than once
After planting corn, a portion of the field was drowned out. So he planted soybeans on it and lost the crop to floods again.
Not one to give up, his wife Charli suggested they plant pumpkins. You guessed it.
"Most of them made it to maturity. We were going to start selective harvest in a couple of days. It flooded again," Beck said.
But he was able to wade out into the standing water and harvest pumpkins, mostly to give away.
"You never give up. We weren't going to lose the pumpkins," said the Mendota-area farmer.
Planting considerations
As soon as he was out of the field last year, Beck started to plan for this one. He pairs harvest observations with field maps, past experience and data.
USDA estimates for 2020 corn acreage came in higher than expected in a report released March 31. The USDA's Prospective Plantings report showed national corn acreage at 96.99 million acres, up from the 94.328 million average estimate and considerably higher than the 89.70 million acres last year.
The national soybean estimate at 83.51 million acres is down from the average estimate of 84.86 million but up substantially from 76.10 million acres planted last year.
The all-wheat estimate is 44.655 million acres, right on the average of estimates and down from last year's 45.158 million acres.
Farmers planning to plant corn this year will consider the decline in demand for ethanol as COVID-19 pandemic travel restrictions have drastically reduced demand for gasoline and ethanol — one of the biggest markets for U.S. corn.
In a March 26 University of Illinois farmdoc daily article, ag economists Scott Irwin and Todd Hubbs estimated reduction in ethanol use for the three months of March, April and May to be a total of 741 million gallons, or 256 million bushels, "an amount that would materially increase corn ending stocks for the 2019/20 marketing year."
Going forward
Beck hasn't let the potential impact of the coronavirus or the 2019 wet-year hangover stop him from getting ready for planting. Instead, it motivates him to try to start early, he said.
He has chosen some earlier corn varieties this year because he wants to get them planted and harvested in a timely manner to avoid harvesting wet corn and paying high drying fees this year. He said he expects the cost for propane to be lower this year than last and will contract ahead.
In 2019, he finished planting on June 17. He made sure he got every acre planted to earn payments from the government's Market Facilitation Program. The program really helped the bottom line last year, he said.
Stagnant farm incomes lessen his spring optimism a little this year. At age 59, he came through the '80s and experienced some of the good years in the early 2010s with corn selling at $5 to $7/bu. Farmers paid down debt and built equity in those good years.
"We're burning up equity again," he said.
Farmers have been "psychologically beat up, but are physically ready to ride into the new planting season. Everything is bridled and saddled. The nervous energy is here. We are in a good place," Beck said.
Almost 150 miles south in Cass County, David Wessel was almost ready to start field work, expecting to start applying anhydrous at the beginning of April and start planting about April 10 if conditions are right.
In this unstable year, he and his father, Jerry Wessel, who is planting his 63rd consecutive crop at age 79, are planning to stick with their usual 50-50 ratio of corn and soybeans.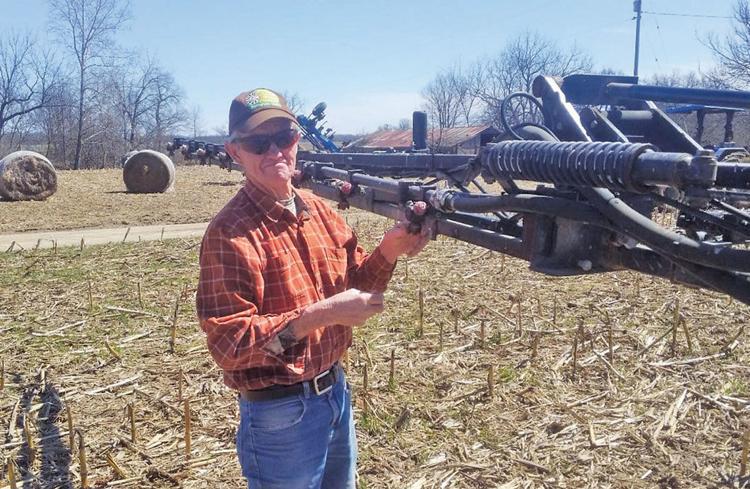 They also grow a little wheat and hay and have a 75-head cattle herd. One sign of spring's approach is the cattle enjoying the pasture and requiring less hay.
Last year, at J&D Wessel Farm, the goal was just to get the crop planted because of the wet spring. They finished planting on June 15. The later planting date and challenging season brought yields down about 20% compared to their three-year average, he estimates.
It was still better than they expected considering the weather.
"I felt pretty fortunate," Wessel said.
This year, he is considering adding some treatments to boost yields. As a 2016 Illinois Soybean Association Yield Challenge winner, he harvested 98.77 bu./acre of soybeans.
"I haven't beat it yet," he said.
To get those kinds of results, Wessel tries something new almost every year, but last year with the wet spring, he wasn't able to. This year he's hoping to try foliar products and adjust some practices to strive for high yields.
"We're pretty optimistic moving forward," he said.