NORMAL, Ill. — Farmers have always been involved in hybrid testing to help make a better seed and find the traits they need. They field test good ideas and products before they are ready to be commercialized.
Sean Kinsella, a McLean County farmer, is one of the "groundbreakers" — as Bayer calls them — in testing new traits. The trait he was assigned last year turned out to be ideal for his farm.
In the trial for NemaStrike Technology on his farm near Normal, Ill., corn using the new seed treatment yielded 22 bu./acre more than fields without it. The success was, in part, because his test field has a particular problem with nematodes — present twice as high as the yield-hit threshold.
"We were at ground zero for nematodes," Kinsella said, noting that he'll be using Nema-Strike this year.
He grows 560 acres of corn and soybeans in 50-50 rotation. He has been a no-tiller for 13 years, used cover crops for eight years and plants his corn in 20-inch rows.
Groundbreaking trials
Kinsella doesn't hesitate to try new things. His father, James, is an innovator as well, being one of the first farms to test RoundUp Ready technology when it was introduced in the mid-1990s.
"Change is the only way to get better," he said.
He figures if he farms for 40 years, rotating crops, he will grow corn on some fields 20 times in his life. Each crop will be 5 percent of his lifetime achievement, and he intends to do it right.
Farmers like Kinsella are chosen by companies to get grower feedback on new traits a company is developing.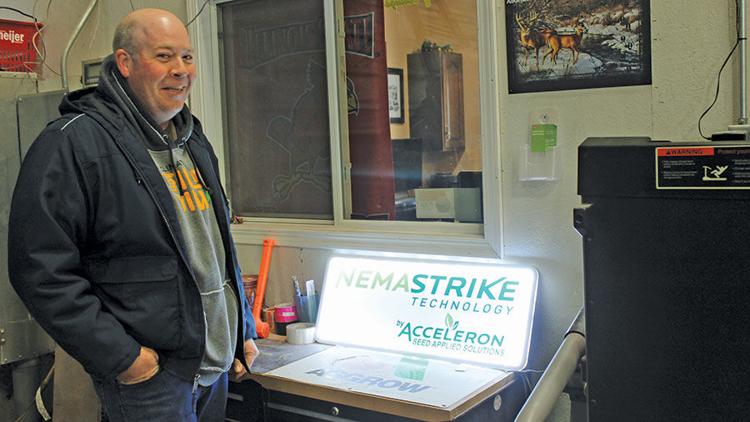 Another product that Bayer called on farmers to try a few years ago was a drought-tolerant trait for soybeans, said Matthew Brandt, Bayer regional agronomy lead for Illinois. It often takes eight to 10 years to identify the gene or chemistry for a new product such as this. Farmer-testers are called upon in the last one or two years or development.
The farmers do a stewarded trial before the product becomes commercial, Brandt said.
The U.S. is often ahead of the ball in getting approval, so there's time for some farmers to get a first look while waiting for global approval that would allow a product to be commercialized, he said. Such was the case with NemaStrike, which farmers tested in 2017 and 2018 before the product was available commercially this year.
"Growers were given treated and untreated seed, were able to see the differences and give feedback," Brandt said.
New herbicides being tested now will likely be in the hands of Bayer's "groundbreaker" farmers this year, with hopes of full approval in 2020, Brandt said.
Some growers have a hands-off attitude toward new products — telling companies "once you have it figured out, come to me." Others, like Kinsella, are interested in trying new things, said Brandt.
"They are willing to slow down and do the research the right way," he said. They take the time and give thoughtful feedback from the trial.
Field testing
Kinsella said he doesn't know yet if he will be needed to do any such work this year. Certain locations and field conditions are chosen for certain trials. Since only a few growers are needed in specific areas, a select group of farmers get the opportunity. They are often recommended by seed dealers, Brandt said.
In addition to the farmers testing trait development, other growers are involved in the genetic side by growing different hybrids and varieties of corn and soybeans. This testing is done much more rapidly. Bayer alone will likely introduce four to eight new products in Illinois this year, Brandt said.
A test farm's management practices up to a year in advance is considered. The field tests are full length, not 100 to 200 feet like some trials. It allows the company to get a better idea how the corn would do across a whole field that has different soil types and more variability.
The crop may be tested on tougher clay soil, an area that has too much moisture or on land that is unique in other ways. These trials give a company another chance of discovering any unexpected results.
Information off the combine — with an overlay of the season's weather conditions — often help agronomists understand why a variety did what it did.
"The last thing we want on a farmer's field is a surprise," Brandt said.
Just another "click"
Marcus Hess, who farms in McDonough and Fulton counties in west central Illinois, said that, for him, it is natural to be a field test cooperator.
"We always are earlier adapters of technology," he said.
Hess has been involved with both seed varieties and population trials. He said it requires attention to detail all season. A farmer may do all the spaying, fertility and other steps right, but if the location is not calibrated correctly with GPS, there is no information to use.
Hess said it isn't a big leap for him to manage a crop closely and collect data because he already farms using the technology on his equipment. He has a multi-hybrid planter. Because all of his fields are grown by prescription, Hess says about 95 percent of the work is done. All he needs to participate in a study "is just a couple of extra clicks."
He likes the opportunity to see a "new hybrid" that he might have been reluctant to try. If he grows a "rock star" he may wish he'd grown more. Hess also said he likes the benefit of talking to the agronomists and hearing updates at grower meetings.
The sixth-generation farmer, in his seventh year of farming, said he is a believer that with more information, you can do a better job.
"I rarely say 'no' when they propose something," Hess said.