CHATSWORTH, Ill. — It is easy to see different cover crop termination dates in John Wilken's soybean fields in Livingston County. The fields of soybeans where the cereal rye was terminated latest are by far the shortest.
Little evidence of the cover crop can be found on the field where the cereal rye was terminated on April 28, but the amount of residue increases where it was terminated on May 13 and May 19.
"My take-away is that six days (between May 13 and May 19) really made a big difference," Wilken said.
The older crop had tough stems that are still on the ground in late July.
Despite the visual differences in the beans, "we still need the yields to know the results," Wilken said.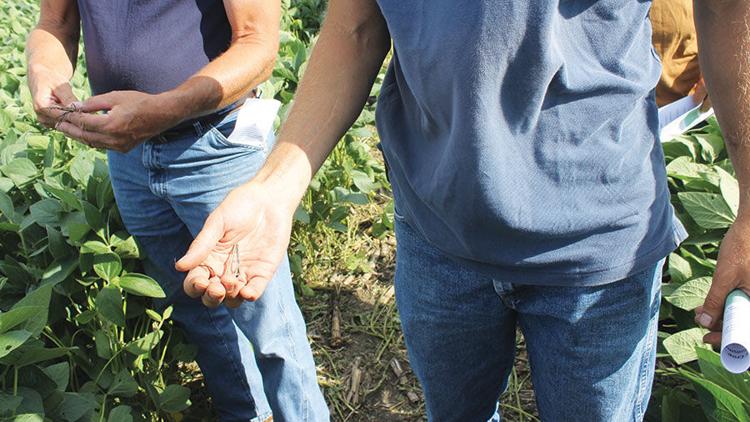 This is the third year Wilken has planted cereal rye into no-till corn and followed it with beans. Planting dates and termination dates are among the research trials that Wilken is working on as part of the Vermilion Headwaters projects aimed at improving soil health and water quality.
He hosted a field day in July on his Livingston County Farm near Chatsworth to let farmers in on the research.
At the event, the American Farmland Trust, Soil Health Partnership, Livingston and Ford County Soil and Water Conservation Districts, Livingston County Farm Bureau and NRCS explained cost-sharing programs and other assistance farmers can take advantage of when trying new practices on their farms.
The group of farmers and experts also exchanged ideas about what they have learned and what they would like to see more research on.
Effects on SCN?
University of Illinois crop scientist Nathan Kleczewski said there has been considerable research on the benefits of cover crops — from the best regional varieties regionally, to soil health, water quality and weed control. But he would like to see more about how cover crops might affect soybean cyst nematodes (SCN), a plant parasite that can cause considerable yield loss.
"It's a chronic problem," Kleczewski said.
There isn't a cure, but the goal is to reduce the population enough that it doesn't reduce yields and cut profits.
For years, SCN has been fought with crop rotation and resistant varieties, but popular SCN-resistant varieties are becoming less effective. More seed treatments are being introduced, and there is interest in whether other practices, including cover crops, could be managed in a way to help control SCN, Kleczewski said.
Among the advantages of growing cover crops is that they are not host plants to the soybean cyst nematodes, he said. In limited research, some of the studies show cereal rye and annual rye has been the most effective in breaking the SCN cycle. But much of the work has been done in greenhouses, which doesn't account for conditions on large fields.
"There's a lot we need to learn about cover crops and SCN management," Kleczewski said.
So far the research has been limited and variable. He is hoping to get funding and support to do more.