ST. LOUIS — Add grain elevator operators to those in the world of agriculture facing uncertainty. Storage issues are among many factors affecting the industry.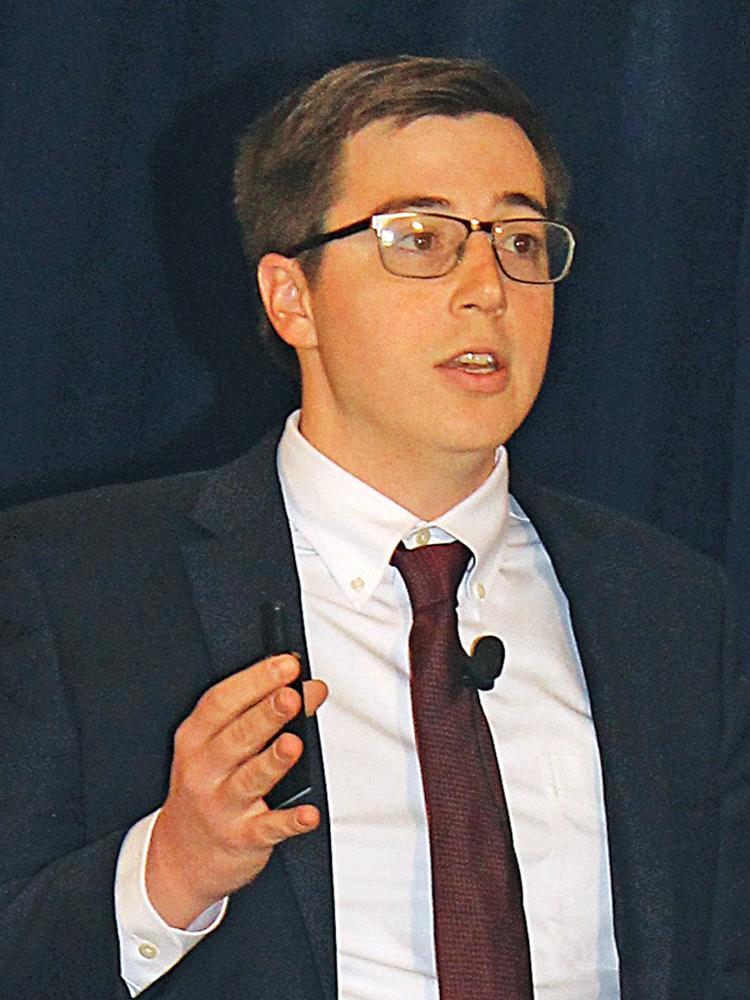 Will Secor, an economist with CoBank's Knowledge Exchange, spoke here at a National Feed and Grain Association conference Dec. 2-4 aimed at country elevators.
"One question I have is how much of this is on-farm and how much is off-farm," Secor said. "Where does grain stay after harvest? Because of these low prices, a lot of farmers are trying to keep as much as possible on the farm, whether that's opening up bins they haven't used in several years — or even decades — or using Ag-Bags.
"The question is what's the quality coming out — especially soybeans, which take a little more management on the storage side."
He noted that in some places, such as Iowa, shortage was reduced this year. He credited that to the switch from soybeans to corn and to weather conditions.
Other issues facing the industry include the on-again, off-again tariff battle between the U.S. and China, and problems with transporting grain domestically. The administration has signaled a 90-day period during which it will reconsider setting certain tariffs.
"The optimist in me says 'great.' Soybean prices are going to climb higher, and maybe we can get something done in 90 days that resolves this trade dispute," Secor said. "It's probably somewhere in between.
"My greatest worry is that the U.S. isn't focused on just the dollars and trade deficit. It's about intellectual property rights, fair trade practices and other things. If it is, I don't see how 90 days are going to resolve those long-term structural changes they need to make.
"Total export commitments for U.S. sales to China are down. Other countries have stepped in to buy soybeans from the U.S., but it's not nearly as much as China does. The silver lining is we're building relationships with buyers in Southeast Asia, but that really is just a silver lining. They're going to be growing, but they're not China."
Elevators may be stuck with soybeans for a while because of the uncertainty in the marketplace.
"Most elevators see that there is a margin to be made on those beans. The question is 'when and what kind of margin are they going to get?' with trade being a key factor," Secor said. "Since we have that 90-day trade truce, that's going to be the big thing to look out for. Are we going to be able to get some soybeans out?"
Truck transportation could be a growing concern. A shortage of truck drivers looms.
"The wild card going forward is going to be the cost and availability of truck drivers," Secor said. "Getting someone in a truck who can reliably haul grain is going to be an issue.
"I thought earlier this year, when the economy was humming along, we'd see some transportation price increases, with some potential service issues. I just haven't been seeing much of that. When you look at these prices compared to multi-year averages, they're pretty much in line with those."
Secor added that barge service has been a question mark due to high water and river infrastructure concerns.
The general state of the farm economy is another factor that could impact elevators. The debt-to-income ratio is an economic measure that concerns Secor. He sees a parallel in the period of 2015 to 2018 with the late 1970s, which presaged the farm crisis of the '80s.
"When you see it above 4 to 5 percent, that starts to become a red flag," he said. "They're really starting to track each other. For the first time in over a decade, farm delinquencies are higher than all loans the banks have on their books. What's positive about it is, it's still really low. But it is starting to show the difference between the farm economy and the rest of the economy. Bankruptcies are increasing. What that has for the elevator is increasing our risk. When is the farmer going to sell?"