So far, so good.
Illinois farmers are reporting favorable growing conditions for the most part, as weather conditions have contributed to growth.
Brian Duncan, who farms in northern Illinois near Polo in Ogle County, is among them.
"Things up here have really shaped up," he said. "We've had three to four inches of rain over the last two weeks, which has been a game changer for us. That came gentle, with several half-inch episodes.
"We have really perked up this crop. I would say we're near 100% excellent on pure stands. We had some unevenness with emergence because of the cold spring."
Jack McCormick, who farms near Ellis Grove in Randolph County, is also pleased with his crops.
"Things are looking pretty good, especially this morning after we got that rain overnight," he said on July 16. "For the most part, corn is all tasseled out in my area, and pollination is already done. Early beans are doing well; they're a couple feet tall.
"Double-crop beans look pretty good too. They're small, but we got a great stand. They're a couple inches tall. I hope this rain will bring them through the wheat stubble."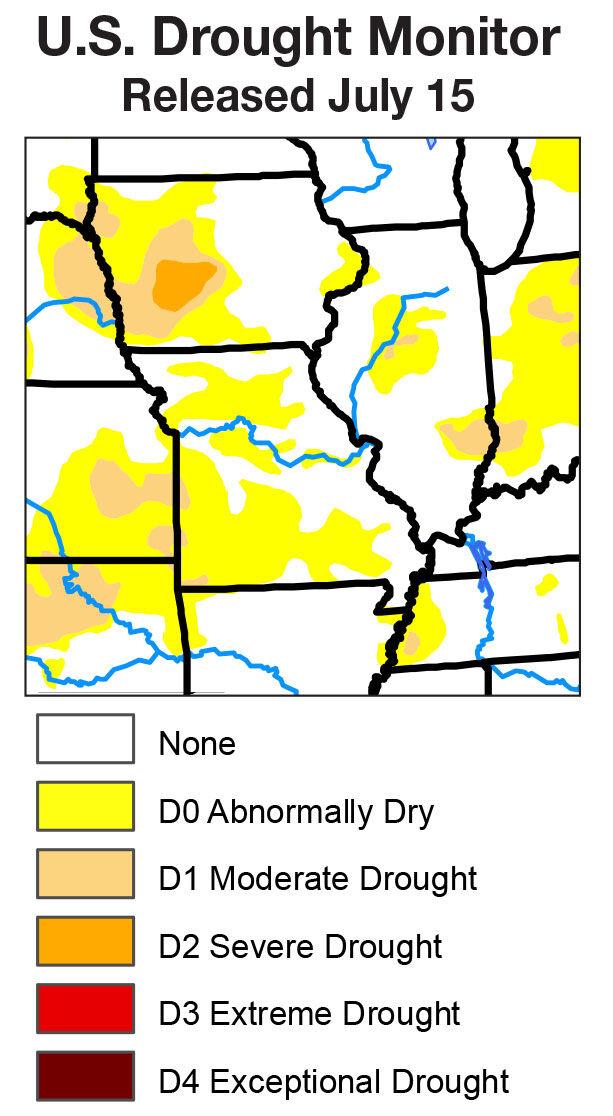 Talon Becker, a University of Illinois ag educator, noted that his area in southern Illinois was becoming dry. But things changed the week of July 13.
"We've caught some timely rains," he said. "Until (July 15) I was starting to see some curling leaves on corn. This will get us through the little dry spell. We're going to be pretty good on moisture through flowering, which is good for yields."
He believes much of the corn in the region will have tasseled over the weekend of July 18.
"Double-crop beans are just getting going, but other than that looking pretty good," he said.
Jim Raben is happy with progress in his fields. Raben farms near Ridgway in Gallatin County.
"Overall, things are looking pretty good for the most part," he said. "Some areas are getting good rains and other areas are in need of a rain. One of my neighbors got 2 inches recently, but we got only one-tenth."
His group 2 soybeans have pods and look healthy.
"We hope to harvest them in late August or the first of September," Raben said. "Corn is moving along quickly. We put it out early. It will take a little longer for it to mature because we put fungicide on it. It usually pushes it back a week or so."
Katie Parker said fields in western Illinois look good, and were boosted by a big rain on July 15. The University of Illinois crops educator represents Adams, Brown, Hancock, Pike and Schuyler counties.
"So far, things are looking really good here. A lot of our corn is past pollination stage and is starting to brown silk, which means pollination is over," she said. "That's a good sign. We received 4 inches of rain on Wednesday. Things were getting pretty dry, so that was an answered prayer.
"Soybeans are putting on pods. The rain will definitely help the double-crop soybeans get out of the ground."
There are no reports of widespread insect or disease outbreaks.
"Just the typical diseases —corn leaf blight and gray leaf spot," Parker said. "But that's something we see every year. There a little thistle caterpillar, but we've been seeing that over the last couple of years."
Becker has seen little weed pressure.
"Most fields are looking pretty clean as for weeds," he said. "We did a decent amount of phytophthora and some seedling diseases like rhizoctonia early on because of the wet conditions at planting. But most of those guys filled in those spots and right now things are looking pretty good."