Steve Hoover is putting his corn and soybeans on equal footing this year in terms of acreage.
"We're staying the same as last year — about 50-50," said Hoover, who farms in St. Peter, Illinois, in Fayette County.
His farming plan closely mirrors that of the state as a whole.
"In Illinois, corn and soybean acres have been relatively stable over time," said University of Illinois ag economist Gary Schnitkey.
Last year, farmers in the state planted 11 million acres in corn and 10.8 million in soybeans.
"I would expect about the same thing this year," Schnitkey said.
Doug Schemmer is also following the trend. His farm has for years consisted of a nearly even split between corn and soybeans.
"We really haven't shifted much in the past several years. We're pretty much a 50-50 rotation between corn and beans," said Schemmer, who farms in Sangamon County.
"Normally, in the fall, we get anhydrous on, then we're pretty committed at that point. But there is hardly any on in our area, north of Springfield. There is probably more flexibility this year than I can remember."
Schnitkey noted that over the past few years soybean acreage has drawn closer to that of corn.
"Since roughly 2012 we've been narrowing the margins," he said. "Corn acres increased because we began using corn in ethanol, and profitability of corn increased relative to soybeans."
Profitability is the main driver of planting decisions, he added. That includes factors other than grain prices.
"The big one is nitrogen fertilizer prices," Schnitkey said. "Increasing nitrogen prices cause soybeans to look more profitable than corn, and the other way around."
Issues such as suppression of weeds, disease and insects also play into planting decisions
Acreage planted to the state's third largest grain crop — wheat — has decreased markedly.
"Illinois used to be a much bigger wheat state," USDA statistician Mark Schleusner said. "We were over a million acres of wheat not long ago."
Indeed, Illinois farmers planted more than 1.5 million acres of wheat as recently as 1993. That has fallen to about 600,000 last year.
Austin O'Neall, who farms at Cooksville in McLean County, is throwing some wheat into the mix this season. He planted 120 acres last fall.
"Normally, we're 50-50 between corn and beans," O'Neall said. "We have planted more beans lately because of corn prices. It's been a while since we planted wheat."
Grain sorghum is another crop that has fallen out of favor in Illinois. Farmers harvested 260,000 acres in 1992, but only 76,000 last year. Oats is another minor crop whose acreage has shrunk considerably.
Changes in technology are responsible for some shifts.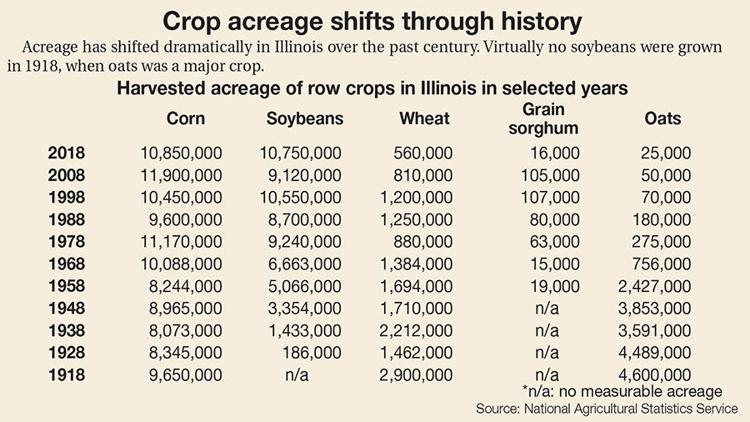 "Oats and sorghum have declined significantly," Schleusner said. "They used to have to feed the animals that do the work. They had to feed their horses, oxen and mules to plow the ground, plant the crops and harvest.
"Before the '60s, most farms were integrated. Most had livestock. They were growing at least a little bit of feed for some pigs, some chickens, some sheep. That was common back then. Soybeans are a relatively new crop. There was a very fast growth in that crop starting in the 1930s."
While the acreage dynamic between corn and soybeans has been relatively stable over the past few years, Schnitkey believes monocrop operations are not as common today.
"More farms in northern Illinois were totally corn several years ago than now," he said. "I don't think there's a trend in that direction."