BLOOMINGTON, Ill. — A drive through Illinois in mid-June shows crops in almost every stage of development and condition.
There's also a multitude of field activities, including first-time planting, replanting, cutting hay, weed control on knee-high corn and side-dressing nitrogen. In Mason County, irrigation is running.
In the first week of June, Larry Troyer was a little ahead of the curve for Central Illinois with all his corn and soybeans planted. Many neighbors were planting full steam to take advantage of the first consecutive sunny days in a while that were dry enough to plant.
"I'm one of the lucky ones," he said. He motored along at 16 miles per hour applying post-emergence herbicides to a field east of Bloomington on June 4, planning for side-dressing nitrogen the next day.
"I'd normally be doing this in May," he said.
After 40-plus years of farming, Troyer has seen a lot of different seasons. This one has been challenging. Planting started in April and he had most of his corn in by May 20. Soybeans he finished June 4.
When his three daughters were young, his goal was to always have the crops planted and field work done by July 3 so the whole family could go on vacation. This year there is still much spring work to be done.
Making decisions
For many in June, the main task at hand was trying to get planting wrapped up or to decide if planting was even possible or profitable. A prevent plant webinar on June 7 led by Gary Schnitkey, Illinois State University ag economist, helped farmers make decisions.
Schnitkey said at that time, considering potential crop insurance payments and Market Facilitation Program payments of $30 to $50 per acre on average, it was likely still more profitable for most farmers to plant corn up until June 20 than it would be to take prevent plant payments — if planting is an option. A farmer's individual cost per acre and other factors affect those decisions, he said.
Since crop insurance planting dates for soybeans are later and the same MFP payments will apply, soybean planting will continue throughout the month, and in some cases beyond, he said.
Mixed planting dates
In West Central Illinois, farmers got a head start as early as April 15, said Stephanie Porter, Golden Harvest agronomist. Rain followed, and three weeks later only about 40% of the corn was planted, she said. The Macomb area started early but when weather turned, other areas caught up.
A big challenge this spring has been having so many planting dates, the agronomist said. Several things require a farmer's attention at the same time, including herbicide application, nitrogen application on earlier planted crops and continued planting.
"It's pretty stressful," she said.
A grower in western Illinois had a 55-day span between the first crop he planted and the last, Porter said.
With such a wide range of planting dates, "harvest will be crazy," she said.
Some experts are predicting already that yields will be lower.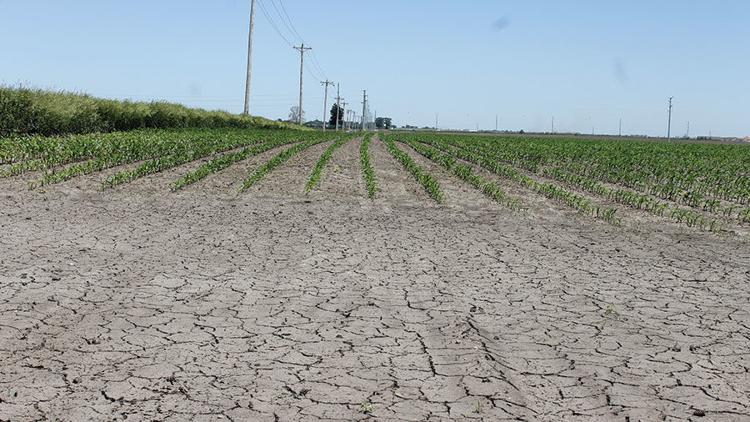 "Expectations for the U.S. average corn and soybean yields this year continue to deteriorate over recent weeks as planting delays dragged on over much of the Corn Belt," said University of Illinois agricultural economist Todd Hubbs in a June 10 report.
Yield potential falls for corn planted after the second or third week of May, all other conditions equal, he said. Even though planting progress accelerated the first weeks in June with drier weather, the percent of corn planting after May 25 came in higher than average.
Based on the USDA's weekly Crop Progress report, an estimated 51% of the corn acreage in the 18 major corn-producing states went in the ground after May 25, Hubbs said.
Soybean planting lagged well behind average pace this year. Based on the USDA's weekly Crop Progress report, an estimated 72% of the soybean acreage in the 18 major soybean-producing states went in the ground after May 25.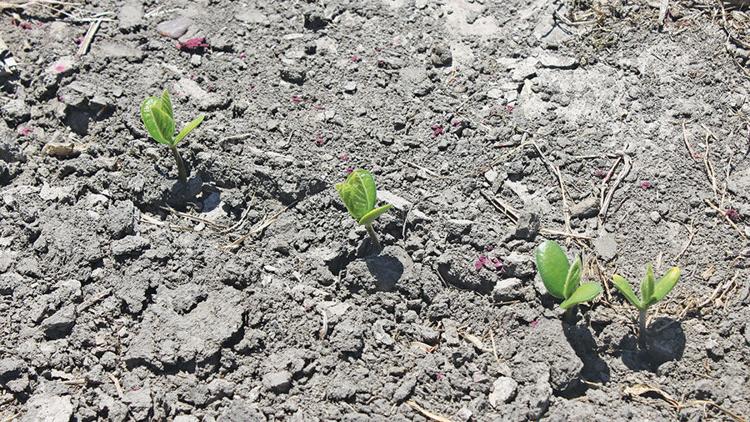 "Field trials in Illinois indicate yield losses higher than 10% after May 20 with increasing levels as planting moves into June," Hubbs said.
Finding relief
For those finishing up in mid-June, it was a big relief. Ron Busby was among those cleaning out his soybean planter on June 11. Replanting some corn in washed-out areas was still on the agenda for the family farm.
"We're about one month late," said Busby, who farms near Rushville in Western Illinois.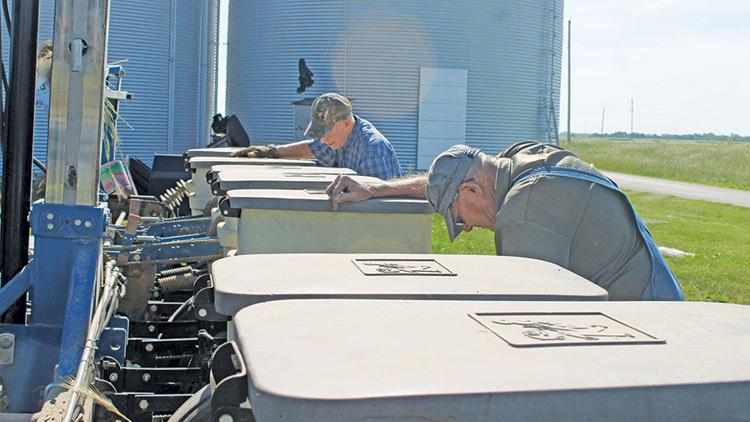 While relieved to get into the fields, Busby also expects lower yields this year.
"I'd say our yields are all hurt," he said.
A little farther west, in Golden in Adams County not far from Iowa's border, Keith Miller was checking the emergence of soybeans on June 11 in a field he had planted a week earlier.
"We have 140 acres of beans yet to plant," he said.
He too has experienced multiple planting dates this year, with the first corn planted in mid-May and the last in June.
As a Pioneer seed dealer, he was worried in early June that he might be taking a lot of seed back. If it doesn't go in the ground, he doesn't get paid.
"Last week was huge," he said of the planting burst the first week in June. He was relieved there won't be nearly the amount of prevent plant as he had initially expected.
Miller was ready to spray some corn and then offer to help some neighbors with their planting.
"It has been neighbor helping neighbor," he said.
Some farmers who weren't in their own fields were sandbagging to help save the land of others affected by Mississippi River flooding, he said.
Although it has been challenging, there have been rewards, including seeing his father, Ken, and his son Mason Miller, working side by side getting planting done, he said.