CHAMPAIGN, Ill. — In a quest for higher yields, University of Illinois plant physiologist Fred Below and his team are researching farming practices including fertilizer placement, narrow rows and high-tech crop management.
The unprecedented weather this year will also provide some knowledge about what works and what does not in extreme conditions, Below said at the Leaders in Farming Technology field day at the University of Illinois in Champaign.
With crops planted late in excessively wet conditions across the state and key development pushed into the drier, hotter part of the season, some forecasters are anticipating yields to be lower by about 25%.
"The key will be the temperatures in August and early September," Below said.
Fertilizer
Anything to get the nutrients to the plant early makes a difference, said Scott Foxhoven, a research agronomist and graduate student on Below's team.
On June 25, crops with in-furrow starter fertilizer already appeared to be considerably more robust and taller than the standard-managed plots.
"The differences may be more prominent throughout the season depending on conditions," Foxhoven said.
Nitrogen and phosphorus were banded in the soil for ultimate efficiency, Below said.
"It sets their growth potential," he said.
"Starters influence the kernel number and can bring a 4- to 8-bushel increase," Foxhoven added.
Corn yield is influenced at multiple times throughout the growing season, so season-long nutrition is critical, he said.
"New premium fertilizer sources paired with advanced placement have shown great promise in corn yields," Foxhoven said.
Looking at the crop now, Below is expecting big yield differences between the standard and "high-tech" text crops — maybe 50 bushels per acre. Corn plots with specialized fertilizer placement and intense crop management are visually way ahead of crops planted using typical management practices.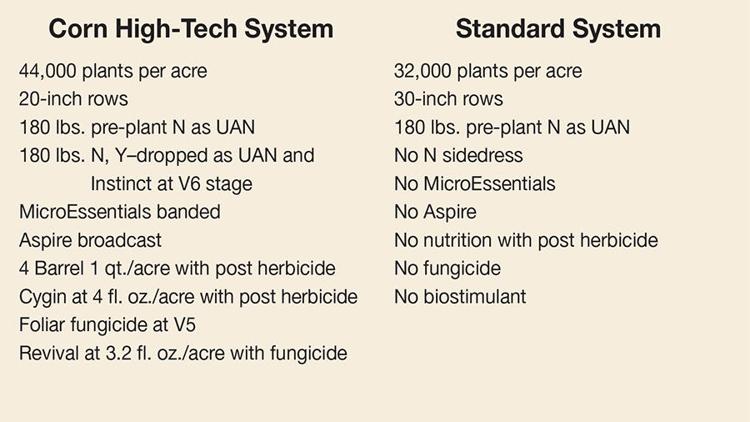 Population
Studies of higher plant populations are favoring a more narrow row width than the standard 30 inches this year.
The plots here with 20-inch rows show enhanced light interception and likely help with weed control as the rows fill in, said Eric Winans, a graduate student. Below estimates that narrow rows will bring a 10- to 15-bushel advantage.
Narrow rows show benefits from north to south in Illinois.
"It's not just something north of 1-80," Winans said.
But selecting hybrids can be a yield maker or breaker with narrow rows. Some hybrids are "race horses" in narrow rows, Winans said.
Quality
Not all soybean research is focused on getting high yield. Efforts are being made to develop a better bean with a higher oil and protein content. The goal is to increase quality for global trade and as a feed source.
Soybean quality is a focus of Victor Favoresto, a Brazilian student on the plant physiology team. Using the latest numbers from 2017, he said Brazilian soybeans are 3.9% higher in protein content than U.S. beans. Factors including soil type, climate, inoculants and management practices play a role, he said.
New products
The trial team's total high-tech system tests products from the Leaders in Farming Technology (LIFT) partners, including foliar treatments, micronutrients and stimulants. LIFT is a partnership with Corteva Agriscience, Nufarm, Valent U.S.A and Vive Crop Protection.
When asked about the credibility of university research with commercial partnerships, Below said it would be his preference if the university or state would pay, but research takes money. H said he is appreciative of the funding and he hasn't seen industry meddle with results.
"They want the real answer; we want the real answer," he said.
Another benefit of working with industry is the connection for students, who get to work on the cutting edge of new products and ideas, he said.
Biologicals are still "the wild west" of new products, Below said, with some being introduced as full lines from established companies and others as a single products from startups.
Biologicals include plant growth regulators (PGR), biostimulants (which regulate nutrient uptake, not plant growth directly) and beneficial microbes, Foxhoven said.
People want to know if the new products will be profitable on their farms, and "it depends" is Below's answer. Factors including weather, soil type and management all play a role.
"They work best with intensive management," he said.
Below said following the intense management system would require farmers to make a big investment in equipment for narrow rows and added costs of inputs, but the research is aimed at finding out what the next big things are and how they can be managed for higher yields as part of a whole system.