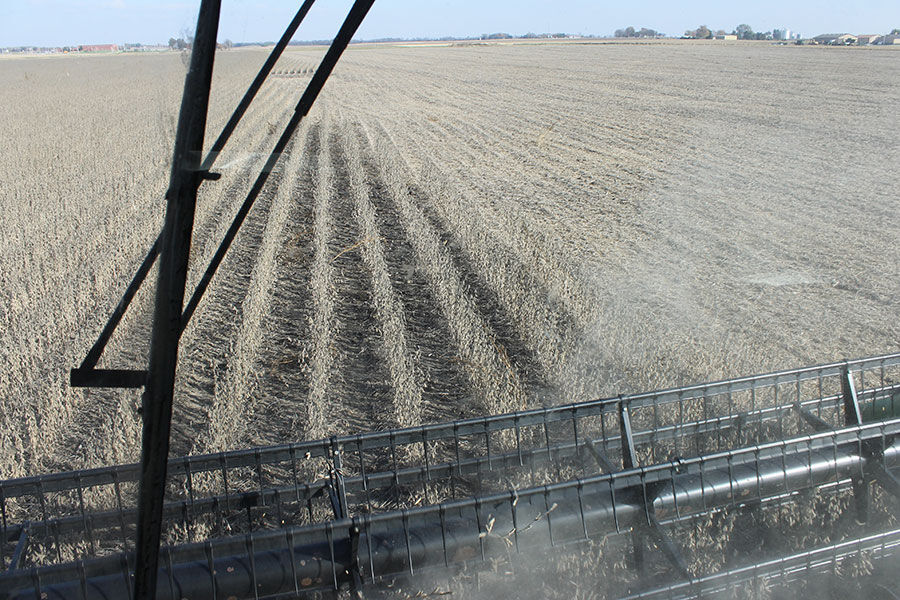 Paul Paplow's harvest season typically begins in May.
Every year, the Ocheyedan, Iowa, farmer goes from his home in the northwest part of the state down to Texas in the late spring to begin custom harvest work that lasts through Thanksgiving.
Customers are usually set in stone year to year, but harvest help is not. Finding seasonal workers who are able to spend a few months with Paplow Harvesting and Trucking has proven to be a challenge as of late.
"It's been extremely difficult," Paplow said. "It's hard to find farm kids. Farmers are only 2% of the population anymore, and there aren't as many farm kids around, and with the whole COVID deal going on the last couple years, foreign labor has been really, really hard to come by."
In addition to finding people to help work the fields with them, there is also a shortage of CDL drivers, which is required to work on their machines. With COVID-19 closing many government offices or making tests virtual, there has been added difficulty in acquiring those licenses, Paplow said.
"There's going to be a lot more training required to get a CDL, so that's going to add cost and make it harder for us to train employees," he said.
Paplow, who serves as a director with U.S. Custom Harvesters, Inc., said he would like to see some changes made to those rules. He said any custom operators running machines are required to have a CDL, which differs from a farmer, who doesn't need that kind of license.
"A farmer doesn't need it, but we do since we are custom harvesters, even though we do the same work a farmer is doing," Paplow said. "We still have to get a CDL, where the farmer's 16-year-old son doesn't have to have one and can just hop in the truck and drive it."
For farmers hiring custom operators, one benefit is not having to buy and own the machinery. However, that is a concern for Jamie Van Kooten, who does custom chopping for Van Ko Machinery near Pella, Iowa. He said costs of equipment are climbing at a fast rate.
"The cost of machinery is going up and up and the prices do not reflect on what you can get paid for," Van Kooten said.
One of the biggest issues facing custom harvesters is shortages of parts, Paplow said.
The supply chain issues that have caused slowdowns in production and shipping have been affecting harvest days, particularly when a machine breaks down.
"Our dealer has been very proactive on it," he said. "That's really helped our downtime in these shortages, but we've had some that we had to order from other dealerships out East, like in Virginia, because things were back-ordered at the factories. The freight costs have been pretty ridiculous this year."
Van Kooten compared the parts issues to a "toilet-paper scenario," referencing the empty shelves at stores at the beginning of the COVID-19 pandemic.
"That's the best way to say it," he said. "I know that I have to control my own ability to repair, to fix or to maintain (equipment), so I have to keep more on hand because I don't know when something is going to come around."
Van Kooten said he's lost some work on smaller farms as corn prices rose and cattle prices fell, so farmers opted to pass on chopping this year.
"Commodity prices came up and cattle prices weren't worth (it)," Van Kooten said. "I lost several customers this year. People are backing out of the work because it's a whole lot easier to just bring corn to town than do the extra work if they're not going to make any money on cattle or dairy."
Van Kooten said rising prices for inputs will make for an interesting year for custom operators.
"Next year is going to be complete chaos," he said. "The custom operator can't make any money if the farmer isn't making any money. It's a vicious cycle."
Paplow said those increased costs going to farmers limit the bottom line for custom work as well. While his customer base is not expected to change, the overall totals will.
"If they don't hire us, they would have to go out and buy all the equipment to do it, which is a bigger investment than hiring us," Paplow said. "I don't foresee custom work going down, but where the problem will be is our margins might get tighter."