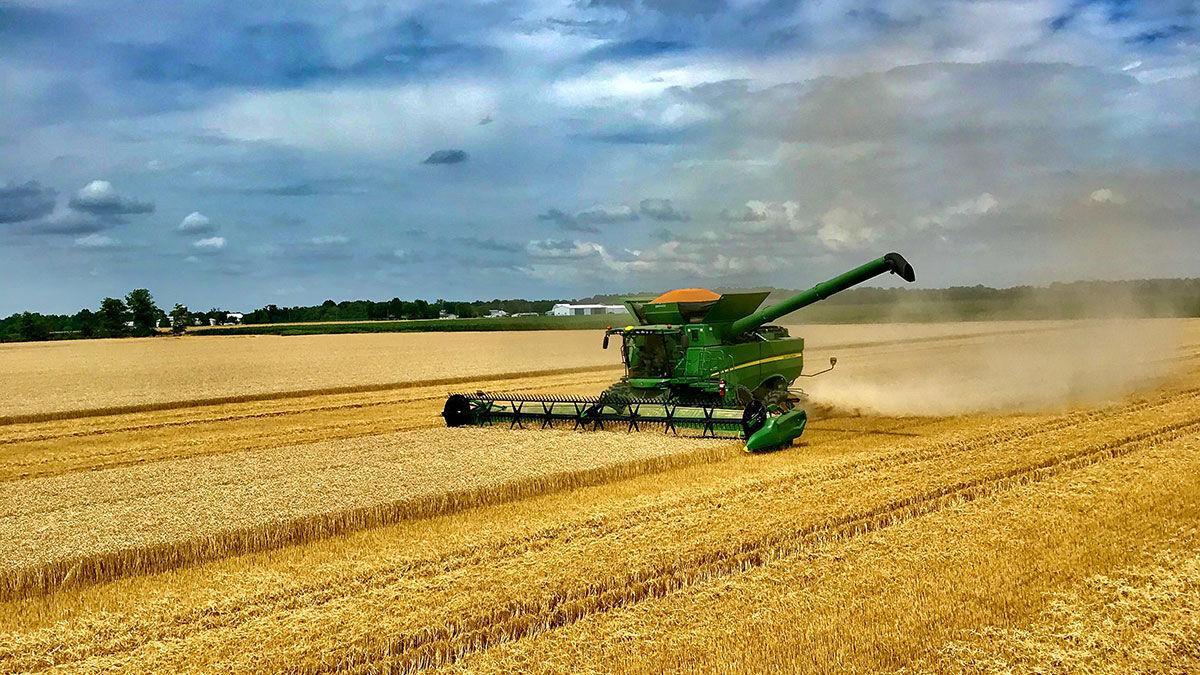 Getting soybeans planted before July 4 is one of the keys to success in making double-crop wheat and soybeans profitable.
It's also a matter of location. Farmers in the southern one-third of Illinois — typically south of Interstate 70 — have the advantage for the double-crop system, but some central Illinoisans are testing the waters.
Wheat yields are usually good, but depending on planting timing and weather, soybean yields can be inconsistent, said Eric Miller, who is in his fifth year of growing the double crop in Piatt County in east central Illinois.
If wheat harvest is timely and soybeans can be planted before July 4, soybeans yields can be profitable. But it looks like for the third year in a row, Miller will not meet that planting date goal. A heavy rain came just as wheat was nearly ready for harvest in June.
"We're up to 5 inches of rain. It will be days before we get back into the field," Miller said June 28.
In contrast, by June 28, 75-85% of the wheat was harvested in Washington County, the No. 1 wheat county in the state, said Scott Eversgerd, a Pioneer field agronomist who farms with his brothers in Clinton County, Illinois.
"Wheat harvest goes fast once it starts in southern Illinois," he said.
Northern challenge
This is the highest acreage of wheat Eversgerd has seen in five or six years.
Double cropping has a proven record in southern Illinois. This year, wheat yields will likely be 80 to 100 bu./acre. Double-crop soybean yields generally range between 50 and 60 bu./acre, Eversgerd said.
"It is by far the most profitable acreage in southern Illinois," he said.
But more of the new acres are in central Illinois this year, he said.
Joshua Tooley, a certified crop advisor for South Central FS and a farmer, also noted that as weather patterns change, double crops are moving northward.
Models show that the number of days in the growing season will likely increase from 8-15 days from 2021 to 2050, which would make double cropping more profitable further north, said Tooley, who lives in Effingham.
In east central Illinois, Miller has harvested double-crop soybean yields between 52 and 55 bu./acre, but the last two years soybeans yielded 25 and 20 bu./acre.
During his five-year study, the double-crop soybeans have averaged 41 bu./acre, but with wild inconsistency, he said. This year it looks like yields will be on the lower side again because of late planting dates.
"Last year we had a killing frost the second week of October," he said of another threat to late-planted beans. "There's too much risk to do it widespread here."
Along with inconsistent bean yields, central Illinois farmers need to be aware that double cropping requires more labor. And crop insurance is a consideration. Insurance for wheat is expensive in central Illinois because there hasn't been a proven yield record.
"I can't afford it," Miller said.
Insurance for double-crop soybeans in central Illinois isn't even an option.
"Our planting dates are too late," he said.
Higher yields
For Danny Rubin, who farms in Fayette County just south of Interstate 70, double cropping works.
He consistently gets at least 100 bu./acre wheat. Some of his early harvest this year was well over that. On June 29, he was only half finished with harvest because of rain delays.
Bean yields are generally more consistent than in central Illinois, but Rubin, of Vandalia, has also seen some low yields at times. He grows Group 4 seed beans, which usually do well unless there is an early frost.
Rubin, the Illinois Wheat Association president, said he has learned a lot about growing the crop from speakers and programs organized by the association.
The biggest challenge with the high wheat yields is planting into the heavy residue. Rubin bales some straw for his own use and neighbors', but he also uses row cleaners and closing wheels on his planter.
Farmers getting high-yielding double-crop soybeans often manage them much like full-season soybeans, Eversgerd said. Seed treatments on double-crop soybeans can be a yield booster and a good value, he said.
"Don't skip the seed treatment," Tooley agrees. In trials, he has seen as much as a 9 bu./acre advantage when seed treatments are used.
Some double-croppers use fungicides on the beans. The wheat residue can be a breeding ground for disease, so when soybean prices are high, fungicides can be a good investment, Eversgerd said.
Miller uses fungicides on his wheat crop, but said it wouldn't pay to use them in central Illinois on soybeans, especially in low-yield years.
Seed selection and plant population for soybeans are also important, Eversgerd said.
Tooley said he recommends farmers plant between 10 and 25% higher population for double-crop beans than for spring beans. The later in the season, the higher the rate.
Narrower rows — at 15 or even 7 inches — are better for double-crop beans. Narrow rows and higher populations also help with weed control, he said.
Tooley recommends anyone new to double cropping find a trusted advisor who will help with the details.