There is an old line saying the best thing about winter is that it makes us appreciate spring. With the calendar turning to November, farmers are starting to think about what kind of winter it might be this time around.
The answer depends upon who you ask.
This fall there is no El Niño or La Niña weather system, according to Rich Kinney, warning coordination meteorologist with the National Weather Service in Davenport, Iowa. Instead, the El Nino Southern Oscillation (ENSO) climate pattern is neutral this fall. In the absence of an El Niño or La Niña, meteorologists have to look elsewhere for clues about the winter.
Kurtis Gertz, meteorologist with KCCI-TV in Des Moines, says that just makes the task more interesting.
"I try to find past events that are similar," Gertz says.
Years that were ENSO neutral and were also similar in conditions to 2019 offer some clues. There were a couple of years in the early 1900s that were somewhat similar, but Gertz says the best example probably comes from the late 1940s. In that example there was an early fall snow, followed by below-normal snowfall for most of December through February, and then above-normal snow in the early spring.
As of late last week, a possibility of snow was predicted for this week, which would be in keeping with that pattern.
That may not be what happens, Gertz says, but there is at least a pattern to study.
"It's fun," he says of the process. "You're playing the favorite."
Of course, some farmers like to study things such as woolly caterpillars. Others read the Farmers Almanac. Justan Glisan, who serves as climatologist for the state of Iowa, depends on the science and the history.
"I call it (the Farmers Almanac) my climate horoscope," Glisan says, explaining those predictions are made so far in advance as to be nearly impossible to make accurate. Like a horoscope, he says, they may be just vague enough to please everyone.
That does not necessarily mean they will be wrong, but Glisan says long-term weather forecasts are not iron-clad. A forecaster may be able to tell you that it is going to rain this afternoon, but he or she cannot tell you exactly what it is going to do in three months. What they can do is give odds or percentages. They can say, for example, that the weather pattern or history point more toward a wet winter than a dry winter, or that there may be a 60 or 70% chance of something happening.
Trent Ford, who serves as the state climatologist for Illinois, agrees with that general assessment.
"We can't say with extreme certainty that it will be wetter," he explains. "We rely on long-term trends."
Still, Ford says the past several years have featured warmer-than-normal temperatures and average or above average moisture for Illinois. This year the northern half of Illinois goes into the winter wet while it is dryer in the southern part of the state.
A concern is that an early freeze could lead to more winter runoff.
Ford joins farmers in many areas in hoping there is not another wet spring next year.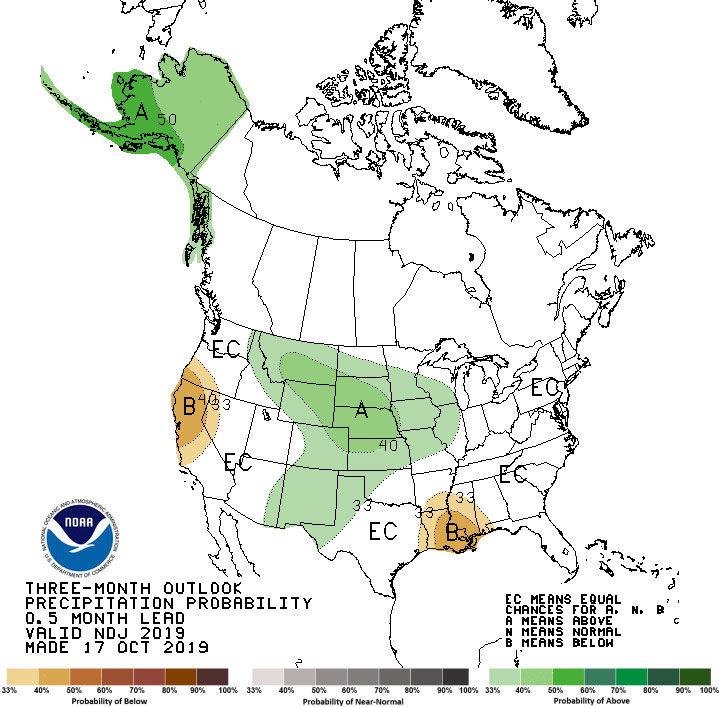 Glisan says Iowa is also going into the winter with wet conditions. As of late last week, many parts of the state were on the verge of setting precipitation records for October. The National Weather Service was predicting a dryer and warmer November. He says the November to January long-term forecast favors slightly elevated precipitation chances, but temperatures are difficult to peg at the moment.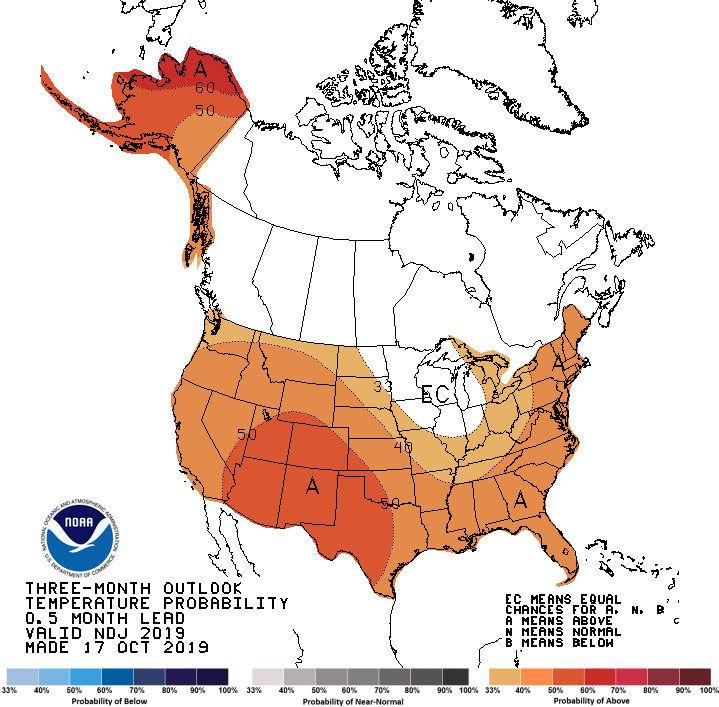 At the moment the National Weather Service says no part of the country is favored to have below-average temperatures for the winter.