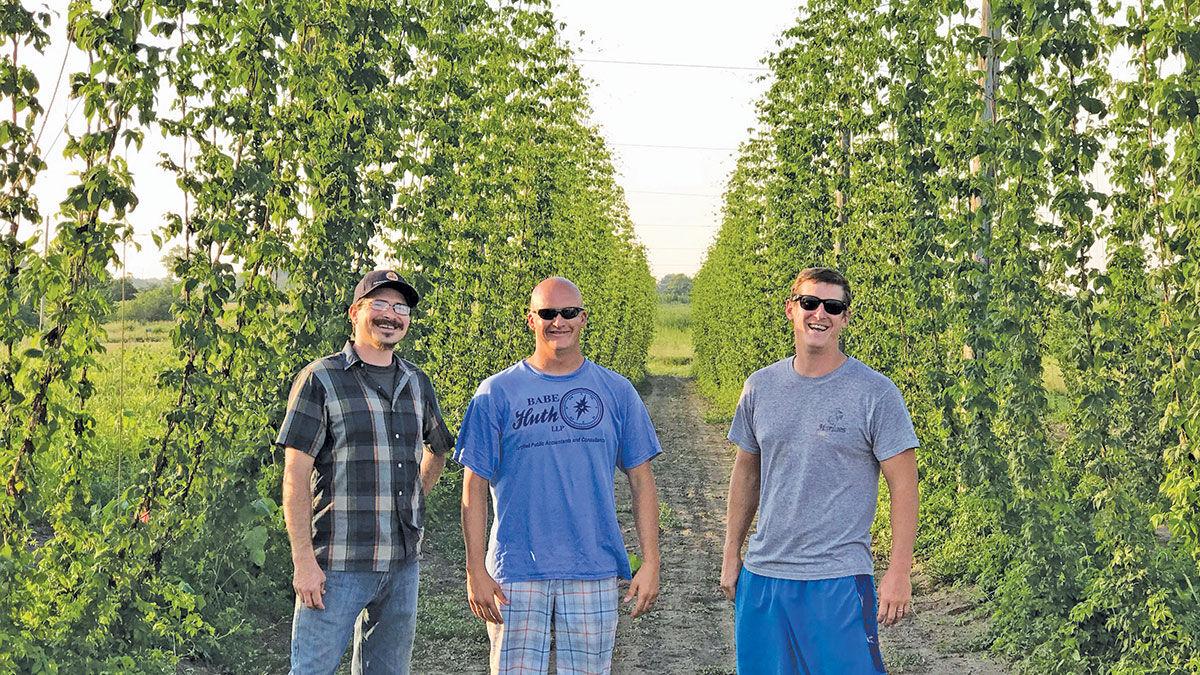 As with real estate, location matters in growing hops.
The plant, whose cones add flavor and aroma to beer, has its roots in the Pacific Northwest, but a hardy handful of craft beer enthusiasts and entrepreneurs have tried their hand at growing it here.
Those with slow, careful growth are most successful, said Grant McCarty, University of Illinois Extension educator. Some growers, who may have expanded too quickly, are out of business.
Research and resourcefulness have helped Brian Dallam and Anthony Welty develop their business in Amboy, Illinois, despite the challenging nature of the crop in this climate.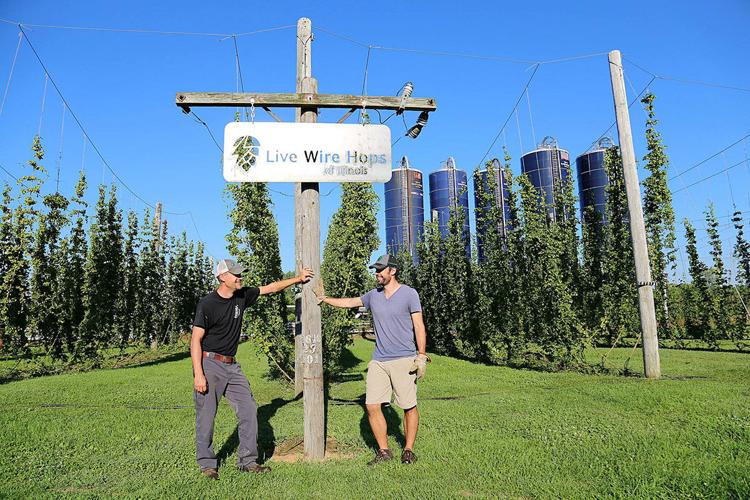 For example, instead of buying pricey new poles to set up their trellis for growing hops, the partners opted to repurpose electric poles. This inspired the hop yard's name, Hot Wire Hops.
Crop management
About five years ago, Welty, who was captivated by the process of making beer, started thinking about how he could be part of it. He chose the agricultural aspect of that world.
"I had one problem: I had no agricultural background," Welty said. "Brian (Dallam) is a proud farmer of many generations."
Welty proposed his idea to his cousin Brian Dallam over a few beers at a family reunion.
"What the heck are hops?" was Dallam's first reaction.
He grows 1,500 acres of corn, soybeans and wheat and raises cattle with his father in Lee County. But in spring 2016, on land that had been cattle pasture and 4-H projects, Dallam announced, "We're setting up trellises." He had the cable, hardware and poles ready for the job.
Dallam equates the time and commitment it takes to raise one acre of hops to growing 100 acres of corn. Some of the concepts are the same as growing corn, such as managing the N, P and K, but there's a lot more to it, he said.
Dallam compares managing the crop to a "six-month arm wrestle."
"There is a reason why 96% of the hops come out of the Pacific Northwest," Welty said.
Weed management, disease prevention, mildew and other such challenges are common here, Welty said.
Most of the hops grown around the world are around the 45th parallel. You can grow hops at lower latitudes, but they may not yield as well. Humidity in this region can exacerbate disease problems, he said.
Intense investment
"It's incredibly capital and labor intensive. You've got to know what you are getting into," Welty said.
One acre or 20 acres, you pretty much have the same investment, Ross Sorensen, of Land Locked Hops in eastern Illinois, said of the cost for equipment and infrastructure.
Sorensen, a real estate attorney, and his partner Nick Reutter, a banker, grow hops on about 3.5 acres of the 5 acres they have capacity for today. Wet weather in 2019 caused a variety failure on their land in Iroquois County in 2019. They decided to scale back a bit temporarily, while the weather and disease that year knocked some hop producers out of business.
Rob Sirrine, senior educator at Michigan State University Extension, where the crop has been researched for a dozen years, said a hops yard costs between $10,000 and $12,000 per acre to establish, and then you have to wait at least a year before you can harvest — usually three to four years for 100% full harvest.
"The infrastructure costs are upfront and big," Sirrine said.
Many Michigan growers have a decade head start on growers in Illinois, Indiana, Wisconsin and Iowa, who are relative newbies to the crop within the last five to 10 years or less.
During a hops shortage in 2007-08, growers were getting quite a bit of money — about $15 to $20 per pound, Sirrine said.
"So this generated interest among farmers and those who have never farmed before. Most of the early hobby-type farmers are no longer growing hops," Sirrine said.
Michigan has about 25 commercial growers today. They grow about 600 acres in the state, Sirrine said. In comparison, McCarty estimates Illinois has about 20 growers with about half of them growing most of the 40 acres of hops in the state.
New varieties of Midwest hops are being created, said Welty, who has tested varieties and works closely with local brewers to discover what grows well here and what brewers want.
Growers collaborate, but there is not a formal organization in Illinois or surrounding states at this point, he said.
Finding a home
The backbone to this business is relationships, said Dallam, who works for an FS elevator in addition to farming. He and Welty, who works in marketing for an agricultural equipment company, estimate they spend as much time on marketing as they do growing the crop.
Currently, Live Wire Hops is doing business with 10 acres.
"We are incredibly grateful that they took a chance on us," Welty said of the breweries they supply to. He's hoping to cultivate another 10 and grow to meet specific needs of breweries.
"I want to grow at the right pace. I don't want 10 acres of hops if there is not a home for it," he said.
Sirrine said the most successful farms are those who are good at marketing.
"The ones that have made it work have really focused on sales," he said. "It seems obvious, but if you don't sell all of your crop or nearly all of it, you likely won't make any money."
Marketing is also a major focus for Land Locked Hops in eastern Illinois. Sorensen and Reutter started with 65 plants in Sorensen's backyard.
The real estate attorney and banker might not be the combination one would imagine growing hops, but their people skills are a big part of their success in marketing. While the model of visiting breweries' tap rooms to make a sale is a whole lot harder during a pandemic, the pair keeps close contact with customers and potential customers.
"We like to deliver our hops personally," Sorensen said of part of their marketing strategy.
They try to be the best at growing hops in their conditions.
"At a small scale we can pay attention to detail," Sorensen said.
Part of the appeal for consumers is their desire for local products. Beer drinkers value growers like Land Locked Hops and Hot Wire Hops. They like the taste and smell of locally grown hops, just as they like locally grown tomatoes, Sorensen said.