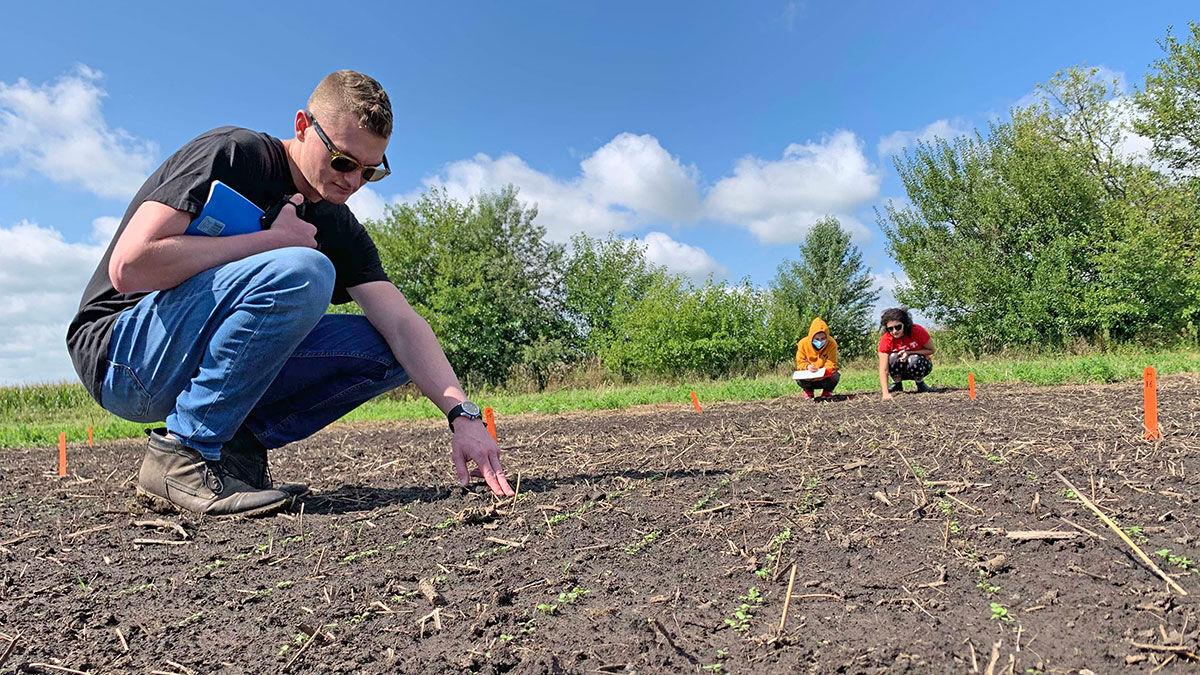 NORMAL. Ill. — More fuel has been added to boost pennycress as a new cash crop in the Midwest.
A $13 million U.S. Department of Energy grant will enable researchers, led by Illinois State University genetics professor John Sedbrook, to improve the resilience of pennycress as a crop.
Sedbrook started researching the weedy relative of canola in 2012 as part of his work on alternate fuels. It is one piece in the transition of agriculture to be more sustainable, Sedbrook said.
The crop, intended to be used in biofuels and feed, can be integrated into existing corn- soybean rotations to extend the growing season, improve profits for growers, and reduce soil erosion and nutrient runoff.
"We're excited to be at the forefront of this collaboration involving top scientists from universities and labs around the country and the world," said Sedbrook.
Sedbrook is also part of the five-year pennycress project that started last year with $10 million in funding from the USDA's National Institute of Food and Agriculture. Known as the Integrated Pennycress Research Enabling Farm and Energy Resilience (IPREFER) project, its goal is to improve genetics and agronomic management and establish a supply chain, education and Extension networks to enhance pennycress as a cash cover crop and lead to its commercialization.
The IPREFER study is looking at the domestication of pennycress and its traits including oil and meal quality, and reducing non-desirable traits like pod shattering, as well as looking at the supply chain, seed handling and processing as the five-year study progresses, Sedbrook said.
The next step is taking a version of pennycress developed in the first project and improving it.
"We've been doing this for corn and soybeans for years," he said.
In the field now
One challenge of growing pennycress between corn and soybeans is the window for planting is small, Sedbrook said. He and his graduate students were planting pennycress on fields in Normal in early September before corn harvest had begun.
Also planting pennycress on Sept. 14 was Cris Handel, vice president of Strategy & Operations for CoverCress Inc., a company commercializing a domesticated pennycress.
"It's an exciting year planting the foundational seed," she said after planting in Effingham County in southeastern Illinois.
Covercress Inc. started developing its version of pennycress when the company was founded in 2013, led by several Monsanto retirees with years of breeding expertise, she said. The company doesn't benefit directly from federal funding, but it benefits from the research of its partners, including the Donald Danforth Plant Science Center, she said.
One hundred farmers will be planting CoverCress this year and 500 next year. The company will be looking for farmers to grow the crop.
"Where farmers will be needed next year depends on what the data says this year," she said.
Farmers can expect to earn about $50 per acre now and up to $70 as the crop is developed, Handel said.
It is also soon planting season for Max Pitt, an agricultural business professor at Graceland University in Lamoni, Iowa, planting CoverCress and other cover crops with his new "Drill Combine."
"We don't usually plant a shorter season hybrid (corn) here, but we did this year to get the pennycress in on time," said Pitt, who is looking forward to what the research can tell him both about pennycress and the effectiveness of his improved drill prototype.
Progress steady
"It's amazing," Sedbrook said of the progress made in developing the pennycress crop since 2012.
In eight years, $26 million has been allocated in federal funding, plus venture capital poured into efforts including the development of CoverCress, he said.
Western Illinois University professor Win Phippen, the lead of the IPREFER program, said his work "dovetails" nicely with what Sedbrook is doing with the new DOE grant to improve pennycress. Phippen has been working with pennycress lines since 2013 and continues to breed the best lines of the program for seed. Sedbrook's new breeding lines can go directly into Phippen's lines to further improve pennycress for commercialization.
Phippen is producing the seed to be used by other researchers in Illinois, Ohio, Wisconsin and Minnesota.
"All the collaborators need seed. We're gearing up so there is plenty. They can't do anything if there isn't seed," Phippen said.
He estimates about 5,000 acres of pennycress will be planted by Midwest farmers this year.
Phippen is also starting a new nitrogen study this spring to discover the best timing and application to boost yields. Other pennycress research is on grain bin storage and drying.
The long-term goal is for the crop to cover as many as 80 million cash crop acres in the central Corn Belt. By 2030, the goal is a few million acres, Sedbrook said.