CHICAGO — When it comes to nitrogen, more isn't always better. That is something that University of Illinois professor emeritus Emerson Nafziger has found time and time again through years of research.
In accepting a recent award in Chicago, he reiterated his findings to 2,500 farmers attending the annual Illinois Farm Bureau meeting.
In the 1990s, he first started seeing that increasing nitrogen was no longer increasing yields profitably. Trials continued to confirm that only 150 lbs. of nitrogen per acre would produce 220 to 230 bu./acre.
He said there is a tendency to believe that as yields increase, more nitrogen is needed, but there seems to be a sweet spot when increasing nitrogen doesn't increase yield noticeably.
Farmers can ask, "Do I really need this much?" he said in his acceptance speech for the 2018 Illinois Farm Bureau's Charles B. Shuman Distinguished Service Award, the bureau's highest award, at its meeting Dec. 3.
His research aims at giving farmers guidelines in applying nitrogen through the Maximum Return to Nitrogen (MRTN) calculator. He developed it with funding from the Illinois Nutrient Research & Education Council through a fertilizer checkoff. The most recent MRTN publication (September 2018) showed that the profitable range is between 160 lbs./acre and 190 lbs.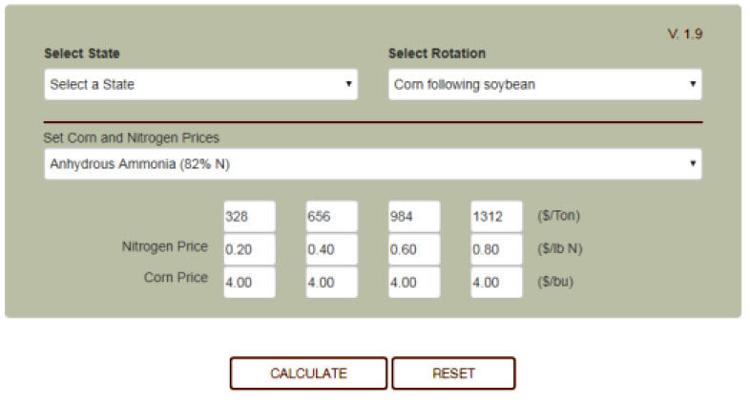 Timing of nitrogen application is also a topic of Nafziger's research. Corn yields seem to benefit from having nitrogen early in the spring. If there is a deficiency in the first month of growth, the plant may not be able to get that yield back even with split applications later.
When split application is used in the spring and summer, it works best when more than half is applied early, he said in an interview with Illinois Farmer Today.
He said he is uncomfortable with yield contests. The "worship" of higher yields doesn't always pay off in economic returns, he said, and he cautions farmers that it may not be profitable or practical to adapt practices here that are high-yielding in other states.
"We put a lot of pressure on ourselves to raise yields," Nafziger said. "Nobody should spend $10 to get that last bushel."