Editor's note: The following was written by Emerson Nafziger, University of Illinois Extension crop production specialist, for the university's crop development Bulletin.
---
March rainfall in Illinois ranged from normal to a couple of inches above normal, but the last week of March and first week of April have been relatively dry, and field operations are getting underway.
The 4-inch soil temperatures at 10 a.m. have been close to 50 degrees in southern Illinois, and over the past week they have increased from the low-40s to the mid-40s in central and northern Illinois. But he forecast was for a return to cooler weather and possibly to wetter conditions as well.
Such "yo-yoing" is normal for April, and it often brings up questions about what to do when the weather forecast is for conditions to deteriorate as planting approaches. Do we plant or do we wait?
Right conditions
There is no question that the ideal is for seed of both corn and soybeans to be planted into soils that are relatively dry and that are warm (and warming) enough to allow germination and emergence to get started quickly, and plants to grow steadily after emergence.
The most recent example of the benefits of this was in 2018, when planting was delayed until May, then May weather was very warm, and the crops "never looked back" on their way to new yield records.
In 2017, early corn planting was followed by a week of cool, wet weather, which led to a lot of replanting. The replanted crop often yielded more than the first crop, almost certainly because it had warmer conditions under which to germinate and begin to grow.
Having soils stay dry after early planting into cool soils is much better than having them turn wet. The germination process is very slow at low temperatures, so seeds will bide their time until soils warm up, and dry soils are a safer place to do that.
If it turns wet, seeds will last longer in cool soils than in warm ones, both because low temperatures delay the germination process (and the demand for oxygen), and because colder water contains more oxygen than warmer water.
Still, seeds that spend a week or more in wet soils at temperatures in the low 40s are subject to "imbibitional chilling injury" that can mean abnormal growth and poor emergence even if seeds survive. This is considered more of a problem in corn than in soybean, in part because more soybean seeds than corn seeds tend to die under such conditions and so don't show those symptoms.
Early beans or corn
Now that we've passed the first week of April, plantings of this year's corn or soybean crops can't be considered "very early," but the message from some agronomists about the need to plant soybeans as early as March continues, and more producers are choosing to begin planting soybeans before they begin planting corn.
The debate among agronomists regarding the merits of planting soybeans in March or early April — before the start of corn planting — is still alive, but focusing on "corn vs. soybean" as if it's a contest mostly misses the point.
Both corn and soybean benefit from early planting most of the time, and both face similar risks when conditions deteriorate after we plant early. We shouldn't decide when to start planting or which crop gets priority based on how "tough" each crop is or on trying to prove someone wrong.
The goal instead is to minimize risk and to maximize yield potential.
With planting date responses for the two crops essentially identical on a percentage basis, which crop to start with is more or less a toss-up. The deciding factor in that case should often be which fields are ready first.
Fields where soybeans grew last year will often be in good shape to plant earlier than those where corn grew, and that may mean planting some corn first. It certainly makes little sense to plant soybeans when it's too wet just to plant them earlier than corn.
I have mentioned before the possibility that soybeans planted very early — in March or early April — might occasionally yield less than those planted in late April or early May. I dug up some data from a study that we did back in 2001-03 in which we started planting as soon as we could (without planting in mud) using different seeding rates and varieties with different maturities.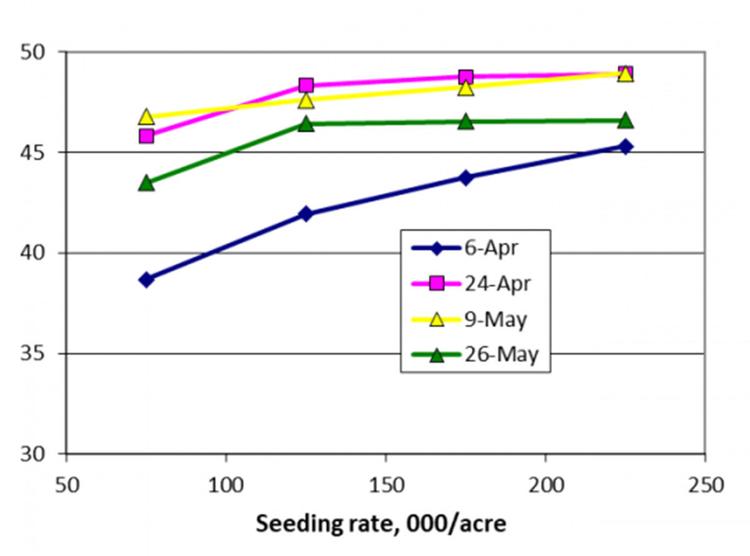 Figure 1 shows yields from this study, with planting date averaged over sites. Yields were not as high as we'd expect today, but the earliest planting yielded the least of all the planting dates.
We had five sites in southern Illinois where average yields were even lower, but the earliest planting there (average of April 15) yielded less than either the early May or late May planting.
While changes in seed quality, spring weather and perhaps genetics have lowered the threat of such losses from very early planting, we can't rule out the possibility that planting soybeans in March or early April may not always maximize yield.
That's not necessarily because of stand loss from frost or wet soils. Frost can typically kill soybean plants only in a one- or two-day window as the plants are breaking through the soil surface.
Frost that occurs after the first two leaves unroll can kill the growing point, but then buds will break and form (usually two) new stems.
Most low stands in soybeans follow heavy rainfall soon after planting, and chances of that happening are not closely tied to when the crop is planted. Instead, the evidence is that low temperature stress during early growth may limit node and seed number per plant, therefore limiting yield potential.
The fact that the earliest planting in northern Illinois responded so much to seeding rate reflects the fact that these plants did not have as many seeds as those planted later.