CHAMPAIGN, Ill. — It's kind of nutty to find to find red crown rot disease in soybeans in Illinois. It is usually just found in the south and southeast where soybeans are grown in rotation with peanuts.
Researchers are taking it seriously here because where it was found in the west-central part of Illinois last year, it reduced yields by as much as 25 bushels per acre, said Nathan Kleczewski, University of Illinois crop scientist, at the annual University of Illinois Agronomy Day Aug. 22.
It could easily be confused with sudden death syndrome (SDS) in soybeans. The leaves appear brown to yellow with the veins remaining green. To tell the difference, you have to get into the field and look at the base of the plant, Kleczewski said.
When red crown rot is the culprit, red ball-like structures can be found at the base of the stem at the R3 to R5 stage, he said.
Both fungi will cause root rot, he said. For farmers not sure which disease it is, he recommends they send samples to the diagnostic clinic at the University of Illinois.
The disease has already shown up in Mississippi, where it can traced to the purchase of peanuts from Louisiana. Kleczewski said he does not know how it turned up here. That is one of the things researchers will be looking at — along with how to control it.
Surveys with growers are taking place this season to see what they can learn, he said.
Researchers already know the weather in west central Illinois, where the disease was found last year, has been conducive to it coming back this year. The fungi can over-winter here.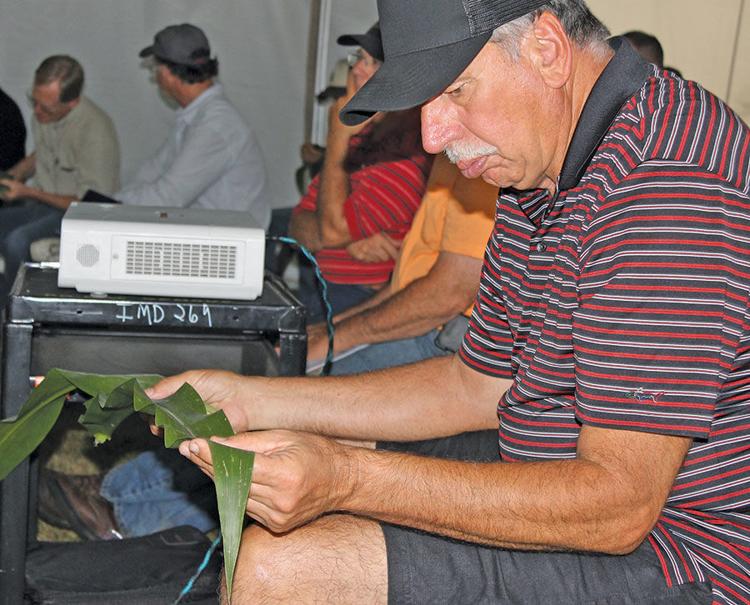 Researchers are also paying attention to tar spot, a disease that is also relatively new to Illinois and has been known to reduce yields by 25 to 35 bu./acre here. Losses in Michigan were as high as 60 bu./acre in recent years.
It first showed up in Illinois in 2015 and has spread across the country.
This disease also came from the South. In Latin America, farmers are looking for hybrids that are resistant to the disease, Kleczewski said.
There is no one product or company that seems to be ahead of this disease, he said. Some hybrids do better than others against tar spot.
"I don't think we'll have a huge epidemic this year," he said.
Last year there was a lot of rain from late August through October that led to more tar spot.
This year, with the variable planting dates, he said a lot of the corn in northwestern Illinois, where the disease can be the biggest problem, is past the stage when the disease would occur. But Kleczewski said some of the later-planted corn is still susceptible, and it is worth scouting.
Tar spot likes cool wet conditions to grow. Temperatures between 60 and 72 at night with about 75% humidity are ideal, he said. Typically the fungus starts to grow when the canopies start to close and the corn is in tassel stage, he said.
"It can move from field to field," Kleczewski said.
One of the options for control is scouting before tassel stage to consider a fungicide, especially if wet weather is expected. The cost of fungicide and the price of corn are also considerations in deciding whether to spray or not, he said.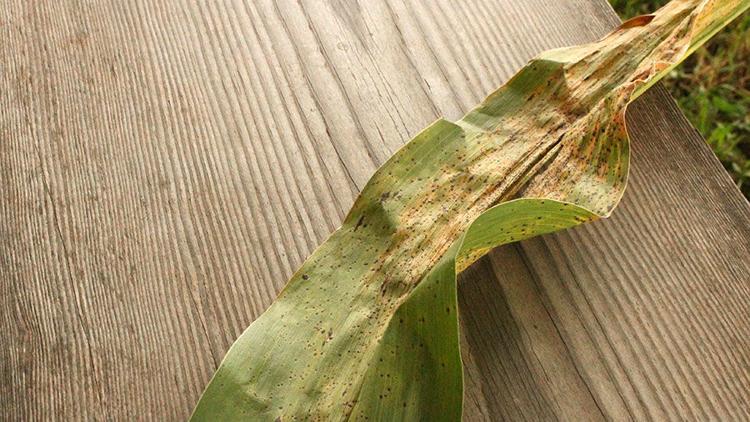 DeKalb and Bureau counties in northern Illinois had the most problems with tar spot in the past. A problem area has been found a little further south this year, near Wyoming, Illinois, in Stark County, he said.