FREEPORT, Ill. — While farmers are updated on the damage old and new enemies in the field can cause, they are also being introduced to new decision-making tools to help them cope.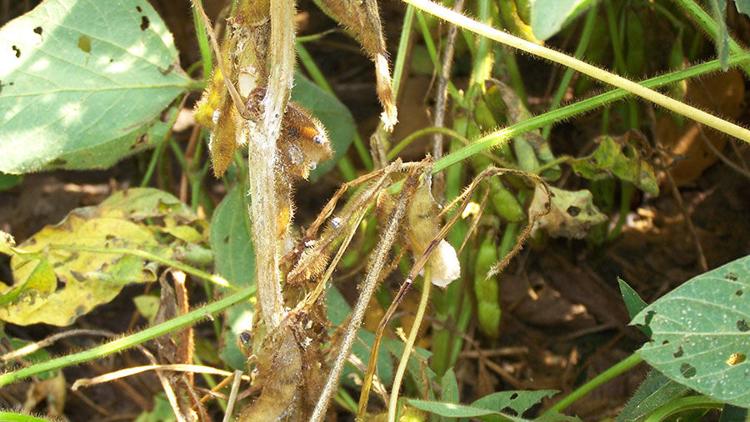 White mold has long been a challenge for Midwest farmers who might benefit from University of Wisconsin-developed Sporecaster, which lets them know when to expect white mold to be a problem and where. Its sister app Sporebuster helps farmers determine the most cost-effective way to fight it, researchers said at the Northwest Illinois Agronomy Summit Jan. 15 in Freeport.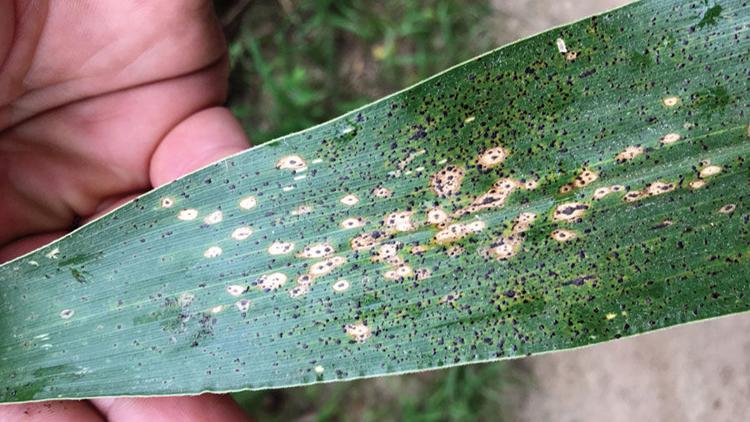 Similarly, Tarcaster will offer a risk model for tar spot, a disease first identified in Illinois corn in 2015. The disease grew exponentially last year, becoming a yield robber in several Midwest states.
The smartphone app isn't ready for farmers yet, but researchers will be using it this year, said Damon Smith, field crops Extension educator and research pathologist of the University of Wisconsin.
Wrestling with white mold
White mold is in the top 10 soybean problems every year in the Midwest. Soybean cyst nematode remains No. 1, followed by sudden death syndrome and frogeye leaf spot, Smith said.
About the only year that white mold, also known as sclerotinia stem rot, has not been an issue was in 2012 when it was too dry. It thrives in cool, humid conditions, Smith said. It can survive in soil and residue for eight to 10 years and is commonly spread by harvest equipment.
One of the ways to tackle it is with variety choice.
"There is value in resistant varieties," Smith said. They can save bushels and save on fungicide costs, he said.
Fungicides are a necessary tool in fighting the disease, but not the complete answer.
"Fungicides take a bad situation and make it less bad," he said. They are not as effective against disease as herbicides are against weeds.
Smith has been involved in the development of the Sporebuster tool, which can be used to determine when a fungicide application is needed to control white mold in soybeans. A farmer enters the expected soybean price, expected yield and treatment cost into the smartphone app, and Sporebuster compares 10 different treatment plans to determine average net gain and breakeven probability of each for a specific farming operation.
The app is meant to complement Sporecaster, a tool to help decide whether a fungicide application is even needed. If Sporecaster, using weather, GPS information and a disease severity formula, recommends a fungicide application, Sporebuster can be used to determine a profitable program, Smith said.
The model is 80 percent accurate now, with work being done to improve that. Details of variety resistance could further improve its accuracy.
Another important factor in controlling white mold is timing of application, which has also been a focus of considerable research, Smith said.
Tackling tar spot
Researchers tackling the a non-Bt hybrid and use a soil insecticide. The insecticides have proven to be effective, he said.
However, he noted there are differences between weed and insect control, mostly because insects move. That is partially why herbicides can be more effective in weed control than insecticides are on insects.
"We have to lower our expectations of insecticides. We can't expect near 100 percent control," said Damon Smith, field crops Extension specialist and research pathologist at the University of Wisconsin. "We have to bring our expectations down. Even 50 percent control is good."
Seiter said scouting is an important part of control as well. Rootworm larvae damage corn by feeding on the exterior roots. Lodging is the above-ground symptom, and it can cause reduced ear weight. Adults can feed on the silks and the leaves, reducing yield.
When monitoring for field damage, check roots. In many cases farmer don't realize there is a problem until they see lodging.
"Just because there is no lodging doesn't mean no damage," he said.
Seiter encouraged farmers to call when they see a problem.
"We have to conduct trials were they (pests) are," he said. "Report instances of suspected damage."