SAVOY, Ill. — This year has one of the lowest occurrences of western corn rootworm In Illinois that Joe Spencer, an entomologist and principal research scientist at the University of Illinois, has ever seen. It may mean cost savings for farmers next year, he said.
"It looks like 2020 will be a low-pressure year for western rootworm populations," he said at the university's Agronomy Day here Aug. 22. "You may want to throttle back on BT protection next year."
The low rootworm populations are one good thing about the delayed planting, said Nick Seiter, University of Illinois crop science assistant professor. The larvae die when there is no corn to feed on.
Seiter agrees that 2020 might be a good year to forgo using BT traits.
"Put the traits where they are needed and forgo them where they are not. It helps with resistance," he said.
The Cry3535 trait seems to still be providing adequate protection against western corn rootworm, Spencer said in answer to concerns that resistance might be building against it. But he also encouraged reducing its use when possible.
The State Pest Survey in Illinois confirmed the very low count of western corn rootworm this year, said Kelly Estes, the survey's coordinator.The survey, taken annually in the last week of July and first week of August, showed 0.1 beetle per plant, lower than last year's 0.11 and a trend downward from 2017 at 0.51.
Most of the western corn rootworm was found in only two counties. Possible reasons for higher counts would be in areas with organic crops or where resistance built up.
"In Iowa it's a different story," Spencer said.
Iowa has a much higher amount of western rootworm than in Illinois.
"They suffer a lot more in Iowa and west where there is more corn on corn," he said.
The annual pest survey counts Japanese beetles and stink bugs as well.
"Overall the insect population is low this year," Estes said.
This past winter, she thought the lead insect issue for 2019 would be the Japanese beetle because they were present in high numbers in 2018.
"In 2018 the Japanese beetle was big, not this year," she said of the pest known for its defoliating powers.
The 2018 survey found population averages higher in every crop reporting district when compared to 2017. An average of 47 were caught statewide per 100 sweeps in each survey of soybean fields in 2018 compared to 28 in 2017. This year numbers were down significantly to 19.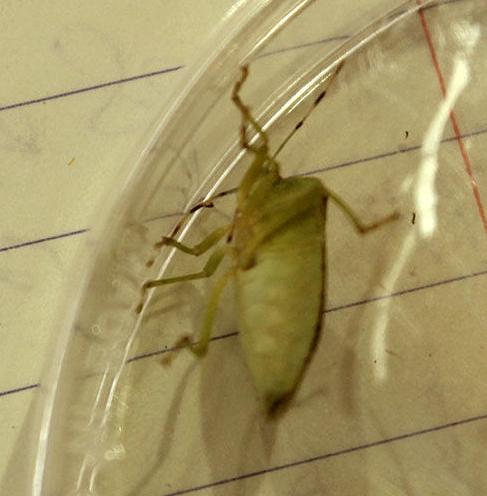 While some of the key pests are in decline, at least one is thriving this year. A negative surprise is the impact of green stink bugs in southern Illinois. They reduce grain quality by causing seed discoloration which can lead to discount at the elevator, Seiter said.
Stink bugs can be a problem with row crops, but also fruits and vegetables, he said.
The best time to check for them is on a wetter, cool day. Insecticide can control them, but the control doesn't last long — "only five days of good control and eight days of some control," Seiter said.
The problem this year is biggest in later-planted crops and those further south. Over the next few years, they may build up here, Seiter said.