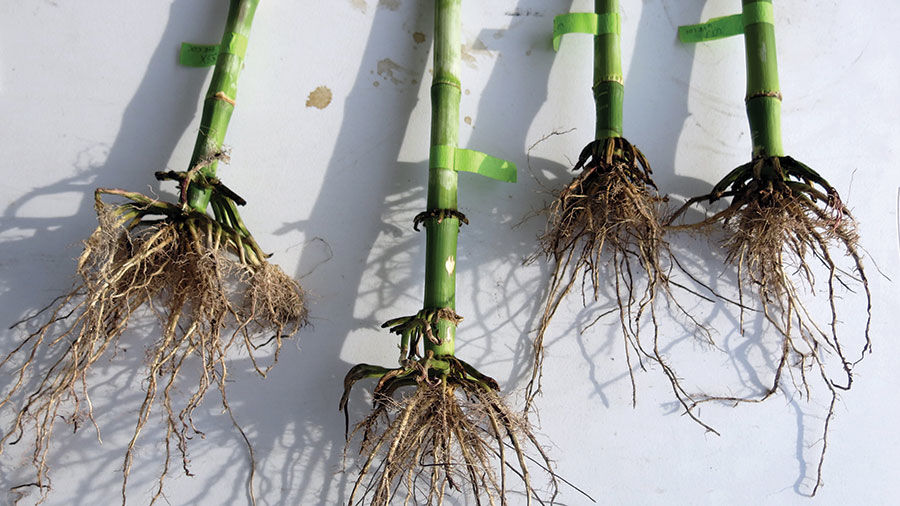 FREEPORT, Ill. — If you are the farmer who grows continuous corn with the same hybrid for corn rootworm protection year after year, you are more likely to be the farm that has a corn rootworm problem, potentially caused by resistance, according to university experts.
Using a corn-soybean or other crop rotation, varying hybrids and protection source will likely help reduce a corn rootworm infestation, said Nick Seiter, University of Illinois assistant professor and field crop entomologist. It may also slow the pace of growing resistance to Bt protection in hybrids.
Research has shown that there is resistance to rootworm in all areas of the state.
"It is a pretty serious finding," Seiter said. "Western corn rootworm and northern corn rootworm are excellent at overcoming control tactics."
While a corn-soybean rotation has been a good strategy, research in Wisconsin shows that some Western corn rootworm lay their eggs in the non-host crop of soybeans with larvae hatch timed for the corn year in the rotation, he said.
The efficacy of Bt hybrids "that have worked so well" is also beginning to decline, as most rely on the Cry34/35Ab1 toxin which rootworms are building resistance to.
"Pyramid hybrids (that have multiple Bt toxins with distinctly different modes of action against one species of the insect) generally performed well in 2018," Seiter said. "They are performing better than expected."
They did especially well in east central Illinois near Champaign.
Research in Nebraska in areas of high infestation showed that resistance is not uniform. It may be found in one field and not in another, and it seems to be spreading relatively slowly, he said.
"That means that if the neighbor's corn is Cry34 resistant, in some cases you may be alright. This is pretty good news," Seiter said.
Field practices influence why neighbors might have more or less of a problem.
"Don't be the guy that plants the same crop and hybrid over and over and again — it will speed up loss of traits," he said.
It is important to be aware of resistance and keep the products on the shelf when they are not needed, and use them when they are.
"But that may be difficult to do," said Seiter.
He said he wishes there was a way to give growers a heads up before the season so they had a better idea of what hybrids to choose.
"That's where we'd like to get to," he said.
In studies of corn rootworm populations in 10 fields in Illinois, populations remain "relatively low," especially when rotated with soybeans. This could be good news. But, Seiter said he would not recommend foregoing treatment.
He suggested that another way to delay the loss of efficacy, in addition to rotating
Bt hybrids, is to rotate with a non-Bt hybrid and use a soil insecticide. The insecticides have proven to be effective, he said.
However, he noted there are differences between weed and insect control, mostly because insects move. That is partially why herbicides can be more effective in weed control than insecticides are on insects.
"We have to lower our expectations of insecticides. We can't expect near 100 percent control," said Damon Smith, field crops Extension specialist and research pathologist at the University of Wisconsin. "We have to bring our expectations down. Even 50 percent control is good."
Seiter said scouting is an important part of control as well. Rootworm larvae damage corn by feeding on the exterior roots. Lodging is the above-ground symptom, and it can cause reduced ear weight. Adults can feed on the silks and the leaves, reducing yield.
When monitoring for field damage, check roots. In many cases farmer don't realize there is a problem until they see lodging.
"Just because there is no lodging doesn't mean no damage," he said.
Seiter encouraged farmers to call when they see a problem.
"We have to conduct trials were they (pests) are," he said. "Report instances of suspected damage."