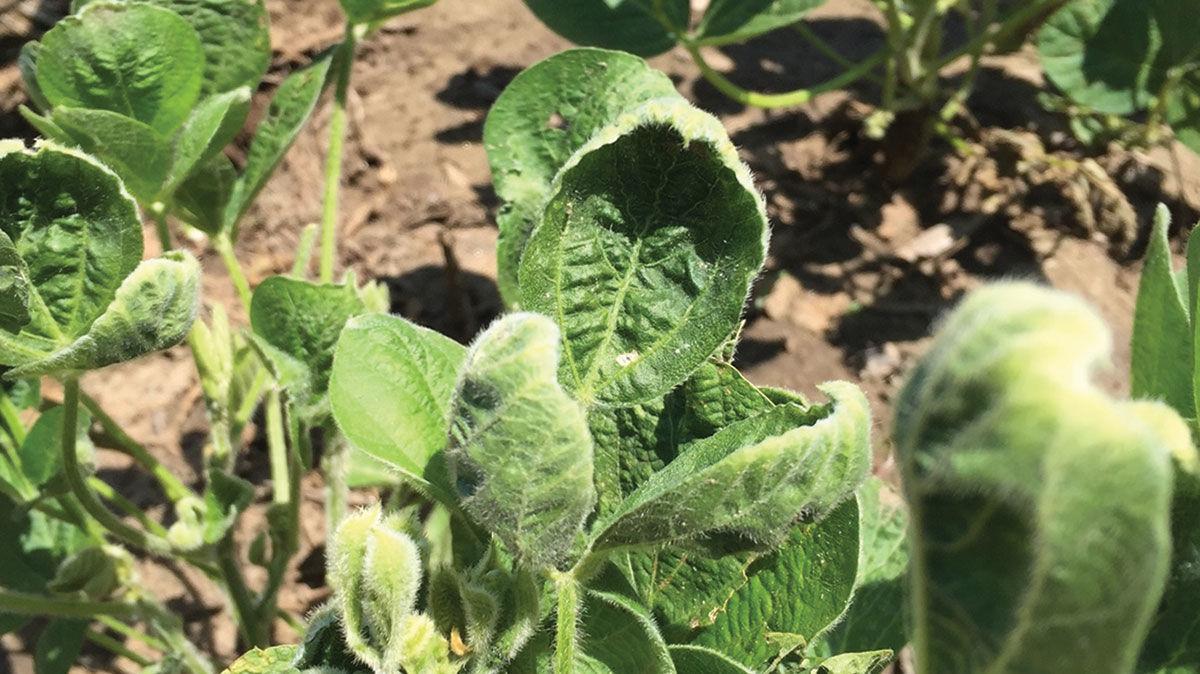 Despite assurances by industry that new dicamba formulations are safe, damage claims have spiked in Illinois, the nation's biggest producer of soybeans. And many believe volatilization is to blame.
The state received nearly 600 dicamba damage complaints as of late August 2019, compared to 246 in 2017 and 330 in 2018.
University of Illinois weed scientist Aaron Hager is convinced that, despite some claims to the contrary, much of the damage is due to volatilization. He is skeptical about company claims that some of the soybean damage is from application of ammonium sulfate.
"It's not the farmers that are claiming that. They're being told by people in the industry that AMS is causing this widespread leaf cupping," he said.
Instead, Hager said, the more likely culprit is dicamba.
"If AMS really causes leaf cupping — let's say it does — why have we sprayed Roundup Ready soybeans for 20 years and have never seen widespread leaf cupping until three years ago when dicamba soybeans first came onto the market?" he said. "Nobody has been able to answer that question for me."
Reports of dicamba-related crop damage vary in intensity and source. Hager said there are only three possible causes: drift, equipment contamination or volatilization, and he points to the latter as being most likely.
But at least one weed scientist has other views. Greg Kruger of the University of Nebraska is skeptical of some reported symptomology origins as well as damage to off-target plants. He suggests equipment contamination may be a bigger culprit than many realize and points to other causes as well, such as dicamba particles being carried on dust and movement of the chemical when heavy rains follow application.
Kruger also takes issue with the assumption many make that leaf cupping or curling — a symptom of dicamba contamination — results in damage.
"Everybody wants to talk about symptoms. I want to talk about yield," said Kruger, who was involved in one of several Midwestern field trials in the development of Monsanto's Xtend soybeans, which are genetically modified to be resistant to dicamba. "If I'm a soybean grower, the problem is yield."
He added that in one field, affected soybean plants actually exhibited yield increases of 10 to 20%.
Bayer provided reports of independent research in Wisconsin, Nebraska and Arizona of the company's Xtendimax formulation of dicamba with VaporGrip technology. University researchers there concluded that peak volatility occurs within 24 hours of application, and that applications under high temperatures do not result in meaningful increases in off-target movement due to volatility.
Sarah Strutner, a territory manager with Pioneer, said some growers are taking a wait-and-see approach on planting dicamba-resistant seed next season. That is especially the case with those who also grow wheat.
"It's making it a little bit challenging for farmers to decide which technology they want to use this upcoming year," said Strutner, whose territory includes several counties in southern Illinois, where double-crop soybeans are widely grown. "But guys who have used dicamba in the past are still planning on using dicamba for 2020 on their full-season beans. Not every farmer has made his decision on double-crop beans yet."
The label prohibits spraying dicamba past June 20. That could squeeze growers who follow winter wheat with soybeans. Wet conditions this year, for example, pushed wheat harvest back for many farmers.
"I've had a couple of farmers who don't want to plant, especially for double-crop reasons," Strutner said. "Farmers are looking at using Enlist beans or Liberty beans to avoid that risk of late application."
Crop consultant John Pike has talked to farmers who have experienced what appears to be dicamba crop damage due to volatilization, which happens when the sprayed liquid converts to gas during temperature inversion.
"The problems that I've seen and heard of the most is situations where they go out one day and everything appears to be fine for a couple of days, then all of a sudden it will appear," Pike said. "The vapor drift seems to be coming from multiple directions."
That is consistent with volatilization, Hager said. Studies have shown that volatilized dicamba can exist for days.
"If you have leaf cupping that looks like dicamba, there's only one thing in the world I know of that causes that. And that's dicamba," he said.
He is skeptical about industry claims of low volatilization, such as the VaporGrip technology developed by Monsanto.
"Every manufacturer that sells these products always says that these are low-volatile formulations. There is not a low-volatile dicamba formulation being sold," Hager said. "There has been research from universities that has shown that these low-volatility formulations are still volatile. We can pick up detections of these four days after they were sprayed."