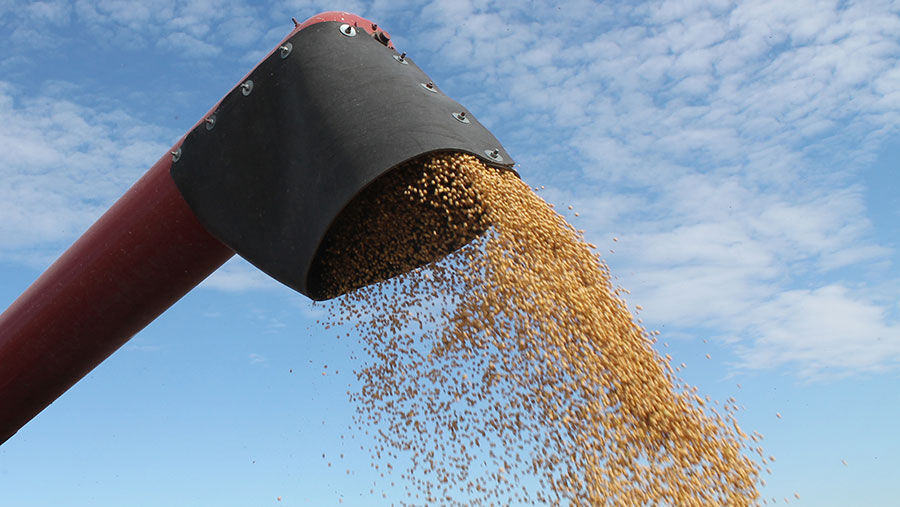 In general, soybean yields in Illinois were on par with the five-year average.
Darin Joos, University of Illinois principal research specialist and head of its variety trials, said that this year about 250 varieties of soybeans from 24 companies were tested. As many as 400 soybean varieties were tested during the years before seed companies consolidated.
There has been a slow decline in total numbers with fewer companies, but each company still tests about the same number of varieties, Joos said.
This year, a couple of the 13 trial sites in five regions across the state were removed from the final results because soybean stands weren't good enough. Results aren't shown for the Dwight site in Livingston County, near north central Illinois, which had low yields due to a wet start, he said.
In Region 1, northern Illinois sites in Erie, Mt. Morris and Dekalb, averaged 72 bu./acre.
In Region 2, north central region sites in Monmouth, Goodfield and Dwight, averaged 73.
Region 3's central Illinois sites, in Perry, New Berlin and Urbana, averaged 80.bu/acre with Berlin's site the best with an average yield of 91 bu./acre, Joos said.
Region 4, in southern Illinois, with sites in Belleville and St. Peter, brought in average yields of 73 bu./acre. The St. Peter fields were planted later, and plants were shorter and had lower yields.
Region 5, in the deep south, with sites in Elkville and Harrisburg, brought in average yields of 74 bu./acre. At the Harrisburg site, the beans were planted earlier, were taller and yielded better than expected for that area at 85 bu./acre, Joos said.
While the taller soybeans yielded better this year, there isn't necessarily a correlation between height and yield, he said.
There weren't a lot of issues with soybean diseases this year, but fellow University of Illinois crop scientist Nathan Kleczewski was on the lookout for red crown rot. First detected in 2017 in a single Pike County field in western Illinois, the fungal disease is new to the Midwest. The soil-borne disease causes a root/crown rot in years with wet conditions near planting. Some parts of the state had wet planting conditions this year.
Later in the season, typically after R3, the fungus can produce a toxin that moves into the foliage. This toxin accumulates in the leaves, killing tissues over time, sometimes killing the plant, Kleczewski wrote for the university's Crop Disease Hub.
Farmers were asked to submit any plants where red crown rot was suspected, and research continues, Kleczewski said.
The University of Illinois Variety Testing program began in 1934. Along with soybeans, performance reports are provided for commercial corn, conventional and Roundup-resistant soybeans, forage crops, wheat and sorghum. Hemp variety trials were reported for the first time this year, Joos said.
On the website, the trial results for every year dating back to 1995 are listed. While weather conditions make every year different and test sites can change as well, a general upward trend in soybean yields over the years is clearly noticeable.
In 1995, data on the site shows northern yields averaged 48.4 bu./acre; central, 59; and south, 51 bu./acre. Comparatively, this year all the regions averaged above 70 bu./acre with the central region averaging 80.