SPRINGFIELD, Ill. — David Daniken, a fifth-generation southern Illinois farmer, is good at managing his mixed farm operation, including Christmas trees, pumpkins, a corn maze and row crops. However, he says he's not as good at telling his farm's story to the public.
"I need to get better," said the Bond County farmer, who was working on his social media and communication skills at the 31st annual Illinois Specialty Crop conference in Springfield Jan. 8-10.
In addition to signing up for workshops to grow better pumpkins, he was active in workshops focusing on market development, agritourism promotion and storytelling.
Daniken is the second generation to sell Christmas trees on the family farm near Greenville, Illinois, about 50 miles east of St. Louis. He aims to improve his branding and marketing for Daniken Tree Farm, which includes 70 acres of Christmas trees and a tree nursery, along with small acreage of corn and soybeans.
He already is a member of Illinois MarketMaker, an online platform that connects growers with buyers.
Dar Knipe, one of its developers, said it was launched 16 years ago by University of Illinois Extension. It now includes 27 websites which featured 281,000 products last year and included more than 39,000 grower profiles. Its complex engine helps people find local products they seek as well as having regional and national search options.
Another popular feature of the program is the "What's in Season" section where consumers can find what local crops are in season and where to get the produce, Knipe said.
Users can connect through its partners including Illinois Specialty Growers Association, Illinois Farmers Market Association, Illinois Farm Bureau and Homegrown by Heroes.
In the last year, other groups have joined the online platform: Buy Fresh Buy Local, the Illinois Department of Agriculture and the new Farmer Veteran Coalition, she said. The new additions are a bonus for growers including Daniken, who is a military veteran. When buyers search for products produced by veterans, his products will pop up, Knipe said.
She was most excited about a new MarketMaker online store, launched Jan. 8. As it is a pilot project, she is looking for growers to sign up and give input about how the store works for them. It is free to become part of the store, then 5% of sales goes to the administrator Local Line, a Canadian e-commerce company.
Knipe said the company was chosen because of its stability and success. Many online store operators don't stay in business long.
Daniken has used online stores before, but said for Christmas trees they don't work because the product is too bulky. He said having items for an online store and getting sales is the easy part, but packaging and shipping are the challenges. The veteran farmer is a strong believer in U.S.-made products, so he said he wouldn't use the service from a Canadian company.
Knipe said she believed it was the best company to provide the service, and they are willing to set up a U.S. presence.
Daniken, however, does plan to take some storytelling skills he learned from Janice Person, the keynote speaker and workshop leader, to promote his farm in the future.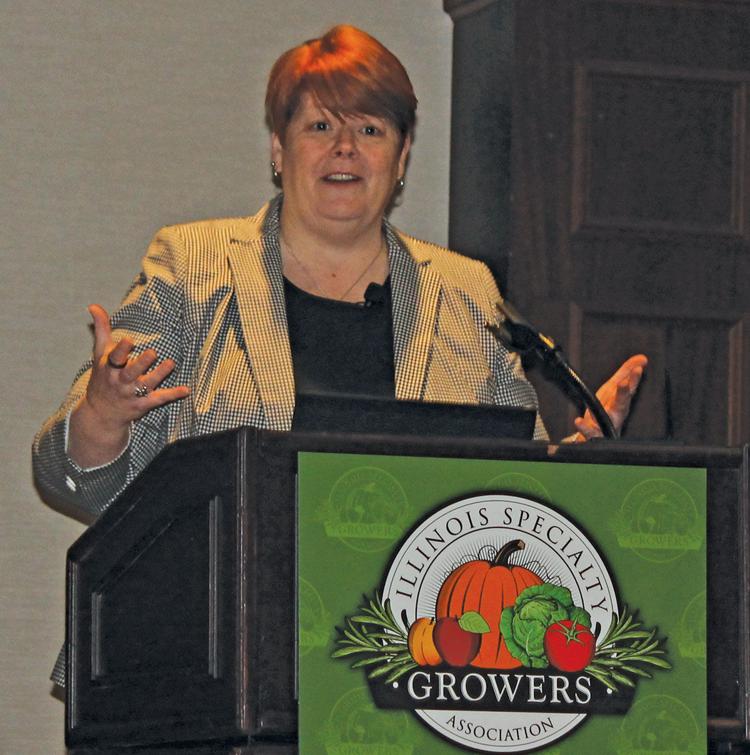 Person, a food and farming blogger active on Twitter, calls herself a "fourth-generation urbanite" — a non-farmer with roots in Memphis, Tennessee. She is immersed in the world of urban moms, foodies and millennials and knows how their experiences may filter messages from farmers.
She recalls the first time she interviewed "Mr. Ray," a Louisiana cotton farmer. It was a miserable, rainy day and he was talking about soil and roots and conservation tillage. She wasn't accustomed to writing agriculture stories and was nervous out so far from the city. But to her surprise, "I was captivated," she said, describing how he pulled out a shovel and showed her soil.
Today Mr. Ray is 90, he has increased his organic matter by 4% since then, and continues to think about future generations, she said. She remains captivated by his personal storytelling.
It's those kinds of stories people like to hear, she said. She told farmers if they don't like writing about themselves, find a grandparent or grandchild to feature the story around.
Consumers think agricultural practices are "hidden from our view," she said. Telling the farming story helps unveil that.
She said farmers will have a little more space to breath and freedom to operate when consumers and legislators know more of the details and color in their personal stories.
Storytelling can help lift off the "weighted blanket" from those working in agriculture, she said.