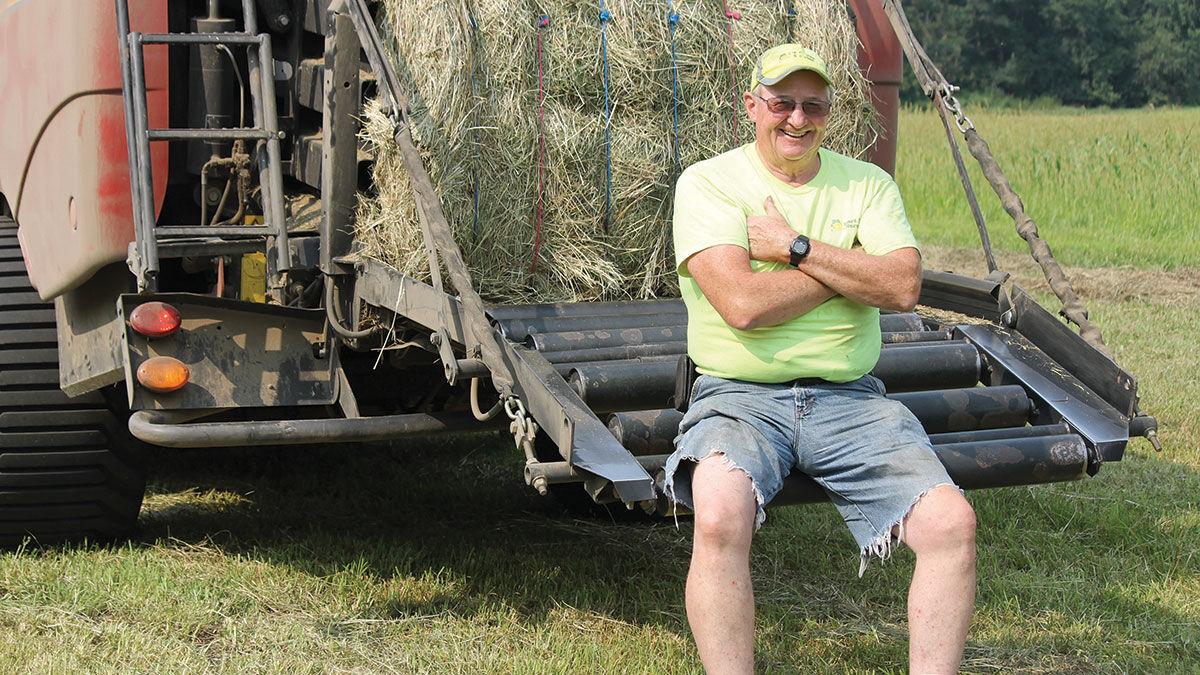 SENECA, Ill. — Ron Tombaugh literally has tons of experience making hay while the sun shines.
He bought his first round baler for custom hay in 1973, almost half a century ago, and has been growing a custom business and later a brokering business ever since.
The Livingston County farmer doesn't farm in the highest hay producing county in Illinois nor that with the most hay acres, but he has plenty of markets for his dairy quality hay.
Jo Daviess County, Illinois' northwestern-most county, has the title for both the most production and the most alfalfa hay acreage in Illinois, according to the USDA report released in April this year. The county also held both titles for hay in the 2017 Census of Agriculture.
Often the counties with the highest livestock numbers are those with the most hay, Tombaugh said, and it is often harvested on rolling land.
The county with the highest yields isn't always the same because of weather. Some prominent hay counties are dealing with drought or excess rain this year, he said. Last year, White County had the highest yields in Illinois. This year White had the 10th wettest July in the past 127 years, with 3.27 more inches of rain than it normally has, according to NOAA.
"Weather plays a big part," Tombaugh said.
Quality hay
"It takes strong commitment to make high quality hay," he said.
Some of his awareness for good hay started early as he grew up on a dairy farm and he knew dairy quality feed.
From behind the wheel of a New Holland tractor in a grass hay field in La Salle County in mid-August, Tombaugh shared his story. After he graduated from college, he and his father transitioned from dairy farming to running a New Holland dealership along with their farming operation from 1977 to 1988.
He's making 3 foot high, 4 foot wide, 7 foot long bales today that weigh 1,100 pounds. This field is owned by a hunt club, he said.
Tombaugh is a member of the National Forage Testing Association board, which certifies the labs that test hay. The goal is for all labs to test by the same protocol so the results are consistent across the U.S. he said.
Testing provides information feed buyers need to know about moisture, protein content and fiber.
"It gives the feed value" and helps predict animal performance, he said. If the hay is "too good" it can be mixed for a balanced ration.
The biggest mistake some producers make is for hay to be too dry. But if hay is too wet, fermentation starts which ties up the protein.
"There's a fine line of too wet and too dry," he said.
Tombaugh, the owner of Dart Hay Service, produces big round, big square and small square hay bales. The quality of his hay has been recognized nationally, including placing second in the commercial hay category at the World Dairy Hay Expo.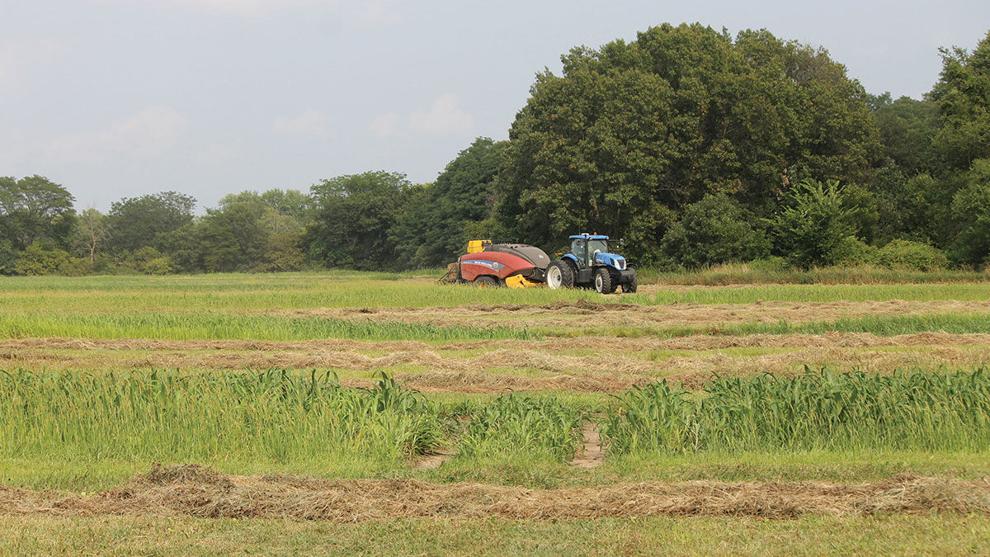 His passion for hay also took him to the top jobs of hay organizations, including president of the Illinois Forage and Grain Council in 1988, president of the American Forage and Grassland Council in 2003 and National Hay Association president in 2008.
A big year for him was 2005, when he baled 700 acres of hay and 5,000 acres of straw. A mushroom farm near Princeton was a big buyer of wheat straw at one point.
Specialized market
A barn fire created a setback in 2015, and since 2017 health issues have slowed his production, making him more active in selling and brokering hay today.
"I still cut some hay, but before I was more production, now I'm more marketing," he said. Still, judging from the big smile on his face behind the tractor wheel, he still finds joy in haying.
"There's always a demand for high-quality hay," he said.
Steve Berning of Warrensville in Du Page County is another farmer who hasn't had any trouble finding a market for his quality hay for 40 years.
Today about 90% of his hay is straight grass and alfalfa and goes to the horse market. Paying attention to detail is the key, he said.
Berning, the owner of Galusha Farm, produces small square bales in bundles of 21, round bales for outside storage and 3x3 big round bales in northeastern Illinois. He is also a director on the Forage and Grassland Council and active in the industry.
"We have a lot of automation. It's a great market," he said.
He has 750 acres of hay and "great employees." Eventually he hopes to sell the business, perhaps with mentoring, when he finds the right buyer to carry on his tradition.
Most of his customers today prefer communication by a text. He sends a text when the the hay is ready so the buyer knowns when the hay is on the way.
"Horse people love to text. It's quick and concise," he said.
From what he has seen this year, hay quality and availability might be tight, so he advises buyers to book early.
"Buy early and get it done," he said.
Top hay counties
Jo Daviess (Northwest) had the largest alfalfa acres at 21,449.
Jo Daviess also had the largest production at 82,472 total tons.
White County (Southeast) had the highest yield at 4.63 tons per acre.
In the newest USDA results, released in April 2021 for Illinois, Jo Daviess, remains No. 1 for largest acreage and largest production of alfalfa hay in 2020. Stark County, in Central Illinois, had stellar yields for alfalfa hay averaging 5.2 tons per acre in 2020.
Sources: 2017 Census of Ag and Mark Schleusener, Illinois State Statistician, USDA/NASS, Illinois County Alfalfa Estimates by County, April 22, 2021