BLOOMINGTON, Ill. — As central Illinois farmers grow increasingly anxious to get their planters in the fields, experts say it is too early to get nervous.
"April 15 is traditionally kind of a target date to start planting corn," said Jason Carr, a technology development representative with Bayer Crop Science in Bloomington. "We're not quite there yet, but the weather gets nice and farmers want to get into the fields as quickly as possible. It's just been too wet to do anything yet."
The USDA estimates Illinois farmers will plant 11.2 million acres of corn in 2019, an increase of about 2 percent over last year. Farmers are expected to plant 10.5 million acres of soybeans, a drop of about 3 percent from 2018.
"I know the farmers are anxious to get going," said Mike Orso, director of news and communication for the Illinois Farm Bureau, based in Bloomington. "But we have had precipitation on almost a weekly basis since December. It's been cold and wet since then, and that doesn't look to change any time soon."
Heather Stanley, a meteorologist with the National Weather Service in Lincoln, said the forecast indicates farm equipment will remain parked.
"The ground is still very wet," she noted. "More rain is on the way which will keep the fields wet."
Brian Loeffler, whose farm east of Stanford, Illinois, is bustling with activity preparing for planting, wants to get into the fields sometime in the next five to 10 days, he said April 10.
"The conditions have just been too wet to do much of anything," he said.
Loeffler, who farms acres from Stanford to Lexington, is using the time to fine-tune a seed tender and a massive 24-row planter.
"There's a lot of fields that look like they've actually been plowed this spring, but that's not the case," he said. "They were actually plowed last fall."
Loeffler said it will take some sunshine and wind to dry out the fields so they can be prepared for planting.
Fred Grieder, a corn and soybean farmer near Carlock and president of the Bloomington-based McLean County Farm Bureau, also is waiting for dry weather.
"I would say we are about seven to 10 days away from getting in the fields," he said. "We didn't get some of the field work we would normally do in the fall because we had an early start to the winter. We had a cold spell with snow in November and that prevented us from getting much work done at that point."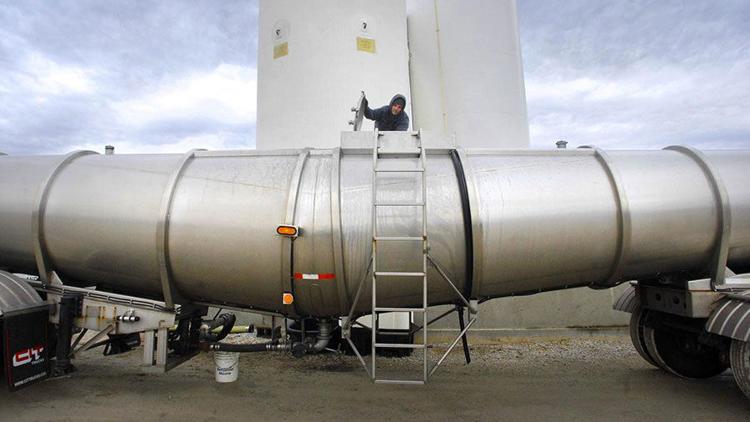 Dan Pattern, a certified crop adviser with First Mid Ag Services of Bloomington, said he has heard similar stories from several farmers.
"When you get snow in early November, the hope is that you can get into the fields early in the spring to finish that work," he said. "It's still early and not a lot of cause for concern yet. But everyone would like to have some dry, warmer weather."
Statewide, March was colder and substantially wetter than the average March, according to the Illinois State Water Survey. The average statewide March temperature was 36.6 degrees, which is 4.7 degrees below average. The average precipitation was 4.16 inches, which was 1.2 inches above the long-term average.
"That's been the theme of the whole spring so far, wet and cold," said Tim Stock, executive vice president of the Macon County Farm Bureau. "The only thing farmers can do is to prepare their equipment for planting and maybe fine-tune their plans a little bit, but it's mostly a waiting game."
Orso said that once the weather does turn dry, it won't take farmers long to get busy.
"I always think it is amazing how fast corn and soybeans get planted," he said. "Almost every year, we have concerns about the weather, but every year they get the crop in the ground, and sooner or later, they will."
The forecast for the rest of April looks somewhat promising. After weekend showers, dry weather was expected for the week of April 15, with slowly warming temperatures, Stanley said.
At least one field is planted in Woodford County. Carr said Bayer Crop Science planted a field near Roanoke on April 9.
"It's not what I would recommend," he said. "But we wanted to run a few experiments and tests to see how the seed would respond to some different treatments. It won't help us much this year, but the research will help us in the future."