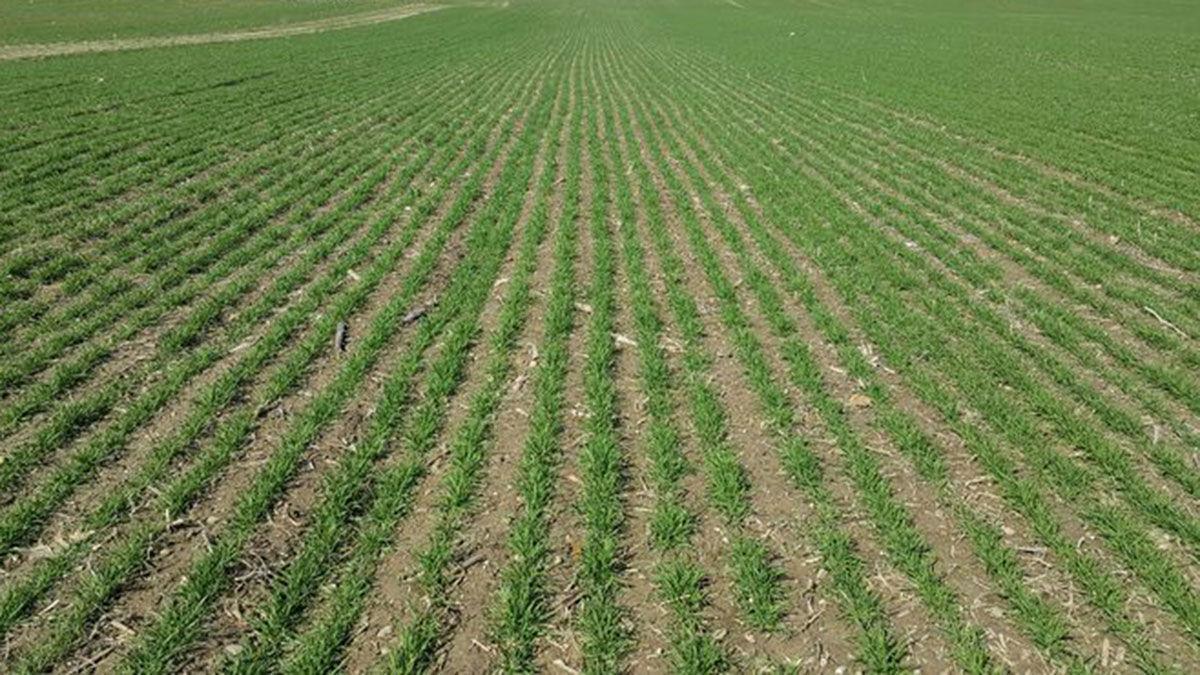 "Plant in the dust and your bins will bust," the old-timers would say. Wheat growers in Illinois are getting the opportunity to test the veracity of that adage.
While the dry fall has been a boon to corn and soybean harvest, it also is affecting planting of winter wheat.
"Wheat planting is generally going very well. A dry fall tends to be quite favorable for guys hoping to sow wheat and we've had a dry October," said Matt Wehmeyer of AgriMaxx Wheat, the seed company based in Mascoutah. "Actually, we're getting a little dry in some spots, and growers could use a little shower."
Greg Bigham, who farms near Vergennes in Jackson County,
Illinois, said acreage will increase this year following years of reductions. He attributes much of that to price.
"I think our wheat acres are going to be pretty high in our area," he said. "Wheat is $6 now and a year ago it was $4.80."
Craig Hilmes of Keyesport got wheat planted early this year on his Bond County farm. He has some concerns about lack of rain.
"Some of it's up and some of it isn't. I don't know how much longer it can survive," he said. "I don't know where it's finding the moisture. There's a lot of seeds in the ground dry that never sprouted."
Seed treatments may help.
"Seed treatments offer a very good return on investment. We've documented and studied it for a lot of years," Weymeyer said. "In both dry falls and wet falls, there does seem to be a benefit. It helps with multiple things. On the fungicide spectrum we are protecting against any seed-borne or soil-borne diseases that might be present. It enhances germination of the seed and improves the vigor of the seed.
"With the insecticide piece, the big culprit is fall aphids, which can introduce virus. The University of Illinois shows a 5- to 6-bushel yield response on some of their studies. Our studies have shown a 4- to 20-bushel advantage, depending on the severity of the aphids."
Whether farmers are planting wheat as a cash crop or traditional cover crops, there is really no alternative to planting, regardless of the dryness of the ground, according to Adam Dahmer.
"It comes up better in the field than it does in the bag," said Dahmer, who markets cover crop seed and farms near Marion, in Williamson County. "I would put it out there. Once the weather changes, that would be it."
His own experience has shown that late fall planting does more harm than good.
"I planted some no-till cover crops Saturday (Oct. 10)," he said. "It's dry on top, but when you get digging around, there is still ample moisture down there to germinate it. Would you rather put it in the ground right now and let it sit, or let it rain and get muddy, causing compaction?
"If we don't get any moisture it's just going to sit there until it gets moisture. We're getting pretty close to planting cereal rye anyway. Till mid-November. It's quite surprising what that plant can do with what little moisture it has."
Bigham began wheat planting on Sept. 20, earlier than normal. He is glad that rain has held off enough to get summer crops out of the ground and winter wheat in the ground. But a little rain would be well received.
"With a half inch, we would be right back in the field in the day or two because it would be so dry," he said.
Wehmeyer said treatments can make a difference, whether fall crops are planted in dry or damp ground.
"It could help the viability of the seed if it lies there dry for a while," he said. "We've seen it on corn and soybeans. It's amazing how the seed treatments can keep the seed viable for longer periods of time."