The images of dairy farmers dumping milk will long be remembered as part of the COVID-19 pandemic.
On dairy farms across the Midwest, calves are being raised, crops planted and milk shipped as general uncertainty continues.
Frank Doll, his father, Homer, and his sons Blake and Logan, milk about 200 Holsteins near Pocahontas and Greenville in southern Illinois. With about 14 people on the payroll, operations continue — although the destination of the milk has changed in the last month and the price has dropped.
There was a lot of optimism three or four months ago. Milk futures were $17 or $19 per hundredweight. Then the COVID-19 pandemic hit, and prices plummeted when restaurants, schools and other institutions were shuttered. May futures dropped to $11/cwt., Doll said.
"To put it in perspective, that is $1/bu. corn," he said.
But unlike corn, perishable milk cannot be stored for six months as part of a marketing plan.
Some dairy processing plants need 20% less milk, so producers had to provide that much less by culling cows or dumping it.
"You hear the word a lot, but it is 'unprecedented,'" Doll said.
Compounding the situation is the high-volume months for the dairy cow cycle in spring, with more milk produced in March, April and May and that translates into "some pretty good checks," Doll said. Not this year.
Organizations advocating for dairy farmers are trying to reduce the need for dumping milk and to ensure farmers and dairies are compensated for the loss of income. The National Milk Producers Federation (NMPF) and the International Dairy Foods Association are leading the way in making requests of the USDA.
"We started with a more general request last week," NMPF vice president of member services Chris Galen said in early April.
After five years of mediocre milk prices, there seemed to be a light at the end of the tunnel earlier this year.
"That light turned out to be the freight train COVID-19," Galen said.
On April 14, NMPF chief economist Peter Vitaliano got more specific with calls for help, asking for government support for dairy producers to reduce production in coming months "to speed dairy's recovery from coronavirus-driven price declines."
"Not every farm and not every region or every state" has to dump milk because of oversupply processors can't use, Galen said. Some, including Prairie Farms where Doll is a board member, are able to adapt to other markets.
Those with fluid milk as "the bread and butter" are able to adapt while others making butter and cheese cannot pivot so quickly, Galen said.
Like other processors, Prairie Farms was hit hard by the dramatic fall in demand from regular customers of schools and restaurants, but since its main product is fluid milk, it was able to move milk to Wal-Mart and Dollar General where demand is high, Doll said.
The big driver in falling dairy consumption overall is the loss to the food service market, said Galen. About half the cheese and 60% of butter is made for food service. States hardest hit are those where cheese production is king — Wisconsin, Washington and Arizona, he said.
It is difficult for processors to quickly adapt to a behavioral shift by 300 million people, Galen said. The form of the demand has shifted and processors can't just retool processing plants to meet the new situation. If they were producing 40-pound blocks of cheese for restaurants, they don't suddenly have the ability to package it as shredded cheese for home tacos.
There is the fear that after the pandemic, 10% of restaurants won't be coming back and that market won't rebound. The industry has to consider how to manage an oversupply of 10% going forward, he said.
While the tap shut off for restaurant demand, demand for milk at home has risen as people are drinking more milk and eating more cottage cheese. It takes six pounds of milk to make one pound of cottage cheese, Doll said.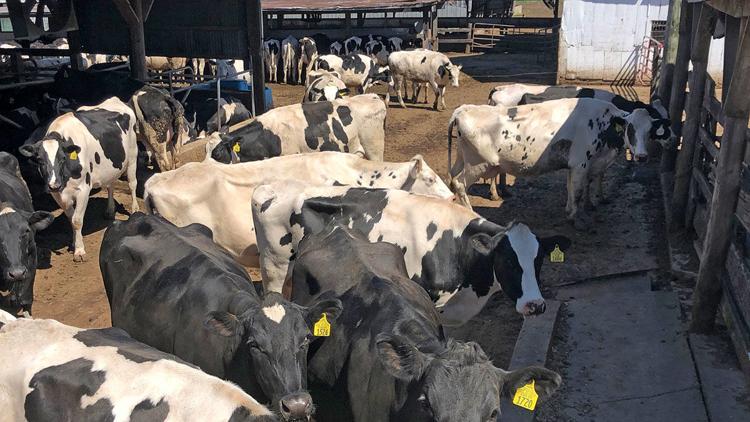 Some positive steps have been taken, but more has to be done to help dairy farmers through this crisis, Galen said.
The USDA is allowing discarded milk to be counted toward milk marketings for the Dairy Revenue Production (DRP) or as actual marketings for the Livestock Gross Margin for Dairy (LGM-Dairy) programs. That decision allows dairy farmers who participate in those risk management programs to maintain coverage on any milk that can't be marketed.
"It's helpful but it is not the full story," Galen said.
He points out that a small percentage of dairy farmers and milk produced is covered by these programs. Payments for milk having to be discarded need to be available to all producers and dairies, he said.
NMPF, as the voice of the dairy industry in Washington, D.C., is lobbying for payments for all discarded milk.
Further, it wants incentives to help control the supply/demand imbalance COVID-19 has created. That can be done with incentives to reduce supply, Galen said. Farmers would get federal funding to reduce their milk production. The voluntary reduction of milk would be part of the solution. It would give money to producers of all sizes without strings, he said.
The organization's other big push is for the USDA to help make it possible for more of the milk and dairy products to be directed to food banks as the demand for food among from those who have lost jobs or have food insecurity grows.
It's a double-edged positive approach to stimulate the demand for milk and to help feed the people put at an economic disadvantage by the pandemic, Galen said.