POCAHONTAS, Ill. — Operating a dairy is hard work, but it's work Frank Doll loves. He also loves sharing the farm experience with others.
"Unless you're a 3,000-cow dairy, you're going to be out here all the time," said Doll, who milks about 180 cows on his Bond County farm. "I still milk cows. I have a lot of employees, but they're part time."
He feels fortunate to be able to tap into youth for his help. Besides his two sons — Blake and Logan — he gets plenty of help from others in the community.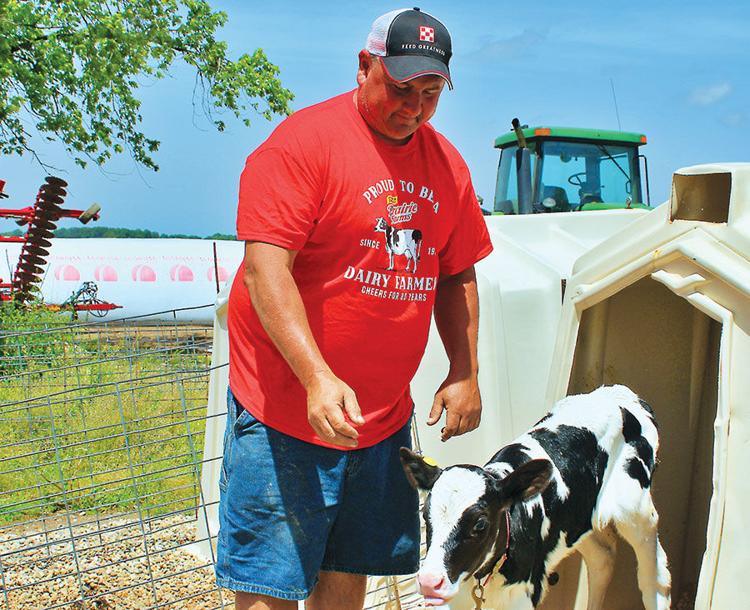 "We have an ample supply of high school kids to work," he said. "I enjoy teaching them and letting them get some dairy experience. It's hard, dirty work, but one boy who just quit was here for seven years. It's good experience.
"… I get to teach kids work ethic. Today, if you don't work at McDonald's, there aren't too many other opportunities."
Doll has changed the milking schedule from two to three times daily, running cows through the parlor at 6 a.m., 2 p.m. and 10 p.m. He usually relies on high school and college students to do the weekend duties.
His grandfather — for whom he was named — started the farm in this southwestern Illinois county in the late 1930s. Like most farms of the era, it was highly diversified, including livestock, row crops and an orchard.
Doll's father, Homer, gradually sold off the hogs and chickens and began moving the farm toward a dairy. He expanded the herd from 20 to 80 cows over the years before shifting much of the responsibility to his son, who has expanded it further.
Homer Doll still works on the farm part time along with his grandsons. Blake attends a nearby community college, and Logan is in high school. Logan is pursuing an ag career, but isn't sure if he will want to join his father at the dairy.
"If we bring another family member on board, we're going to have to be a 300- to 400-cow dairy," Doll said. "That's a big investment."
He grows his own feed on 800 acres, 350 of which are planted in corn. The rest is divided between soybeans, wheat and alfalfa.
"Usually about 100 to 120 acres of the corn is chopped for silage, with another 25,000 bushels to feed the cows," he said. "Last year we had 10,000 bushels left over to sell. That's unheard of usually. We had a fantastic crop last year."
The alfalfa is fed to all the animals, even growing heifers, though dry cows don't get much.
"Quality hay makes quality milk," Doll said. "Ninety percent of what they eat, we grow here. All get some alfalfa every day."
While many dairymen in the region are going high tech, such as installing robotic milkers, Doll isn't convinced that is the best route for him.
"Some people love them, some don't like them. I'm in between," he said. "The robots are a lot of maintenance. Five, 10 or 15 years from now they're completely outdated, and you have to start over."
He runs a 95-pound tank average and a 28,000-lb. rolling herd average, getting 11 to 12 gallons per cow daily. All his cows are Holsteins.
Though his production is good, he has had to ride low prices for a long time. He pointed out that Illinois' dairy herd is shrinking.
"Wisconsin is shedding dairies almost as bad," he said. "But overall, milk production stays the same or goes up. We've just gotten really good at making milk. The little guys get out, and the bigger buys make more milk. It's either get bigger or get out."
"Genetics is the key around here. We genetically test each animal. Those that are below average I sell as beef."
As president of the board of the St. Louis Dairy Council and a board member of the cooperative Prairie Farms, he welcomes opportunities to educate the public about the industry. He is proud of the fact that he and other farmers often travel to schools of all sizes to spread the positive message of agriculture in general, and dairy in particular.
"We educate, providing truths about dairy instead of all the nonsense," he said. "We have to constantly. There's always a new crop of kindergartners and first-graders. We do a pretty good job of hitting the small schools in Missouri and Illinois."
He and other dairymen participate in an Adopt-a-Calf program that involves 1,000 schools. They take a calf to schools on a regular basis so that the children can see them grow. It comes naturally, as Doll's wife, Pam, teaches at nearby Greenville High School.
"Instead of them all coming to the farm, we take the farm to them," he said. "I could do a tour every day if kids could get here, but I can't afford to do that."