ARROWSMITH, Ill. — Central Illinois farmer Pat Bane worked determinedly to put a new feeding system in his pig barn at the end of September.
"It is semi-automatic and will help us monitor the feed to our sows better," he explained after four long days of work on it, with likely two more to go.
It's this kind of effort that was part of the reason he was named 2018 America's Pig Farmer of the Year, an honor bestowed by the National Pork Board through its checkoff program.
The judging process stretched over months and included a series of interviews, farm practices audits, an on-site assessment, a social media vote and review by a panel of judges.
The award recognizes a U.S. pork producer who "demonstrates excellence in raising pigs, excels in ethical principles and in sharing his story with the public."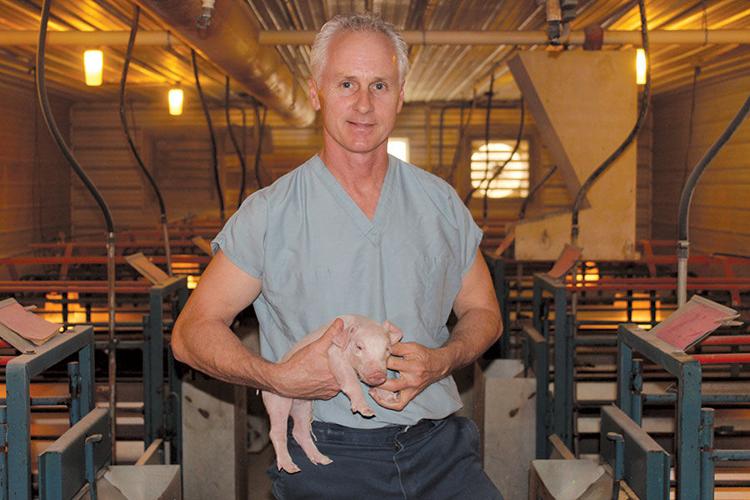 Because of the intensity of the judging process, "You have the best of the best in the industry," said Steve Rommereim, president of the National Pork Board. "They do it as good as it came be done."
As the winner, Bane will travel across the country, speaking "to groups all over," said the board president and South Dakota farmer.
The honorees are chosen using the board's "We Care" criteria that focuses on animal well-being, food safety, public health, the environment, employees and community contributions.
In his video introduction, Bane describes his farm as "clean, healthy and high-tech." He raises 74,000 pigs annually in west central Illinois, where he focuses on protecting public health, hiring the best people and maintaining herd health. In his video message, he notes the importance of taking care of the sows — the "momma pigs."
The Bane Family Pork Farm is a breed-to-wean operation that keys in on genetic selection. It operates with eight employees. Bane's brother Sam is a grain farmer and his brother Phil, a veterinarian in Fairbury and a consultant to the farm.
In 1995, Bane started managing the pig operation that has doubled in size from 1,500 to 3,000 sows.
"I've been farming all my life," he said.
In the social media voting portion of the competition, 3,437 votes were cast for Bane.
"I voted for him every day," said Albert Hoesman, a Taylorville farmer who worked for a company that trucked hogs from Bane's farm.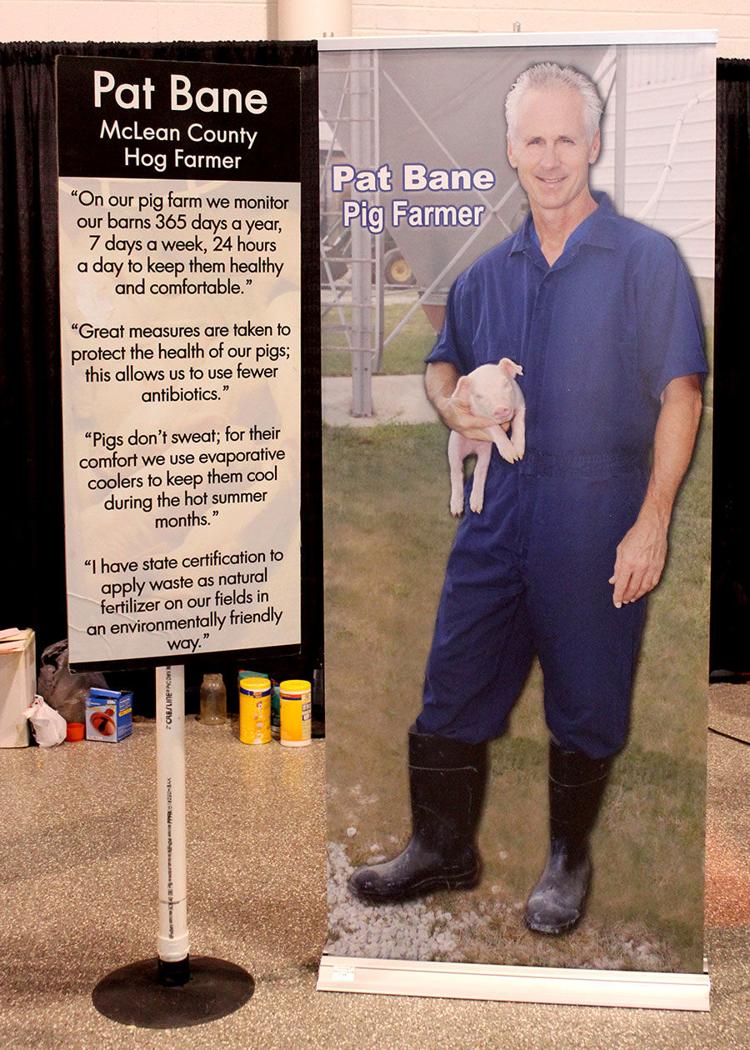 "I've known Pat since the 1990s. I hauled the first load of pigs from his place. We became friends," said Hoesman, a former truck driver who worked for Triple Edge Pork at that time. "He's got a lot bigger now. He had a showplace then. It was very clean."
Bane's wife, Sheri, who retired from Country Financial in January, was "thrilled" with the honor their farm was receiving.
"She was very helpful. We would bounce things off each other," Bane said of going through the process together.
Both became more proficient with Facebook and Twitter.
Despite the time-consuming forms to fill out, interviews and visitors, Bane said, "It's been a wonderful experience. As producers, we need to speak to consumers about what we do."
Among the qualities the panel of judges was looking for is someone who is a good communicator. Those who have worked with Pat agree that describes him well.
"Pat has always been a good spokesman for farmers, especially hog producers," said Fred Grieder, a McLean County grain farmer and president of the McLean County Farm Bureau.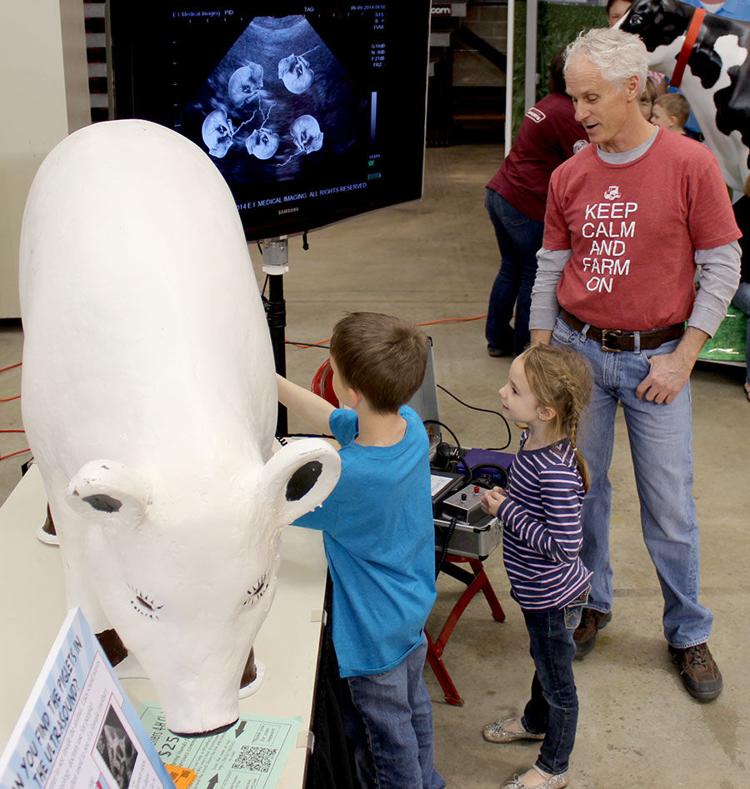 "He's happy to take people, who might not have a background in farming on a tour of his farm," said Grieder, who attended a tour in 2016 which included State Rep. Thaddeus Jones, D-Calumet City.
"We were all impressed with the farm, especially the legislator," Grieder said.
Bane has been active with McLean County Farm Bureau. Since 2009 he has been on the agriculture education committee that helps develop the program at McLean County Fair. Bane interacts with urban and rural visitors alike at the fair.
Through his activity in ag education at the county fair and other activities, he helps consumers understand where they food comes from, said Anna Ziegler, assistant manager of the McLean County Farm Bureau.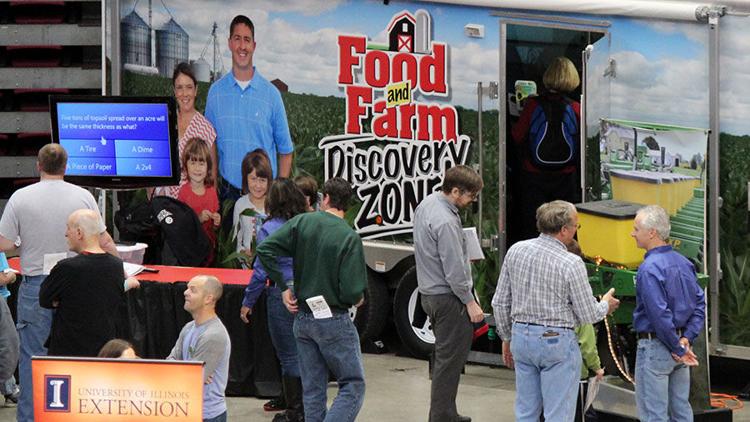 "McLean County has a large urban population with a lot of people who are not directly involved in agriculture," she explained.
He especially highlights the how farmers use technology to grow more sustainably, she said.
"Every time I give a talk or a tour, someone says, 'It's way more complicated than I thought,'" Bane said. Often when consumers visit the farm, they see "what we do is the right way to do it," he said.