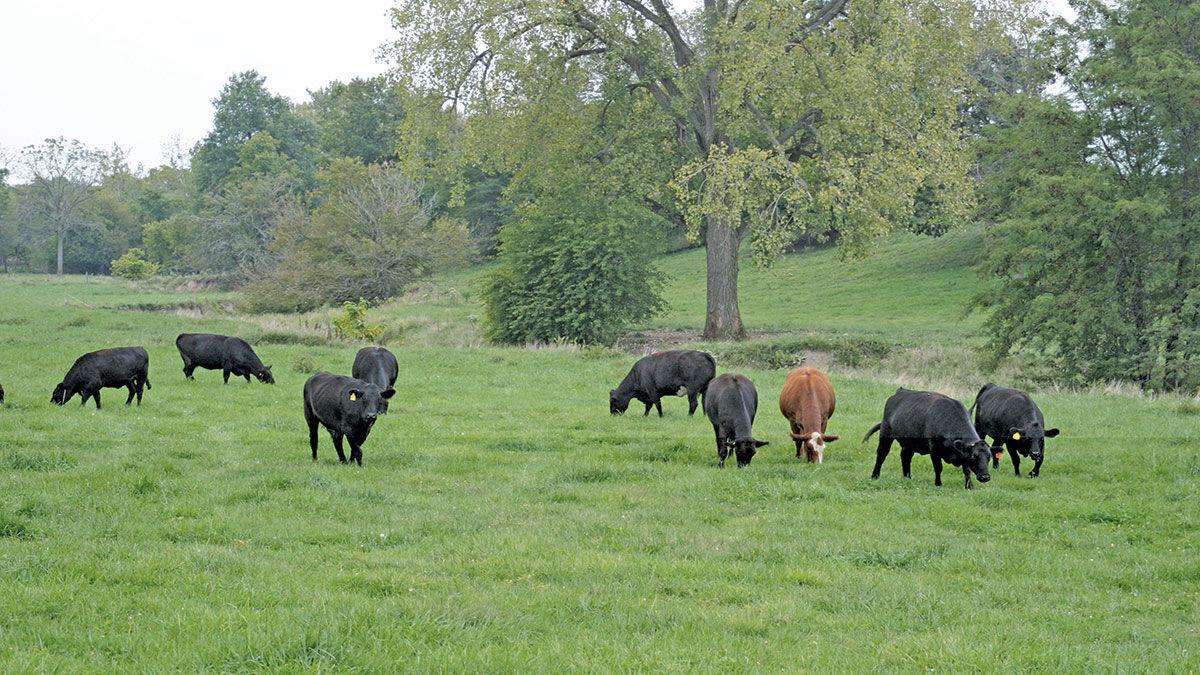 From the time bulls are born, breeders already have a good idea which ones they will likely take to the annual Illinois Performance Tested Bull Sale, said Curt Rincker, a Simmental and Angus beef producer in Shelby County.
Rincker Simmentals includes Curt and Pam, daughter Cari of Champaign, and son Brent of Shelbyville. Together they were named the Illinois Beef Association Beef Farm Family of the Year in 2014.
"We know quite a bit about a bull upon its birth and more after it is weaned," Curt Rincker said.
Using expected progeny differences, or EPDs, which provide estimates of the genetic value of an animal as a parent, Rincker long ago chose which bulls to take to the sale, organized by University of Illinois Extension at the annual Illinois Beef Expo.
This year, because of COVID-19 restrictions, the Feb. 25 sale has moved from its usual home at the Illinois State Fairgrounds in Springfield to Lowderman Auction Company in Colchester, Illinois.
Rincker said he likes attending the IPT Sale because it has specific health requirements "to allow buyers the utmost confidence," he said.
The sale requests bulls be tested for Johne's disease, trichomoniasis, bovine viral diarrhea and additional reporting from producers verifying vaccinations for a variety of diseases and parasite control measures, he said.
Rincker said the University of Illinois Extension and the university's College of Agricultural, Consumer and Environmental Sciences, current and former staff, have worked closely with cattle producers to make this event possible.
"This sale would not have the 53-year successful history without their involvement, coordination and willingness to educate and partner with all of us as beef producers," he said.
Logistics had to be considered to meet pandemic safety standards, to move the time and location of the sale this year and still provide a good sale for buyers and sellers.
"This year has thrown a lot of curveballs at the sale, but consignors continue to support the sale despite numerous changes and challenges" said Travis Meteer, University of Illinois beef Extension educator.
"The IPT Bull Sale sets the bar high and requires that bulls meet a very stringent criteria. These requirements say a lot about the cattle and the breeders that are willing to go above and beyond to provide elite genetics."
Rincker has also selected his bulls for the Mid America Simmental Sale at 10 a.m. on Feb. 26, also part of the Illinois Beef Expo.
He is accustomed to preparing cattle for big sales as his family holds an annual customer appreciation bull sale, the Illini Elite Cattle Sale, at their own sale barn near Shelbyville.
Cari, an attorney, has been working with freezer beef sales as part of their operation. She expanded that effort in 2020 with the demand for local beef, Rincker said.
"She's trying to satisfy the need in Champaign," he said.
"During COVID time, we continue to think about ways to improve our product," said Rincker. Quality as well as weight gains are priorities for producers, he said.