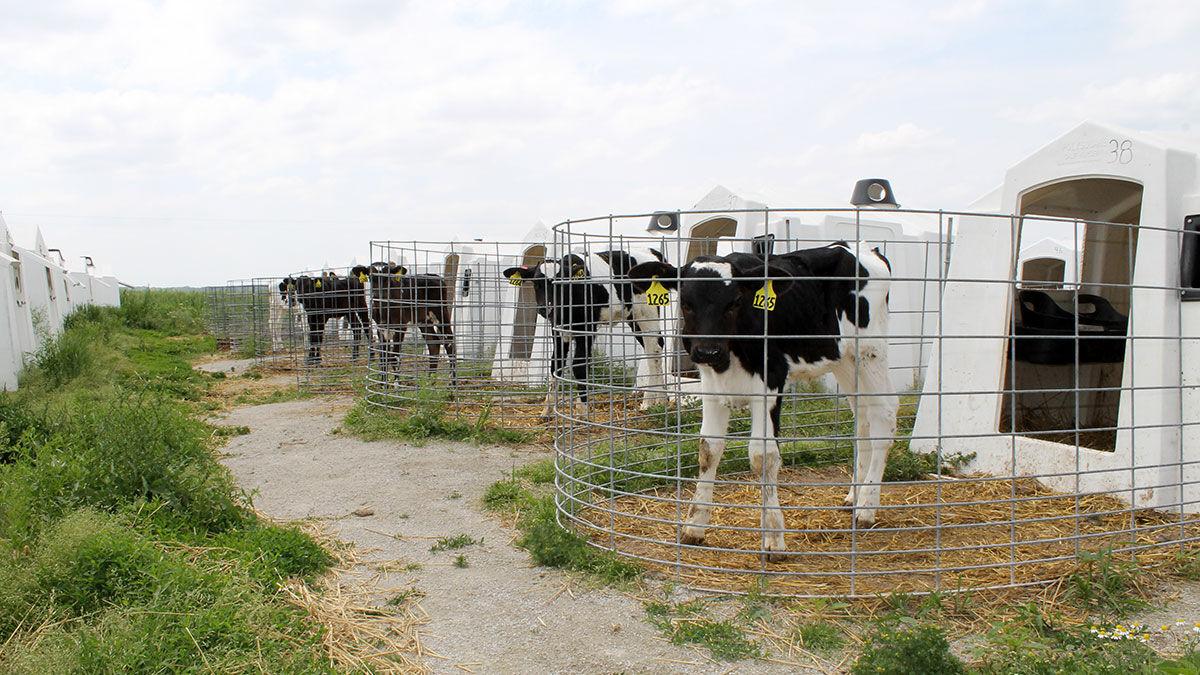 Just as home design differs for people across the United States, ideal housing for dairy calves has different characteristics regionally.
In California, the wooden hutch which houses three calves on elevated slatted floors is the most common choice. In New York, Jersey calves are housed on Hi-Land Farms in a specialized barn with good ventilation. The youngest calves are warmed by heat lamps, and tarps are also used to keep the little ones warm in January in New England.
Jan Gawthrop's calf housing system for Midwest farms protects calves in a building. They can touch each other, but disease control is managed with an all-in, all-out system, said the veterinarian who focuses on calf management and disease prevention.
All types of housing have benefits and challenges, dairy experts said during a panel discussion at the 25th annual Dairy Calf and Heifer Association conference in Appleton, Wisconsin, which was held both in-person and online April 8.
The popular wooden calf hutches in California use a small footprint to house many calves. The disadvantage is the calves are elevated, and cold air on foggy, damp nights comes from below, said Jon Robison, a dairy consultant and professor emeritus at California State University-Fresno. Calves shouldn't be elevated for their first three or four weeks, he said.
A newer option gaining some traction in California is a poly dome with mesh wire where the calves are standing on sand, rice hulls or almond residue on the ground. The plastic is easy to clean, said Robison of JDR Livestock Management Services.
For Jodi Chamberlain, the change from hutches to a barn as Hi-Land Farms grew in Wyoming, New York, was the right choice. Nine years ago, the farm built two Jersey calf barns with 59 pens each at a cost of about $3,000 per pen.
The building is also designed for human comfort. The wider aisles in the Midwest-designed building make it easier for employees to do their jobs, Gawthrop said.
Chamberlain closely monitors calf health to make sure contamination doesn't move from calf to calf. At the Jersey farm, it isn't possible to have an all-in, all-out system as Gawthrop has in Indiana because three to five new calves are born a day and need safe housing when they arrive.
There are pros and cons for calves being together, said Gawthrop of CalfCare. Sometimes in large pens, calves can antagonize each other and separation is a good thing.
Calf housing is under great scrutiny in California, Robison said, noting farmers have to work with different rules and regulations there. Pressure continues to escalate on animal welfare issues.
"It's best to have an eye to common ground," he said of the industry working with the public.
Water restrictions are also a reality in California, yet it is still important that every calf has cool, fresh water in front of it.
Having fresh water is a challenge in New York in the winter, Chamberlain said. It means going through the barns frequently and making sure the water isn't ice.
She said their system wouldn't work with auto feeders.
"It's not for us," she said of the benefit of giving the young Jersey calves individual care.
Gawthrop said there is a misconception that auto feed systems save time. Auto feeders may provide for maximum nutrition, but they are not the ideal choice for disease management and social issues, he said.
Like Chamberlain, he said there is a benefit to using bottle systems and checking on calves individually. Workers can find a calf is sick 24 hours before a computer on an auto-feed system would indicate the calf was clinically sick.
Auto feed is a niche feed system, Robison said. He has seen it work with "high success" in some operations, but it is not for the vast majority of farms today, he said.
Each of the presenters emphasized the importance of the people working with the calves, no matter the housing arrangements. While housing is important, having "good cow people" with "good cow sense" is crucial, Robison said.
"Automation makes sense as long it as doesn't detract from the end goal," he said.