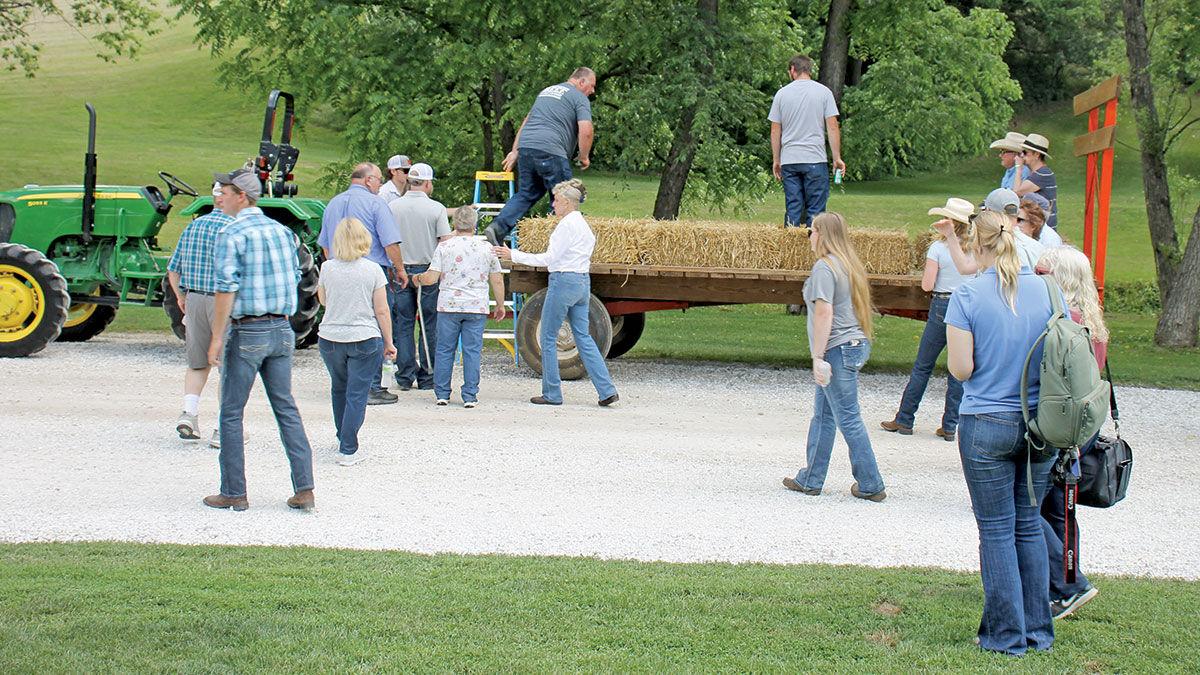 EAST PEORIA, Ill. — National and state lobbyists told Illinois beef producers at their summer conference to be "cautious," not scared of the new administration in the White House.
Farmers are being listened to on some issues, Ethan Lane, the National Cattlemen's Beef Association vice president of government affairs, told producers. The first 100 days of President Joe Biden's administration were better than expected.
"It's not as scary as it might seem. There are some dealmakers," Lane said of the new legislators.
"Under the Obama administration, we had no access. They were not interested in talking to rural America. Now I get a call from the White House once a week," Lane said.
Biden and his team feel a mandate to heal the country. They are aware they don't have a united party, he said.
Lane said producers shouldn't be scared, but still be "extremely cautious."
For many of the 150 people gathered for the Illinois Beef Association's Summer Conference and annual meeting June 8-9
in East Peoria, Illinois, it was their first large in-person post-pandemic commodity event. The conference included discussion of state and national industry issues, networking, elections, awards and tours of a nearby farm and ag facilities.
Leveraging power
On environmental issues, it is important to move cattle into the "solutions bucket," Lane said. This requires educating lawmakers and making sure producers get credit for what they do for the environment, he said.
Producers' conservation efforts need to pencil a profit and remain voluntary, he said.
"No one is going to get rich on cover crops," he said.
The carbon market is "in its infancy," he said, and there is much work to be done.
As he travels the country, Lane hears different priorities from producers. For some regions, endangered species are at the top of the list. In other areas, it's the federal push for its 30 by 30 plan, to conserve 30% of U.S. lands and waters by the year 2030, he said. Labor is far and away the biggest concern for some. Tax issues, including inheritance tax, at a time when 40% of farms will be in transition within the next 15 years, are key to others, he said.
These differences are the greatest strengths and the biggest challenge for the organization. However, on large national issues when producers and the 39 affiliates are on the same page, they have clout with Congress, Lane said.
The NCBA's No. 1 priority is producer profit, he said. Fair pricing with processors is a key issue. More price discovery is needed without inviting more government in, he said. There has to be value on both sides of the transaction between producers and processors, he said.
"There is no simple solution," Lane said.
State issues
At the state level, consequences of the COVID-19 pandemic also became a priority.
Among the issues the Department of Agriculture dealt with this year was the development of the Mass Animal Mortality Event legislation, said Kristi Jones, the department's deputy director.
It includes a plan about what to do with carcasses in an event not caused by an animal disease. Illinois was fortunate not to use the procedures in 2020, but the Illinois Director of Agriculture Jerry Costello can declare a Mass Animal Mortality Event in the future, and the provisions will take effect, she said.
"We haven't triggered it, but it is in our toolkit," Jones said.
One of the things that is different in the Illinois legislature this year is that Mike Madigan is no longer House Speaker. Chris Welch is approachable and co-operative, said Liz Brown-Reeves, an IBA lobbyist. With more than 50 new legislators, it is an exciting time to be on the Illinois political scene, she said.
Legislators — both urban and downstate — will likely listen to agriculture in the upcoming session, said Rich Clemens, a contract lobbyist for IBA in Springfield.
Reeves-Brown encouraged producers to invite politicians to their farms and connect with them.
"We don't want to be in the position when the wheels fall off the tractor that we don't know people. Engage legislators," she said.
Elections and awards
In other business at the meeting, Paul Walker of Danvers was elected IBA president with Buzz Iliff, Wyoming Veterinary Services veterinarian, becoming past president. Dave Duzan of Lexington was elected vice president of the 2,000-member trade association that represents all segments of the beef industry in Illinois.
Top producers in the state were recognized in an awards ceremony and banquet. The Frost family of Tallula was recognized as the Farm Family of the Year.
Lorenzen Farms of Chrisman is the Seedstock Breeder of the Year. O'Hern Stock Farm of Vermont was named the Commercial Producer of the Year. Wildberry Farms of Hanover was recognized as the Environmental Steward of the Year.
Grace Arnold of Clinton was recognized as the Outstanding Junior of the Year.