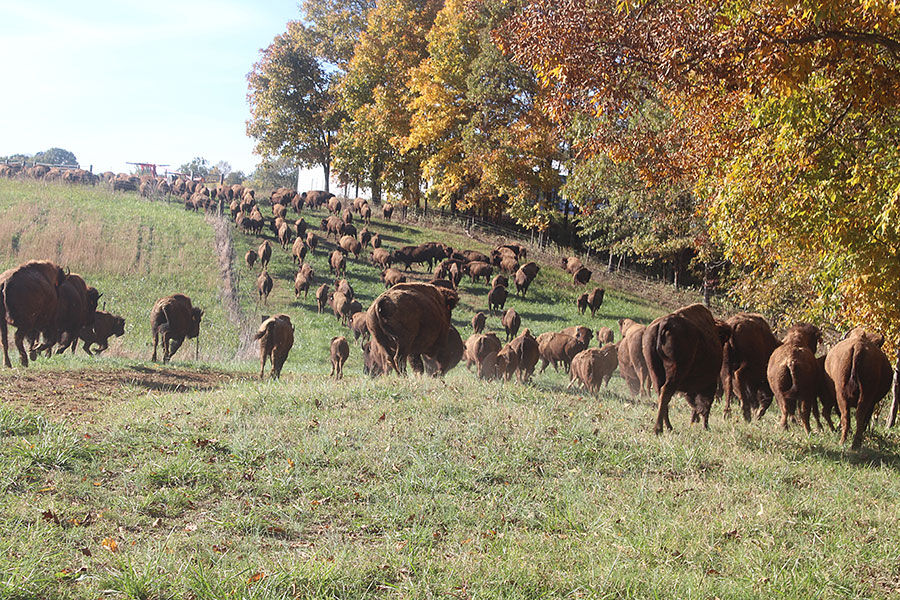 COBDEN, Ill. — Clifton Howell was making an unusual run.
"I feel like an ambulance driver taking something to get killed," he said in the middle of a 90-minute trip to Enfield to deliver an injured bison to a meat processor.
The animal had apparently wrenched his back while trying to scale a fence on Howell's Union County farm, deep in the rolling hills of southern Illinois.
"They can stand up on their back feet," he said. "A beef animal wouldn't have done that because he's not as crazy as a buffalo."
Howell, who likely has the largest bison herd in Illinois and possibly the biggest east of the Mississippi River, has learned a thing or two over the decades. Like leaving the animals alone. His herd numbers 460 head — including 10 bulls — all raised on pasture.
COVID-19 hit Howell and his fellow bison farmers harder than it did other livestock producers. Bison meat is still considered a niche product, with much of it marketed to restaurants. With early lockdowns and government-imposed restrictions, growers were left with more supply than demand.
"The pandemic set us on our ear," said Dave Carter, executive director of the Colorado-based National Bison Association. "As our market has grown, nearly every ounce of the higher value cuts — tenderloins, rib eyes and strip steaks — have gone to the restaurants. Most of the product that goes into the grocery stores is ground bison. So you can't take a $24 tenderloin, grind it up and sell it as $8 ground bison and make money. That was a real setback."
The outlook is improving now that the world is recovering from COVID. The bison market does not parallel that of beef.
"As restaurants reopen, we're seeing that market pick up," Carter said. "Our members are direct producers. They don't sell to the Costcos of the world, they sell to Kevin and Connie down the road. The main problem was when the disruption happened last year and big packing plants shut down, that backed up small processors. Even though phones were ringing off the hook, they couldn't get their animals in to be processed."
'Undomesticated'
Bison production is an endeavor with a big learning curve. While the animals somewhat resemble beef cattle, there are major differences.
"Like one of our producers said, bison are a little bit harder to handle, but they're a lot easier to raise," Carter said. "These are not wild animals, but they're undomesticated."
They require little attention, even during calving.
"The best way to assist a bison female when she's calving is to go fishing," Carter said. "Being around them when they're calving puts more stress on them. They calve naturally. We have people who have been in the business 10-plus years who have never pulled a calf."
Howell has never assisted with calving on his farm. Bison calves are less than half the size of beef calves.
"A big calf is 45 pounds," Howell said. "They spit those babies out and in 15 minutes they're running and nursing."
The bison industry is different from the beef industry. Carter doesn't even like to use the term.
"I hesitate to even call us an industry," he said. "We're too small to be an industry, and I don't think we ever want to be one. We're more of a business.
"We made a conscious decision about 15 years ago that we never, ever want to be a commodity. We want to be a niche, a unique part of the business. Our customers appreciate the way we raise the animal. We don't dehorn bison, we don't castrate them, we don't brand them or artificially inseminate them."
For those reasons, bison production isn't as efficient as beef production. Howell said only about 60% of his cows have calves that survive each year. While the calving rate is about 80%, many don't survive. This year has been especially bad because of a pinkeye outbreak.
Making it work
The business has matured over the years, with competing factions finally coming together.
"When I came on board in 2001, you had the ranchers in one corner and conservationists in another corner, tribal herds in another corner and all were looking at each other suspiciously," Carter said. "By the end of the 1990s everyone was bidding against each other for the animals, but we forgot that the point of the story was we needed to sell the meat. The business really collapsed in 2000. We rolled up our sleeves and said we need to get serious about connecting with the public."
Bison breed, calve and graze naturally. Howell said the alpha bull does 80-90% of the breeding in his herd. Most breeding bulls are 4 to 7 years old.
Profit margins are thin. There are few plants dedicated to processing bison, and they are in the West. Howell said it costs him an average of $2 per pound just to have an animal butchered. His daughter, Margaret Kruse, does the marketing, selling the meat to restaurants and at farmers markets in southern Illinois.
"We probably make about $1,200 at a farmers market each Saturday," Howell said. "We run $150,000 a year for hay, grain and other expenses. It's hard to make it work."