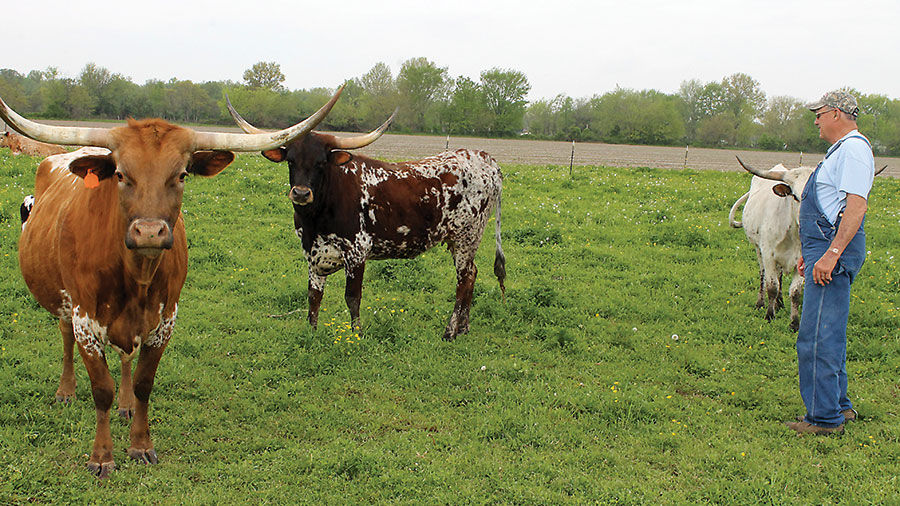 PINCKEYVILLE, Ill. — Brad Morgenstern has found a comfort level with his niche beef operation.
His small herd of Texas Longhorns stands out among others in the region. After all, it's impossible not to notice the difference between his cattle and most others grazing pastures in Perry County in southern Illinois.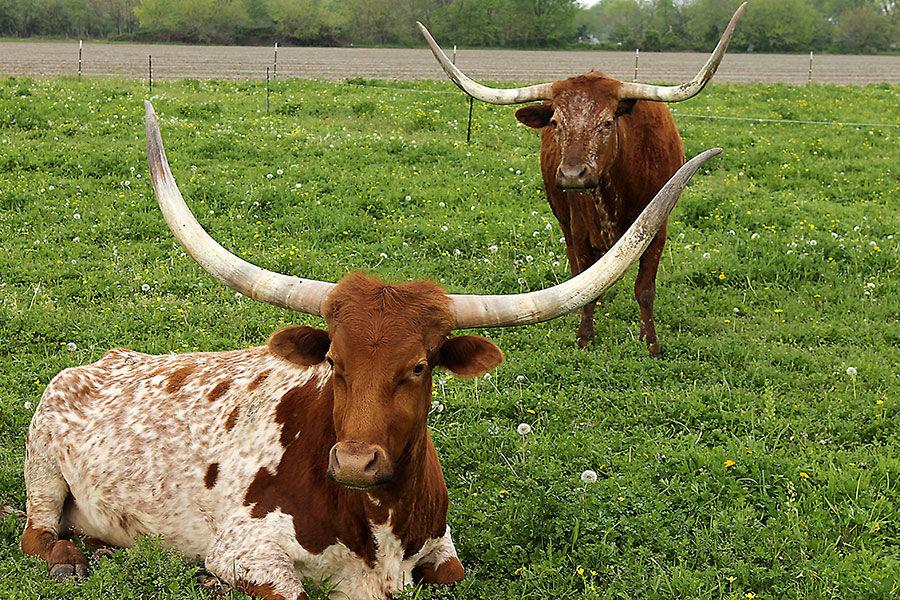 Then he began raising the breed about 10 years ago, when he was searching for a castrated steer. His neighbor — who raised purebred Longhorns — had one.
"That's how it started," Morgenstern said. "We didn't have brood cows, just steers. We fed them out for our own use."
He began crossing Longhorns with Angus bulls. He keeps two bulls: an Angus and a Longhorn. All cows are bred; he doesn't utilize artificial insemination.
The Longhorn breed has traits that appeal to Morgenstern. Calving ease is one.
"It's the only breed that can have a 50-pound calf that can become a 1-ton bull," he said.
That characteristic came about during the breed's development in Texas, where feral animals roamed for centuries.
"In the wild, if they had birth problems, they died out," Morgenstern said. "Also, they're very lean, healthy animals. One thing I like about them is that they're hardy. You just let them go and they'll take care of themselves."
The animals are rotationally grazed on a fescue-clover pasture mix. The paddocks are about 2 acres, and the cattle are moved every day.
"We're not like most beef producers," Morgenstern said. "We calve year-round and process year-round."
His wife, Kathi, points out that Longhorns don't have as much marbling as other breeds.
"The purebred is so lean, you have to cook it differently," she said.
Morgenstern decided to cross-breed the Longhorns with Angus because of the popularity of that breed. He uses direct marketing, selling the meat at some groceries. He also sells on demand to individuals.
"It's conception to consumer," he said. "When we take our animals to get processed, most of our steaks are already sold before we come home."
They get a mixture of pasture, hay and shelled corn. The corn is non-GMO because of the demand; Morgenstern sells to some retail outlets that cater to customers who favor organic products and those not genetically engineered.
The steers do present some minor challenges when it comes to processing. One is the horns themselves.
"Not everybody will take our animals because they have horns," Morgenstern said.
The horns on some animals can measure more than 70 inches end to end. The world record is well over 100 inches.
His biggest challenge is finding a processor that provides consistent cuts. He has used several over the years.
"When people come here to buy our meat, they want it to be the same every time," Kathi said.
Morgenstern added, "When you take those animals to the processor, you're at their mercy."