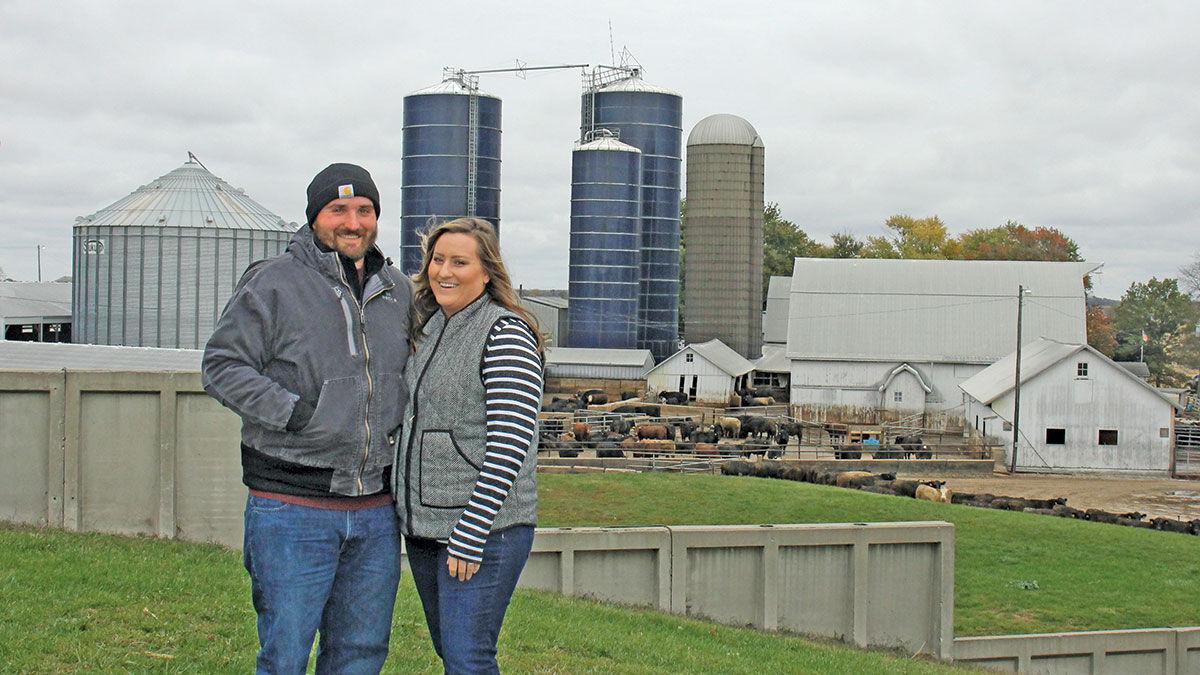 GENESEO, Ill. — This has been an eventful year for Weber Beef Farms.
On the positive side, they were named the 2020 Commercial Producer of the Year by the Illinois Beef Association.
On the challenging side, the Geneseo operation — like other livestock producers this year — had to pivot quickly this spring when COVID-19 infected many processing plant employees. They had to alter rations to maintain cattle weight for their custom-feed clients until processing resumed.
Another big step this year, which eventually proved positive, was adding new technology to determine specific feed costs. There were some growing pains with the new software, but it is effective now.
"You have to stay relevant in the beef industry," said BJ Weber, the fourth generation on the farm.
He farms with his parents, Jeff and Diane, his brother Jordan, and his fiancée Brittany Witt, who grew up on a cow-calf operation near Charlotte, Iowa.
They also have full- and part-time employees based at the main Weber Beef Farm in northwestern Illinois.
BJ, who majored in finance in college, was considering a career in agricultural business and worked for ADM for a time, but when an opening came up at the farm, he returned.
At the Henry County farm, they custom feed for 17 customers, have a cow-calf herd, a trucking business linked to nearby Tyson, and grow corn, soybeans and alfalfa.
While the operation, started in 1985, is in the top five largest cattle farms in Illinois, they treat all their cattle like their own, Weber said.
"We seldom have room for new ones. Some (customers) have been with us 15 to 20 years," he said.
Jake Fidler, Fairview Sale Barn manager and one of their regular customers, had to wait awhile to get in.
"I've only been there for about a year, but I've had friends, colleagues and customers who sent cattle there for years," Fidler said.
He was happy to see the family recognized by the Illinois Beef Association.
"It is a reputable farmer-owned feedlot. It has a good reputation, good people," Fidler said.
He also likes that BJ is in the younger generation and progressing the business.
"I can relate to that," said Fidler, a third generation in his family business. "It's always good to celebrate good work in the industry."
The Webers work hard to maintain the positive demand from their customers.
"They know they get the best care they can get for their cattle anywhere," Weber said.
At the same time, the Webers strive to be as cost effective as possible to make money for their customers. It is tough with current prices, and it may be tougher in the future, he said.
They have their own cow-calf herd on pasture and offer bed-pack, confinement and outside yardage for their customers. The outside yardage is the cheapest. This way owners get a few housing options to decide which is most profitable for them.
On the crop side of their operation, they were 80% finished harvesting corn by Oct. 26 this year.
"We're ahead of normal," Weber said. He had finished baling all the cornstalks, evident by the long rows along the field.
Now his brother Jordan is in full swing hauling 2.5 million gallons of manure to fields.
Equipped with new technology and with hopes that the pandemic will be under control next year, the Webers are looking forward to 2021 as they continue to improve the facilities for their cattle and hone the feeding operation.
BJ and Brittany also have a summer wedding to look forward to.
Faith is part of the family's bond.
"We feel we want to be good stewards for the Lord in what we do," Diane said.
"There are a lot of challenges ahead and we are ready to face them," Weber said.