PITTSFIELD, Ill. — While the siting process of building a new livestock building may get the most public attention, the work before the shovel hits the dirt has the biggest impact on a farm family's operation — often for generations to come.
Several livestock buildings are currently under construction in Illinois, and a handful of open houses celebrating completed projects have already been held this summer.
Planning for pigs
Doug Harter and his family were among those to host an open house in July, welcoming neighbors and others to see their new 2,500-head wean-to-finish operation in Barry, Ill.
Harter, part of a five-generation farm business that now includes his four children, has plenty of experience with both raising pigs and expanding operations.
"I've raised pigs all my life. When I graduated high school, I was raising pigs outside in 1980," he recalls.
He built his first finishing pens in 1998 and 1999, then expanded 11 years ago with a 3,600- head building. He said there has been a lot of innovation in buildings since his last expansion.
For the last seven years, the Harters have been growing partners with The Maschhoffs. The company took the lead to get the letter of intent to construct out to neighbors as required by the Department of Agriculture.
Still, there were new challenges building this time that Harter hadn't experienced when he built 11 years ago.
"We needed to have an archaeological survey to make sure there were no Indian artifacts this time," he said. That process took 45 days.
The Harters first filed their application in October, went through the required permitting process and months of construction and were ready to accept their first load of pigs on July 26.
They farm 800 acres of soybeans and corn, but Harter knew that wasn't enough to support his three sons, Bryce, Cayden and Camden. Doug's wife, Kim, is a physical therapist but often helps sort pigs when she gets home from work, and their daughter, Kelsey, is a nurse.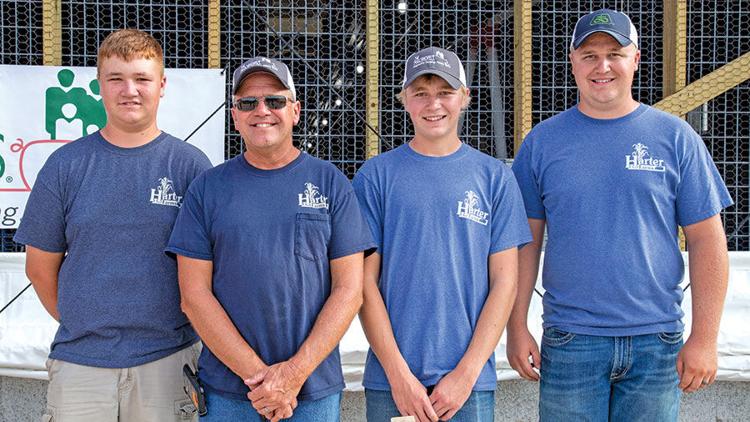 They were all on board for the livestock expansion. The family is able to manage the work with minimal outside employees, he said.
"You've got to be committed and like pigs. It's a seven-day-a-week job," Harter said.
The advantage of growing contract pigs is that there is a good cash flow and a guaranteed income with hard work, he said.
Better beef
Some farmers have more initial planning to do, said Nic Anderson, business director of the Illinois Livestock Development Group. Cattle farmers need to choose a barn style, costs, feed system and marketing, so they spend more time planning before construction.
Mclane Steidinger called Anderson a year in advance of seeking the notice to construct a new beef barn.
He helped the Steidinger and Stoller families, owners of High Tower Farms in Gridley, Ill., to make early plans to build their deep-pit cattle finishing monoslope barn three years ago.
"Talk before you start spending money," Anderson said.
He said it is also wise to visit other operations and see how their barns work. In that way, open houses are a bit of an "incubator." That was the case at the recent High Tower open house, with other farmers interested in building attending and asking questions.
"It's big celebration for my dad, my husband and my kids," said Leah Steidinger of the operation her husband Mclane operates with her dad Clark Stoller.
The 69x214-foot barn includes three pens of 120 cattle each.
"It's the culmination of many years of prayer," Stoller said.
"We started feeding in this building in 2015, and it's been a blessing ever since," Mclane Steidinger said.
The cattle come in at 800 pounds and go out at 1,400 pounds, with two groups of cattle going through the barn each year headed for Tyson Foods.
The monoslope barn has a 12-foot-deep pit, and the slats are covered with rubber mats for cattle comfort. The partners said in discussions about the best manure system, they made some changes with advice from the experts.
"The building design is animal-welfare oriented," said Paul Walker, Illinois Beef Association director. "They did a lot of things right from the get-go."
Following the process
"There's a lot of work to do before you file for a permit," Anderson said. He said that's not a bad thing. As farmers go through the siting requirements, including location, setbacks, environment and county zoning rules, they may find some areas of their own plan they can improve.
"The process always makes the farmer a better farmer," Anderson said.
Farmers have adapted to the requirements of the Illinois
LFMA, which Anderson said has some of the strongest rules in the Midwest. The setback requirements are three times tougher than in Indiana, he said.
It often takes 60 to 90 days to start construction after the notice of intent to construct is issued with the Department of Agriculture. The process may also involve a call for a public hearing if more than 1,000 animal units are involved with the new structure, or a petition with 75 names will prompt the county board to call a public meeting.
Anderson said he, commodity group specialists and engineering experts often help a farmer answer questions.
"The fear of the process shouldn't hold people back," said Tim Maiers, communication consultant for the ILDG.
The process is robust enough to assure people that the building are built in the right way.
"Building a new building invigorates the whole family," Anderson said.