EUREKA, Ill. — When Chad Leman was a young man, a job working as an outfitter in Idaho looked more appealing than working at his family's central Illinois farm.
"In high school, I told my dad the only way I would come back to the farm was if he got rid of the pigs," said Leman. "At 20, I wasn't sure if I'd come back."
But by 1993, he knew that farming was where he would make his living and returned to the farm here.
Leman and his wife, Staci, are raising their four daughters near where his grandfather, Vernon, started as a tenant farmer working for a widow. Leman's dad, Keith, was the only one of four sons to take to farming and Leman, who had two sisters, is the only one in his generation to choose to farm.
They didn't get rid of the pigs. In fact, the farm, with its contract growers, now markets between 80,000 and 90,000 pigs per year.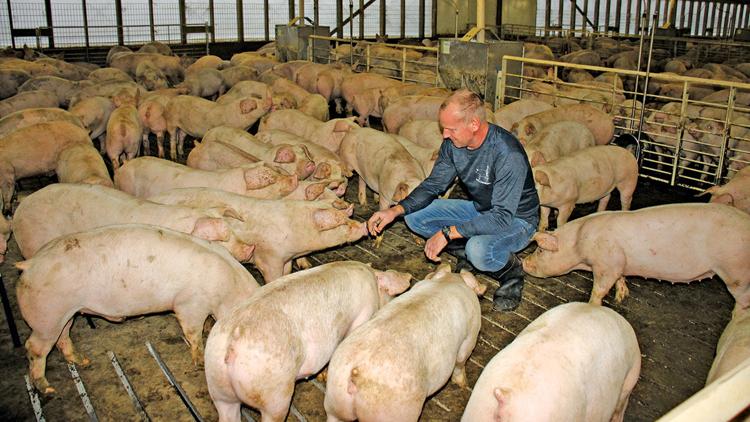 Crops and pigs
Their farrow-to-finish operation and crop farm has six employees.
"They are long-term employees who do a great job. They are flexible — able to drive trucks and tractors and load seed," said Leman, whose family also has a Pioneer seed dealership.
His father added a seed treatment operation to the farm about 10 years ago, treating seed for most of their Pioneer customers.
"We are responsible for growing and raising a variety of crops — corn, beans, pigs, grass — and being a good steward of all of them," said Leman, who prefers to be called a "farmer" rather than a "pork producer" or a "pig farmer" because raising pigs is one part of what he does. 
Leman Farms Inc. includes contract growers with pigs in Tazewell, McLean, Woodford, Livingston and Marshall counties in central Illinois.
"The barns are spread around the countryside," said Leman, who is looking to expand steadily if opportunities arise. "We partner with other farmers using their barns for our pigs and their labor."
All of the corn he grows is used for pig feed.
"At these (corn) prices, we'd rather walk it off the farm than haul it," he said.
The farm mills 90% of all its feed. The operation also uses a lot of distillers dried grains with solubles (DDGS).
His finished pigs are sent to one of three locations in the Midwest "I" states: Beardstown, Illinois, Columbus Junction, Iowa, and Logansport, Indiana.
Biosecurity measures
Of course, biosecurity is a concern here, as in any modern livestock operation, so visitors must follow the rules of showering in and out and wearing appropriate gear. The sows that supply the pigs for Leman farms are raised in western Illinois and in Indiana in vet-managed operations, Leman said.
But Leman doesn't want the security system to prevent people from seeing the pigs. He doesn't want consumers to think farmers are hiding something, so he makes arrangements for interested people to visit his operation.
"As farmers, for many years we assumed the public and consumers trusted us, and didn't know why they wouldn't," Leman said.
But attention has been drawn to "bad mistakes" in farming by YouTube videos and negative stories, while good farming news gets little attention, he said.
Also, marketing for "fake meat" is strong today, making it more important for livestock farmers to tell their stories, he added. Leman believes in telling people about why pigs are housed a certain way, or why using antibiotics may be the right choice to care for animals in certain situations.
On a tour of his newly renovated barn, he explains the ventilation system and shows how renovations improved conditions for the employees and for the comfort of the pigs.
Leman, active in his church in Mackinaw, has also been a director for the Illinois Pork Producers Association for years and is chairman of the marketing committee. He's willing to sacrifice time to be involved in advocacy of the industry he works in, just as he has made time to be a school board member for 13 years in the district his four daughters attend.
Looking ahead
"2019 was one of the most difficult years I recall," Leman said.
With trade issues throughout the year, there was some good news, but long periods without news. African swine fever's impact on pork production, especially in China, was on the minds of farmers. Those uncertain issues made it difficult to know what to hedge and how to handle marketing.
His mind was wrangling over decisions.
"How do we position ourselves for the future?" he said.
Leman said he appreciated consulting with CIH Commodity and Ingredient Hedging LLC when making decisions in difficult circumstances.
He said farmers who are still raising pigs are determined to make it through challenging times. Many pig farmers left the business in the crash of 1998, another surge left during the high corn and soybean prices in 2012 and 2013.
"Those still raising pigs are pretty thick skinned," he said, adding that he is looking forward to this year where there seems to be more good news on the trade front.
"Frankly it's nice to be moving on from 2019," he said.