ELKHART, Ill. — While some children's play focuses around a computer, phone or television, 2-year-old Coley Olson's is around a kitchen set near pails of pig feed in the family's new show pig barn.
She carefully pours feed into pails and makes little goodies in the kitchen or chases her three brothers up the main aisle of the barn.
Her parents, Blane and Kristi, grew up on farms working with animals, and their giggling daughter and sons, Braden, Kelten and Luke, seem just as at home in the barn.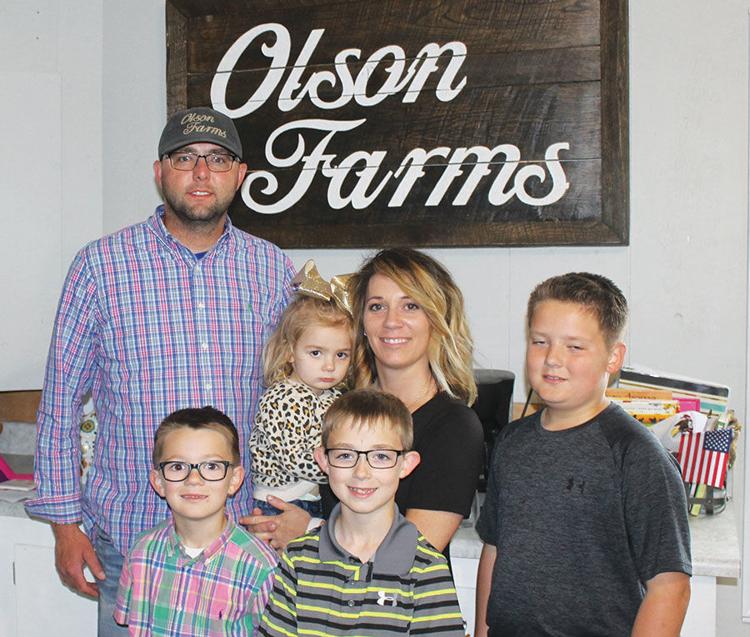 Family tradition
The Olsons raise purebred Duroc show pigs and some mixed breed in a new building they erected on their farm last year. The family moved from Lincoln, Illinois, back Elkhart to be nearer the rest of the family farm.
"It gives me more time to be with my wife and kids," Blane said. "My grandparents are retired now and we farm with my parents."
Kristi and Blane focus on the pig part of the operation, but are also active with the cropping side of things. In mid-May, like everyone else in central Illinois, his family was a little later than usual getting started with corn and soybean planting but was ready to roll as soon as the weather allowed it in Logan County.
Family vacations are often camping at state fairs or pig shows, Kristi said. They still find a way to fit in other activities, including watching the boys' baseball games and attending concerts at school, but the pigs seem to bring everyone together.
For Blane, raising pigs started with 4-H and FFA projects.
"County fairs were bigger then," he said.
He remembers his first big win netted him an engraved silver tray when he was 14 years old in 1998. His mother served cheese on the silver tray, which annoyed him.
"We got through it," he said with a smile.
Today, Kristi and Blane's glass-doored kitchen hutch displays silver trays the family has won at shows over the years. No cheese is served on them today.
"They are dairy free," Blane joked.
Kristi grew up on a purebred Hereford farm in northern Illinois and was familiar with the lifestyle of raising animals. Together they made what started as Blane's hobby into a business which serves customers throughout the United States.
She graduated from the University of Illinois in Champaign and he is from Western Illinois University in Macomb, where he was a member of the livestock judging team. He continues to judge pig shows.
"I like the opportunity to work with kids," he said.
Building on success
Blane attributes their success in the show business to treating people the way they want to be treated and having success in the show ring. For example, at the 2018 World Pork Expo, High Alert x Attention, shown by Kelten, won the third overall Duroc gilt and the champion Division 1 Duroc gilt.
This year things will be different with the cancellation of the World Pork Expo because of concern about the spread of African swine fever, but the family is happy the junior shows will continue in Des Moines because the annual June show is a big focus of their business.
Blane has seen opportunities for young people showing pigs change over the years. The National Junior Swine Association was founded when he was 14 years old; before that, the opportunities for showing were mostly county as state fairs. Now thousands of hogs are shown at the national junior show.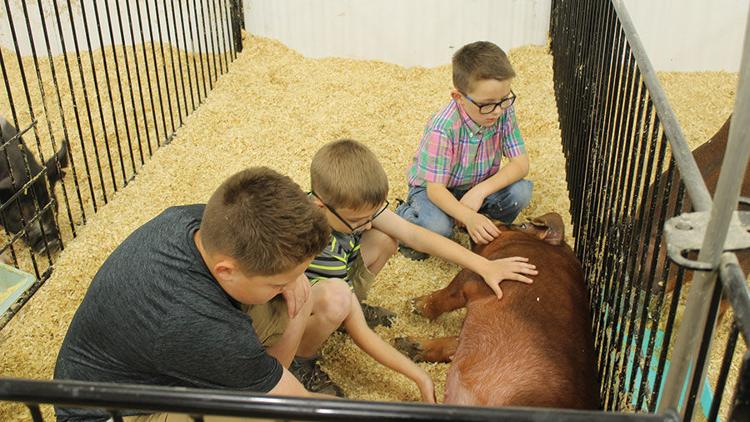 Olson Farms is based on about 15 sows which are housed about a mile east of their pig barn. They are not commingled as part of the biosecurity and health plan. Blane said some show pig breeders have as few as one or two and other operations have 300 to 400 show pigs.
"We are right in the middle," he said.
Interest in different parts of the country is growing. Only last week, Blane got a call from Mississippi requesting a pig that hasn't even been born yet. He said the buyer's daughter previously showed a winner from Olson Farms.
"There is loyalty involved," he said.
Industry involvement
He notes that his pig business is a little different than the average pork business today. Other young people are getting into the family pig business as contract growers.
Blane, who is a director for the Illinois Pork Producers Association, is in a different sector of the pork business than some of the other directors and is younger than many.
He said he and other young farmers, including Thomas Titus of Tri-Pork Inc., who also has a show pig operation and a young family near Elkhart, can contribute different perspectives in making the hog industry strong.
"I feel like we are part of something bigger," Blane said.
"Blane has been a wonderful addition to the IPPA board, and specifically our youth and education committee," said Jenny Jackson, director of communications for the Illinois Pork Producers Association. "He brings fresh ideas and new ways to connect to youth in the swine industry. With his connections in the show ring, we are able to create new outreach efforts and reach new people."
The Olson business also has room for all generations. When his dad isn't deep into cropping season, he loves to deliver some of the pigs to buyers in different states, Blane said.
And the Olsons are raising their kids so they will have an opportunity to come back to the farm if they choose to, Blane said.
"They take pride in ownership in what they do," Blane said of his children's growing involvement in the family business. "Maybe someday they will own their own business or help someone be successful in theirs."