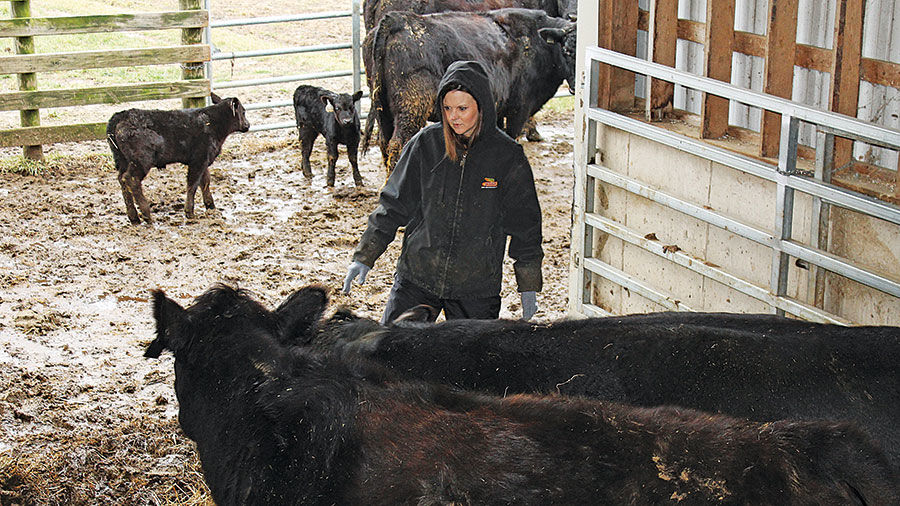 AVISTON, Ill. — Clinton County beef producer Kimberly Wolter pursues quality with the determination of a racehorse stretching for the finish line.
Wolter — with help from her husband, Bradley — manages a 160-head herd of purebred, registered Angus cattle spread over two states. The goal is premium beef, achieved through superior genetics, good management and personal attention.
Wolter is enthusiastic, but she is not complacent, always striving to make the herd better.
"We're passionate about it," she said about her desire not only to raise quality beef, but to improve the breed.
Bradley defers to his wife for much of the cattle business. His day-to-day focus is on pork; he is president of The Maschhoffs, one of the largest pork producers in North America. Biosecurity concerns prevent him from raising pigs on his own farm. Still, he is an interested party in his wife's business.
"It's much more hers than mine," said Bradley, a geneticist. "I like the technical piece of it. I'm an animal person, so I like to come home at night and work with the animals."
The couple, who both have backgrounds in livestock, met while both were attending the University of Illinois. They decided to start the herd largely because of their children, 13-year-old Lauren and 10-year-old Blake.
"After we had our first child, we said we need some livestock for our future children to be raised around," Wolter said. "With our first heifer, it slowly grew from there. As our kids have gotten older and more involved, it's truly a family operation.
"We decided to invest in Angus because looking forward, we recognized that the breed was doing great things. Also, the junior program was outstanding."
The animals are divided among several locations because there isn't enough land at the home farm. Partners in Clinton and Randolph counties in southern Illinois keep some of the cows. Animals are also raised near Lawrenceville, Augusta (where Wolter was raised) and at a farm in Missouri.
Most cows are fall calved, and Wolter doesn't leave anything to chance. She has the pregnant cows trucked to the home farm prior to giving birth so she can oversee the process and help if necessary.
The cows are impregnated with artificial insemination or embryo transplants.
She spends much of her time on the extensive paperwork necessary for genetics research. The couple works closely with an Angus genetics team.
The animals are bred for a number of traits, such as low birth weight for ease in calving. But the bulk of the breeding is aimed at consumer demand. The goal is to produce high-quality beef, she said.
"We're really looking at the meat side of it," Wolter said. "Once we calve these calves and once we sell bulls, we try to buy back as many as we can, with the intent that we are able to finish them and sell certified Angus beef. We finish a lot of animals.
"We're looking at a large ribeye area and great marbling. That's our goal here. We've been able to tap a local market of people who want our beef."
The herd is one of the first to participate in an experimental trait related to foot score evaluation.
They market the beef as a premium product under the farm name Windy Hill Meadows. But in the end, the operation must be profitable.
"We know that you have to compete on cost," Bradley said. "It's still largely a commodity. We're not the only ones out here selling meat. Ours are selected for growth performance and feed efficiency."
The carcass quality justifies the extra costs associated with the herd, such as registration and transportation of the animals from one farm to another.
"We have the ability to receive a premium on our calves if we market them directly because of the genetics being so similar," Wolter said. "There is local consumer demand, and we sell some on the rail, too."
Bradley sees room for improvement in beef. In his management role at The Maschhoffs, he was involved for three years with poultry after the company purchased the Minnesota company that produces the Gold'n Plump brand. The couple are doing their small part in taking the industry to the next level.
"I felt that pork production was behind poultry," he said. "As she's brought me into beef, I feel that it is behind pork production, from a science and technology level."
Wolter admits the animals are a bit spoiled.
"At our place, the cows always eat before the humans eat," she said.