DALTON City, Ill. — Mike Weidner started showing his Milking Shorthorn cattle at the Illinois State Fair in 1934, one year before his curly-headed daughter, Shirley, was born.
She was destined to take his business to success beyond his dreams.
By the time the energetic girl turned 5 years old, she was showing at the state fair.
"Daddy let me. I was just as happy as can be," says Shirley Harris, now 84.
She points to a photo of herself, competing with her arm in a cast at her first state show in 1940. This treasured black and white photo is part of a banner for the 2019 Illinois State Fair celebrating Weidner Prairie Farm's 85th year of showing cattle at the fair in Springfield, Ill.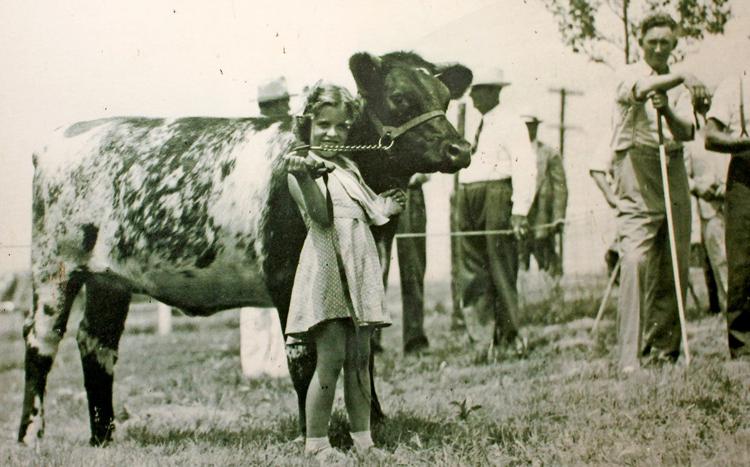 They have not missed a single year. And, yes, they are making plans for the 2020 state fair in August.
Banner years
The celebration banner shows other important stages in the farm's history, including photos of Harris' dad with his first Milking Shorthorn heifer and first bull of the same breed in 1929. He chose this breed over Holsteins in part because they brought more money at sales and were still good milkers, she says.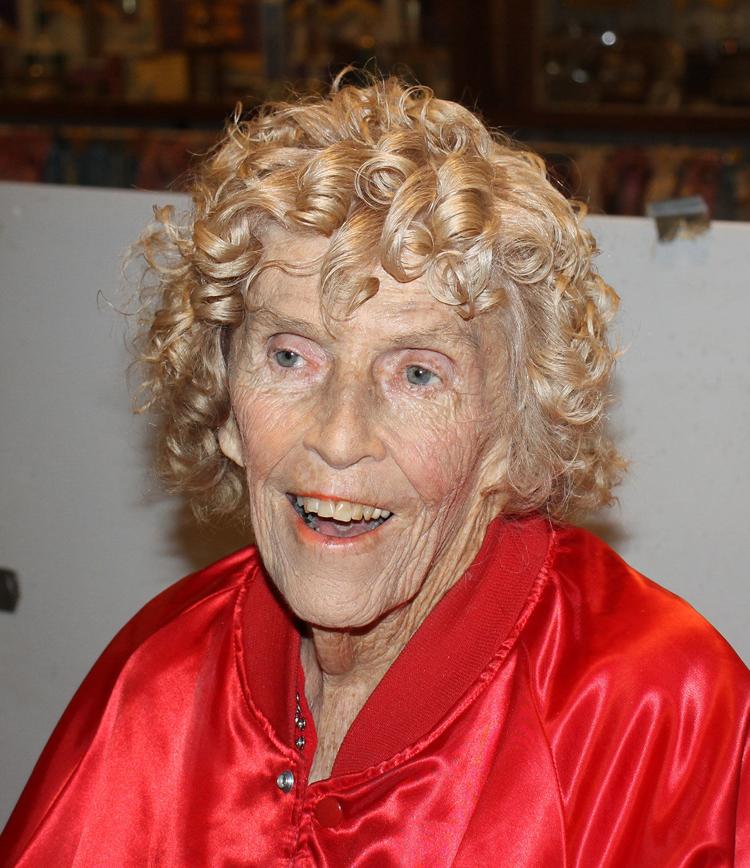 While the family stopped milking the dairy cattle years ago, Shirley continues the legacy of breeding and showing. She showed the cattle in the ring for more than seven and a half decades, and she still plays a big role in choosing the best ones.
"She still picks the cattle we show," says Eric Cheever, her herdsman. 
By 1966, she had won so many trophies and banners, she and her husband Bill built a shed to house them. Today the display shed holds thousands of pieces of memorabilia — ribbons, trophies, old milking cans and even a lamp that lights up showing a 1951 Indiana State Fair championship bull.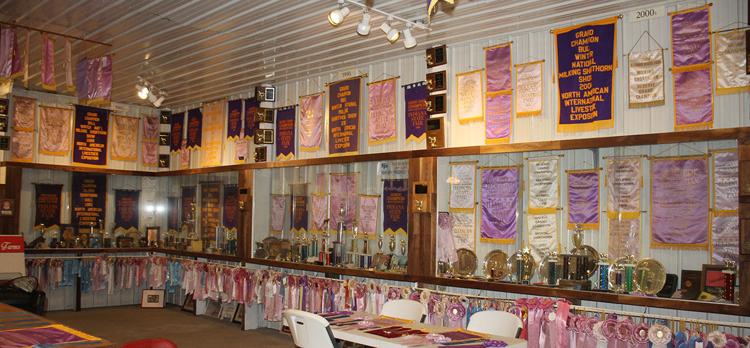 "I wouldn't change my life for anything," says Harris, whose work with livestock afforded her the opportunity to see much of the country.
The awards in this room are from state fairs and championship shows across the nation. The sight, upon entering the room awash with ribbons and trophies, is breathtaking.
Still, the packed shed only holds a portion of her winning ribbons, Cheever says. Only champion and first place ribbons make the grade to be on display. Harris has trunks full of other ribbons stored away.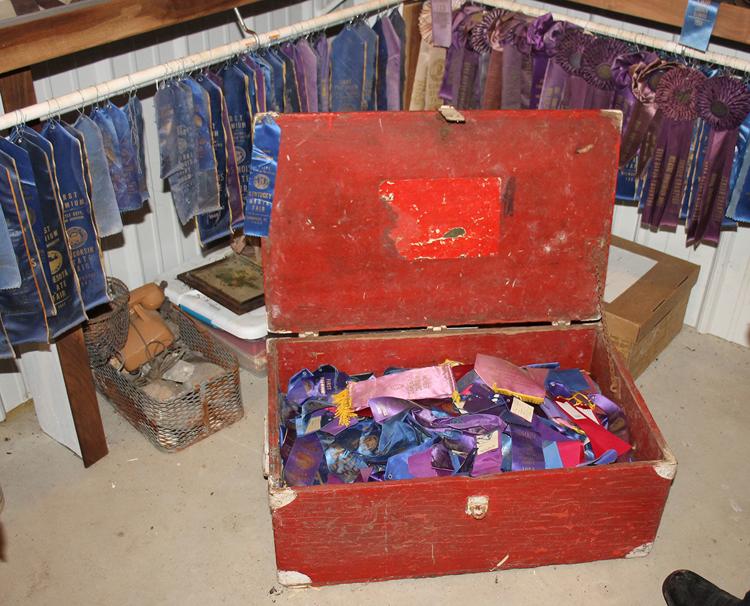 "These awards represent years of work — sweat, blood and tears," Cheever says.
Cheever, Harris and her son, Bill Fiesler, a dentist in Decatur, Illinois, have spent dozens of hours sorting and restoring the awards hall. Even though they are out of space again, they keep winning. The 18 winning ribbons of 2019 take up a table of their own. Prestigious World Dairy Expo trophies from Wisconsin in 1987, 1988 and 1995 huddle together in gleaming silver in another part of the victory hall.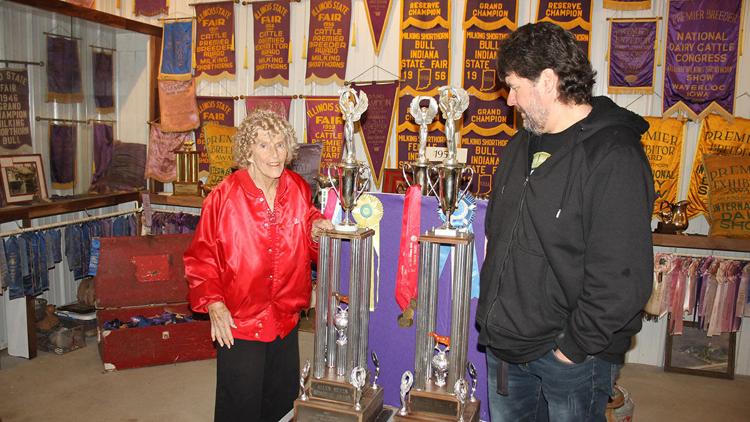 Some memorable events are recorded in racks of newspaper clippings. One rack is devoted to the year Weidner Prairie Farm hosted the Farm Progress Show in 1991, before the show's permanent biennial Illinois site was established in Decatur.
Proving herself
One day which still stands out in her memory was in about 1980, when her dad told her he was ready to get rid of the herd because he couldn't take care of it anymore. "'Let me do it, Daddy,'" was her response.
Harris knew she had to prove herself in a field dominated by men. When she came home with a World Dairy Expo championship trophy the first year after taking over, her dad almost looked a little disappointed. "'I knew you could do it. I didn't think it would be that quick,'" she recalled him saying.
That bit of praise motivated her.
"I had to prove to my dad that I could do it, no matter what it took," she says.
She had such winning ways, sometimes she was the subject of practical jokes. At the Du Quoin State Fair in southern Illinois one year she won every class. When she got back from lunch, her bouquet of prize blue ribbons had been replaced by pranksters with yellow and white ones.
In the early days, she was the sole representative of her gender in the ring.
"I was the only woman out there. As time goes by, there are lots of women raising and showing cattle now," she says.
Winning reputation
Wearing a bright red jacket bearing the family farm name, Harris' blonde ringlets bounce like her namesake, Shirley Temple.
She has met celebrities in her day, including Gene Autry, the Singing Cowboy. He rode up on Champion the Wonder Horse at a 1955 show and was so impressed with her he offered to sign the Premier Exhibitor banners she won that day. The two signed banners hang in a place of honor in the awards shed.
Clearly, Harris' winning ways must have been intimidating to some of her competitors. As soon as they saw the names of certain Weidner bulls on the program, they knew their chances of winning were slim.
"Monster — he would just win and win," says Cheever.
"We loved Monster so much. He was undefeated at the World Dairy Expo," says Harris of the two-ton bull with a "sweet disposition." "For the 16 years we showed him, he won every time."
Even after all these years of working with livestock, she says she still cries when they lose a cow.
"We don't look at them as just cows," says Cheever. "They are smart and they are funny."
As Harris and Cheever leave the awards room behind and tour the farm, one cow heads straight to Cheever as soon as he opens the gate.
"She always tries to be first," says Harris, with a smile.
Judging from all the awards, Harris likes to be first too.