BLACKSTONE, Ill. — One of the things Art Lehmann especially enjoys after 50 years raising pigs is helping new growers and young people get into the business. He said he was happy to have a role in that as the Defenbaugh family opened a new wean-to-finish pig barn this month in his home county of Livingston.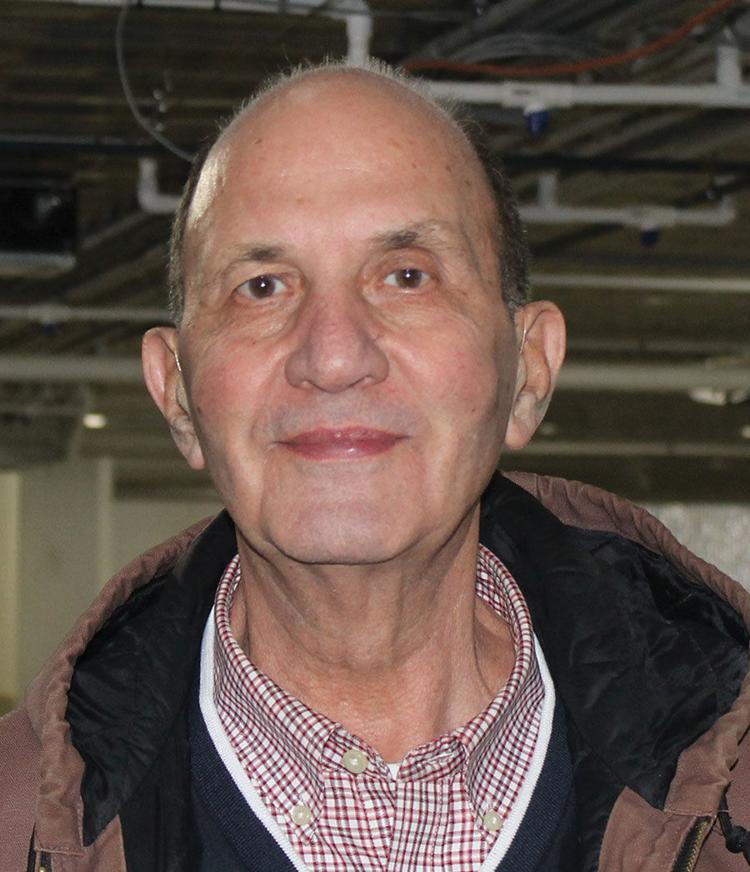 Kevin and Tabitha Defenbaugh became the 22nd family to be grower partners for Lehmann Brothers Farms when they built a barn this winter that will house 2,496 pigs.
"Young growers and young employees — that's been one of my biggest joys in raising pigs," Lehmann said at the Defenbaugh open house on Jan. 8.
He added that many innovations make raising healthy pigs much easier than when he started raising them on pastures and muddy lots outside.
"Overall the pork business has been very good to us, but there have been some tough times," Lehmann said.
The Defenbaughs' new barn includes a Maximum Ag Technologies control panel that gathers and provides information about feed, ventilation and other aspects of the building. The couple can access it off-site, through their phones and laptops. It will send an alarm if there is an issue — with specific information that the problem is with a certain fan and a location, for example, said the technology company's asset manager, Dustin Reed.
"We try to adopt as needed to be better marketers," Lehmann said of one of the design benefits in the new building. It allows sorting before market day. It is easier on the pigs on loading day and more efficient, he said.
The pigs will come into these barns at about 15 pounds and leave at about 290 pounds approximately six months later, Lehmann said.
He learned of the Defenbaughs, who were looking to add diversity to their crop and beef farm, through a mutual friend.
"It's a neat connection," said Tim Maiers, a consultant for the Illinois Livestock Development Group, which helped organize the event and provided information for the Defenbaughs in getting started. "Art is a great leader. It's great seeing him here to help young people. He's been in it so long."
Kevin and Tabitha decided on this route for expansion a little more than a year ago when they looked for the best way to expand their operation for their future and that of their children, Callie and Easton.
Tabitha said she is excited and impatient to get working with the pigs. She also works for Sunbury Township.
Kevin, a sixth-generation farmer, had experience farming with his dad, Brian, before growing his own farm. Most of his neighbors have been supportive of the plan. He said one of the hardest parts was some opposition at a council meeting early on. But some of those opposed have since become more receptive when they learned there wouldn't be issues with smell and that the operation follows strict manure regulations and state environmental standards.
The Defenbaughs shook lots of hands at their open house and got encouragement from other farmers.
"It is so nice to see the younger generation getting into livestock," said Bob Bennington, who works at a nearby elevator. "Livestock is making a comeback in this area in the last few years."
"We broke ground on Oct. 13," said Darren Brown of Hog Slat, who is working on another building in Lee County, Illinois. Most the new livestock buildings he worked on last year were in Michigan.
Maiers said he has seen some slowing in livestock building expansion in Illinois recently — "there's a little uncertainty in the markets" — but both hog and beef building construction continues. There are a couple of new buildings coming along in Adams County in western Illinois, he said.
People are still looking for sites. As grain prices stay low, farmers want some diversity.
"A lot of people are scared. You just got to go for it," Tabitha said.