HINCKLEY, Ill. — Jenny Flint is a self-professed "extreme penny pincher." That characteristic has served her well, allowing her to buy a small farm in 2012, at age 22. Two years later, she started selling meat off the farm, only months after becoming a new mom.
Growing up, "I used all my savings and birthday money to buy cattle," she said of her teen years on the family's farm near Hinckley in northern Illinois.
She built her savings doing chores, bought more cattle, and saved more money.
She started working at Pitstick Farms, a pork operation in nearby Shabbona, Illinois, as a senior in high school. She liked it so much she worked there for seven years, specializing in farrowing.
When she was pregnant, it was time to make a change, and her meat business, Family Farm Meats, was born. She sells out of a converted garage on her farm.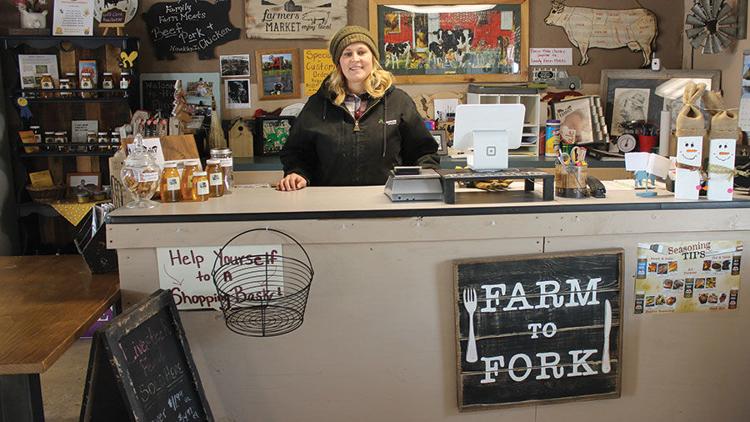 Buying the farm in 2012 was really a homecoming for Flint. She lived here the first 18 years of her life, until her parents, Ron and Rhonda Flint, bought another farm and moved to Maple Park, about 20 miles away.
When the family moved, they sold surrounding land, and put the remaining 3-acre homestead up for sale in 2008. Every time Flint drove past on her way to work, she longed to live on the family farm where she had grown up with three sisters.
"All us girls showed cattle and fed hogs," she said.
She said she had a good role model in her Grandma Flint, who would drive the stake truck to the elevator and then come home and make lunch for everyone. Her mom also had a full-time job and then worked with their 40-head of cattle. Her dad had a trucking business hauling livestock. She said she was used to seeing people work hard and still have time for family.
So when she was ready to buy the former family farm in 2012, her parents were ready to sell.
What customers want
Now she sells eggs, chicken, beef and pork from her and her family members' farms. She also sells lamb from a neighbor and turkey at Thanksgiving from producers she knows in Waterman.
"It couldn't have been at a better time," she said of opening the business. "People like to know where their meat comes from."
She keeps adjusting to consumer demand. She had been accustomed to selling halves and quarters. At first she was left with "stacks of ground beef" and was always sold out of steaks.
The cows and calves raised for meat are started on pasture at her parents' farm in Maple Park, and Flint welcomes her customers to visit the animals.
She raises calves and has two sows for farrowing — still one of her favorite agricultural endeavors. Along with chickens and goats, on the farm this time of year are two big bulls that belong to her parents. When the weather gets nice, they will return to pasture with the cows to do their job.
Expanding thoughtfully
Buying the farm was a big first step, and she's getting her footing, growing slowly. She started with four freezers for meat and has 12 now to meet the growing demand.
She recently started selling livestock feed — mostly chicken feed — and hopes to expand that part of her business.
Flint already handles products from other area farmers and would like to expand her products enough to become a "country store."
"It would be like a year-round farmers market," she said.
She has hopes of moving from the converted garage to a real storefront on the property. She's even thought of hosting farm dinners featuring her meat along with vegetables and other products from her neighbors. But, that is just an idea at this point.
Her son Owen, now 4 years old, goes to preschool three days a week, but when he's home he likes to help with the animals. He gets right in the pen with his own goats. He also likes stacking firewood, his mom said.
Flint credits support from her parents, sisters and other family. She said with Owen and her boyfriend, she is seeing the business she has dreamed of grow.
For other young people wanting to farm, "I would say you've got to have dreams and goals," Flint said. She always dreamed she would raise livestock and sell meat. And now she does.
Find the store online at FamilyFarmMeatsLLC.com and on Facebook.