REDWOOD FALLS, Minn. — A southwestern Minnesota couple started using cover crops long before cover crops were cool.
"We did cover cropping before it was called that," said Grant Breitkreutz, and used the forage as feed.
They made some farming choices that were non-traditional in their neighborhood in Redwood County, Minnesota, and raised some eyebrows initially. Now, the eyebrows are raised by impressive results, they told a group of journalists on an Agricultural Media Summit tour last month.
They call what they do on 1,300 acres with wooded pasture land and row crops "regenerative farming."
Grant's wife, Dawn, who didn't grow up on a farm, would often ask why things were done a certain way. Now their choices are based on a combination what is good for the soil and animals and what is profitable, they said.
Their switch in farming philosophy started with a field that had a soybean-corn-wheat rotation. About seven out of every 10 years, the income from that field came mostly from crop insurance. They started grazing alfalfa there and eventually developed managed grazing with a variety of materials.
"Now it is one of our most productive fields," Grant said. "It's been a 20-year journey."
They also switched to no-till soybeans in 1998. One-hundred percent of the corn acreage also became no-till nine years ago. Their no-till corn grows with an active cover crop over the soil at its "feet."
Today, their operation incudes 150 cow/calf pairs, 750 head of cattle for custom feeding, 465 acres of permanent pasture land, 250 acres of no-till corn and soybeans and wheat and 50 acres of alfalfa. Their daughter and son-in-law operate Ten Creek Range, a direct marketing enterprise for the farm's beef and pork. Diversifying their income has worked well for them, Grant said.
"Our neighbors think we are crazy," Dawn said.
But many are now are experimenting with new farming practices too — at least with parts of it, she said.
Improving soil structure
This year's rainy spring showed the differences in water infiltration in their soil. Grant took photos after heavy rains of side-by-side fields, one using conventional methods and the other a field which never has bare ground. The difference in erosion is clear.
"The high infiltration rates change the way the water moves," he said.
Their Red Angus cattle are part of their system, which helps them cut input costs. The couple said they have reduced their cost of production by using 80% less synthetic fertilizer compared to the past, managing their grazing systems to spread more manure.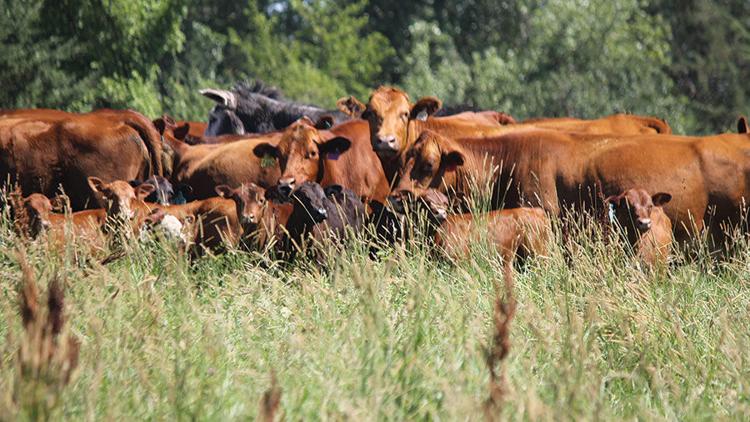 Their system of grazing and cropping helps them comply with Minnesota's water quality buffer rules. Their certified practices exempt them from some regulations, as long as they maintain certification.
The farm is not certified organic today, but Grant said he would like it to be someday.
Building on diversity
Part of the reason they have been able to increase profitability is by reducing herbicides and fertilizers, Grant said. They produce four to six times more forage with no synthetic additions. The increase of production has allowed them to increase cattle numbers on the same amount of land.
"The quality of forage is way better," he said.
They believe in diversity in their cover crop content as well, growing about 14 different species of cover crops. A mix will often have three grasses, three legumes and three forages.
"We have much more success than we had with a single species," Dawn said.
They are still careful to test their feed to make sure the cattle are getting proper nutrition.
For their row crops, there are savings as well.
"We don't need BT corn and don't have cyst nematode in soybeans," Grant said of cost savings on pest control.
Herbicide savings come from the weed control cover crops provide.
"We cut our herbicides to less than half," he said.
While the couple has won numerous awards for their environmentally friendly practices, they say they still are experimenting to find the best practices.
"We are still learning," Grant said.