SPRINGFIELD, Ill. — Doug Turner, who was the chairman of the Illinois Beef Expo for 31 years, now retired from that duty, said he was a little worried about how the 51st Illinois Performance Tested Bull Sale would turn out on Feb. 21.
"We were all a little nervous about how things would go with the current farm economy," Turner said.
But he didn't need to be. With 48 bulls on live auction at the Illinois State Fairgrounds in Springfield, the average price of bulls sold was $3,755.
There was a good crowd, he said.
"They came here to buy a bull — it's just (a question of) what were they going to pay for it," said Turner who runs an Angus and Shorthorn cow-calf operation in Mahomet in eastern Illinois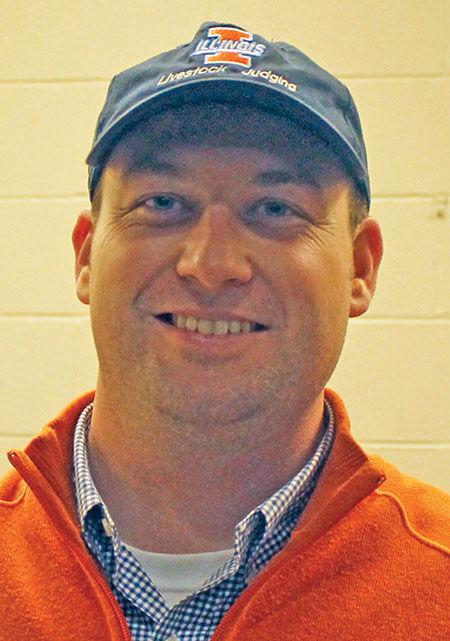 The sale grossed $180,150, said Travis Meteer, the Illinois Performance Tested Bull Sale manager.
"It was consistent with last year," Meteer said of the 51st annual sale. "I thought we had a good sale."
One of the highest prices went to a Simmental bull (Lot 34) from Haven Hill farms in Milan, Illinois, that sold for $7,500. Another standout was a Hobbs Angus bull (Lot 17) out of Good Hope, Illinois, that sold for $6,300, Meteer said.
The sale is also a popular one because it is known for its quality, said the University of Illinois Extension educator. The bulls are screened, scanned and meet a list of criteria.
It is the third year genomic enhanced expected progeny differences (GE-EPDs) have been required here, Meteer said. These values use known pedigree, performance and genomic information about an animal, its progeny and other relatives.
"It increases reliability of the bulls," Meteer said.
During the past 50 years, 4,740 bulls have sold for more than $8.7 million dollars at this sale. 
Cody Zeeck attended the sale, but he said he was just a "spectator" at this time. He is part of a cow-calf and feeder operation in Havana, Illinois, with his dad and grandpa.
"It's a little early for us. We like to buy bulls a little closer to grass time," Zeeck said.