Editors note: The Pork Patio at the Illinois State Fairgrounds event was to be held, Aug. 14 and 21. Sangamon County, where the Illinois State Fairgrounds is located, is now an "at-risk county" listed on the Illinois Department of Health website. "We feel that it would be irresponsible of us to encourage a lunch crowd for our famous pork items," the Illinois Pork Producers' Association said in a press release.
SPRINGFIELD, Ill. — When Bayla Crouch finished washing and grooming her steer on a sunny July afternoon, her younger siblings and parents praised her for her good work in training Peanut. Her efforts were intended for the Illinois State Fair, which was another of the many events cancelled due to the COVID-19 threat.
"It's a strange deal not to be planning to go the state fair in Springfield," said Larry Martin, a cattle and goat farmer in Clinton, Ever since he was five years old and holding his parents' hand, Martin, now 77, has attended the fair every year.
When he heard it was canceled, he immediately thought of Shirley Harris of Decatur, who showed her first calf at the state fair when she was only 5 years old. Last year, Weidner Prairie Farm, which her father started and Harris continues, was honored for showing their Milking Shorthorn cattle at the Illinois State Fair every year for 85 years.
In April, Harris, now, 84, said she was looking forward to keeping that record going this year.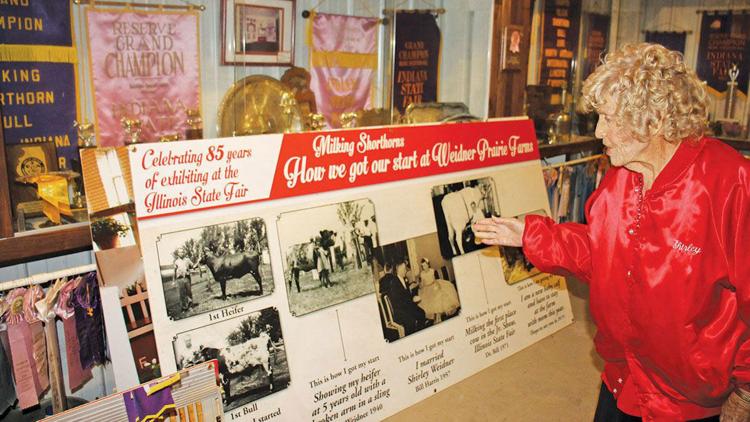 "I thought about that a dozen times when I heard the fair was canceled," said Martin. He has seen her showroom of ribbons and trophies at her Dalton City farm.
Another avid livestock showman, 19 year-old Molly Schempp, will miss her last year showing calves and goats in 4-H at the Illinois State Fair. She will also miss the Logan County Fair's annual scramble event where children and youth win livestock or prizes by catching animals in the ring. Her mom Cindy, a 4-H leader, said youths can win animals by catching them. The youngest children vie for chickens and while older children try to catch goats, pigs and calves. Molly had won her third calf scramble by 2017.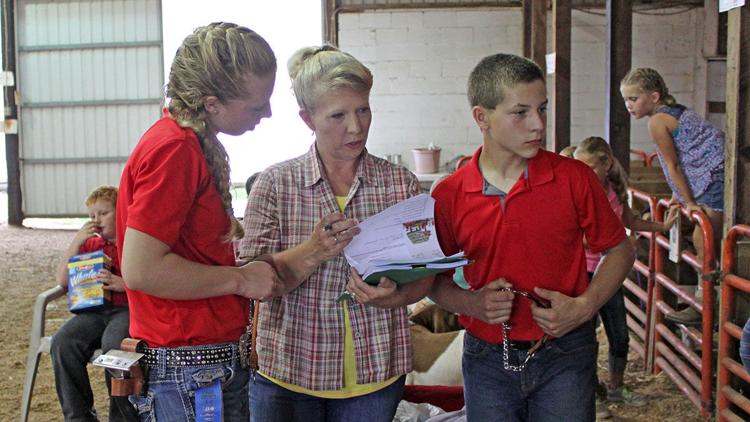 Last year alone, Illinois' two annual state fairs, in Springfield and DuQuoin, attracted more than 600,000 visitors, with many of them looking forward to fair food. For organizations like Illinois Pork Producers Association, not only does the fair's cancellation mean they can't have the biggest fundraiser for their legislative work, but they also miss talking to pig farmers and consumers when they plate the pork.
While each of these people and groups are disappointed about the cancellation of the state fair this year, all of them are doing something to acknowledge the special event.
Pork for the plate
The Illinois Pork Producers Association didn't want to disappoint their fans, so they will be opening their popular Pork Patio at the Illinois State Fairgrounds on the two Fridays the fair would be held, Aug. 14 and 21.
"It will be small scale and drive thru at the permanent site we have at the fairgrounds," said Jenny Jackson, director of communications for IPPA.
The group consulted closely with the Sangamon County Department of Health to ensure they were following all the COVID-19 guidelines, Jackson said.
"We are only serving our top two sellers — chop-on-a-stick and pork burgers, beginning at 11 a.m. both days, until we run out," she said of the event under Commodities Pavilion, across from the Grandstand on the fairgrounds in Springfield.
Drive-thru, grab and go, and limited seating options are offered. Participants are asked to consider wearing a mask and socially distancing themselves if waiting in line, Jackson said.
Spirit of fair prevails
Darin and Cindy Schempp have had a lot of fun following their children, Molly and Cavit, through 4-H and fair activities over the years. Cavit showed his first goat at in Logan County in 2012 after winning it in the goat scramble.
They are still active in any opportunities the fair offers. This year Cavit four entries in the county's virtual fair.
"Typically he would have 30 to-40 entries plus 10 for the open show items," said his mom.
Once those are judged, Cavit will find out if he take one general project to the state level, she said.
Cindy, who grew up showing livestock and in 4-H as well, said 4-H and fair competitions have helped her children on their career paths. Molly, the 2018 Miss Logan County, is Illinois FFA vice president this year and after her term as state officer, she will return as a sophomore to the University of Illinois to study ag education. She hopes to charter an FFA chapter for the homeschool community, said Cindy, who homeschooled both her children. Cavit, 17, also found his love of geology through 4-H projects.
Steer to become a star
Bayla's effort in training her steer and the rest of the Crouch family's enthusiasm for livestock fair shows isn't going to waste either. The very next day after she was grooming her steer, the Eureka, Illinois, family showed steers and sheep at the Woodford County livestock show.
Bayla is even more pleased about the fate of her two steers, Peanut and Mousse. She had expected to sell them after the state fair.
"I didn't know what I was going to do when the fair was cancelled," said the 13-year-old.
A buyer came looking. Abby Reel, owner and operator of The Barn III in Goodfield, Illinois., has a special affinity for Angus cattle, which Mousse is (She named him for a popular dessert at the dinner theater). Reel was looking for a couple of steers to be mascots at the theater. They will have a good home for years to come, Reel said.
Bayla's parents Cody and Katy and her siblings Shyla, 11 and Charley, 5, said they will miss things about attending the fair including the mini donuts and seeing friends. Shyla and Bayla did enter several items in the fair including sewing, woodworking and interior design projects. Bayla was especially pleased with the string art she did depicting her sheep and calf.
Supporters rally for kids
Martin who would miss seeing young people compete, sponsored a youth goat show at Arthur Sales Barn in July.
"110 goats showed up," he said.
Other people sponsored shows for youths and other kinds of livestock at the Arthur Sales Barn as well as at other locations, he said.
"Instead of waiting for the government or someone to do something, livestock people did it on their own," he said.
The kids feed their animals, trained them and had no place to go. People want to make sure they have an opportunity to show, he said.
Show goes on
"These aren't just fairs, they are economic engines for the Springfield and Du Quoin communities that highlight the best that Illinois has to offer and shine a spotlight on kids around our state," said Jerry Costello, acting director of the Illinois Department of Agriculture when the governor canceled the fairs on June. 12
"These kids work all year to prepare for their livestock and projects, so we are determined to still provide them an event that showcases their hard work and perseverance through a very difficult year," he said.
The state fair's 4-H general project show will take place virtually, with premiums and ribbons to be distributed by the Illinois Department of Agriculture, he said.
The Junior Livestock Expo, for Illinois youth ages 8-21, will take place in Springfield over two weekends, Sept. 11-13 and Sept. 18-20. In accordance with safety guidelines, the expo will be held in the "Show and Go" format, discouraging overnight camping and the stalling/penning of any species, according to Krista Lisser, public information officer for the Illinois Department of Agriculture.
Ribbons will be awarded to champions, reserve champions, grand champions and reserve grand champions in each species, and prize money awarded in a "jackpot" style format.
This isn't the first time that state fair-goers in Illinois had to be resilient. The state fair was canceled from 1942-1945 during World War II, as the fairgrounds were used as a U.S. Army Air Force supply depot. The fair was also canceled in 1862 due to the Civil War and was replaced in 1893 by the World's Columbia Expo in Chicago.