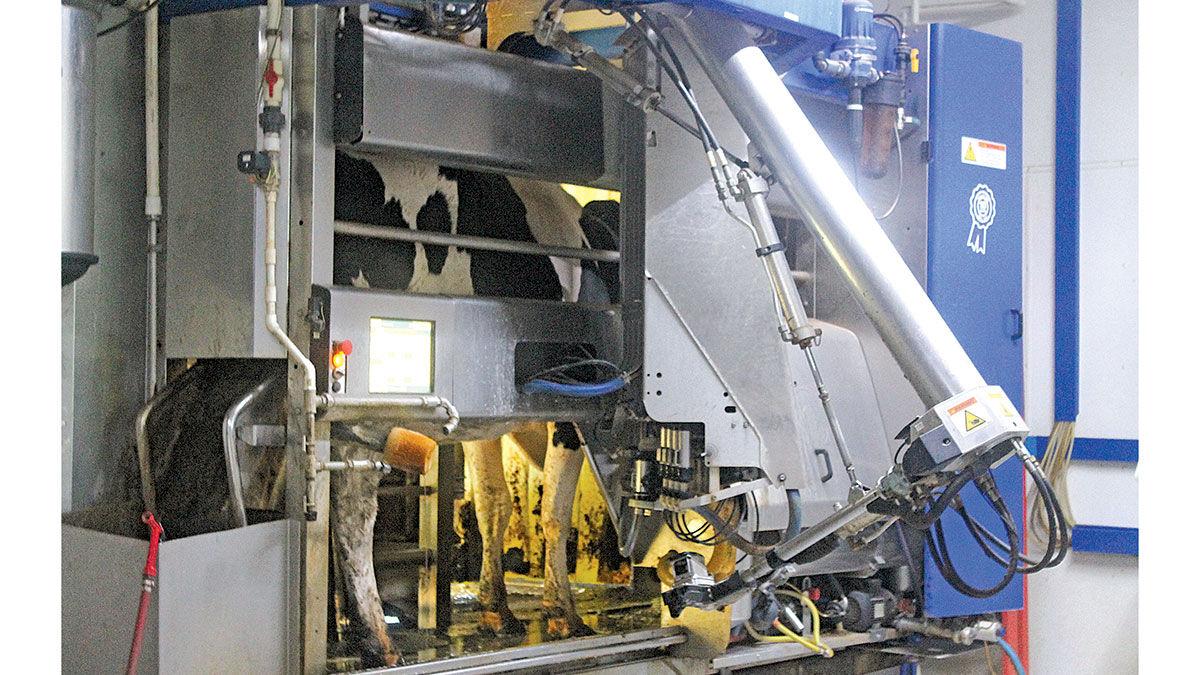 The wave of technological innovation is washing over livestock production as well as cropping systems.
Animal agriculture is certainly not being left in the dust in embracing new equipment, systems and management. Efficiency is only one component.
"In our industry, farmers are incorporating technology into their farms," said Mitch Schulte of the Iowa State Dairy Association. "Some are doing this by choice and some are doing it by necessity because of lack of labor."
Dairy producers are increasingly adopting robotics to do some of the work in the labor-intensive industry. On some farms, robots milk cows, check condition and deliver feed.
"The list goes on and on," Schulte said.
Pork production has also seen its share of technological advancement.
"Technology in the barns and even in the fields is growing," said Sarah Crawford, assistant vice president of sustainability with the National Pork Board. "Our pork producers have always been very willing to adopt technology that will improve efficiency and worker safety and health and swine health."
Pork producers have access to systems that help them monitor animals and signal potential problems.
"As we look at animal health, that's an area where there are different applications where we are able to track what happens to the pigs on site," Crawford said. "That includes microphones in the barns that pick up pigs coughing. That can send an alert to somebody's phone and indicate that there might be a pig health issue."
Systems that allow farmers to control ventilation in barns using their cell phones is high-tech innovation that has become almost blasé.
"That's old news," said Phil Borgic of Illinois-based Borgic Enterprises, which operates a pork business that includes 55 family farms. "We've been doing that since 2013."
Data collection has become a valuable part of the pork industry. Both of Borgic's sow farms have wi-fi, and 95% of input is placed directly into a scanner.
"They don't write their data on a piece of paper. It's a combination of a scanner and your iPhone," he said. "At a sow farm where we have a lot of data collected on a daily basis, that is put on your device. We scan a sow's ID and it brings up their records. At the finishing level, they input their information right into the system and order their feed with their phone."
Ration distribution has gone high-tech on many dairy operations. Many producers who have robotic milkers also utilize automated feeding systems.
"By the pen, you literally program the rations into those pieces of equipment," Schulte said. "A vector operation will come down with a robotic arm, pick up silage and ingredients and mix it. It knows what ration goes where and which animals get different feeds.
"Cows that are milking early in their lactation are going to need higher levels of protein to produce the milk they need. Later stage in lactation or dry cows require less feed and nutrition. ... At the end of the day it comes down to what nutrition that animal needs to stay healthy. For a dry cow, it's making sure to get the right nutrition to them to make sure they have a successful and healthy birth."
Borgic pointed to electronic feeding stations for sows that will distribute a prescribed amount of feed based on body score.
"We use a caliper just like in high school to tell us if she's fit, fat or just right," he said. "We put that information into a computer and it will adjust the amount of feed she receives each day."
Targeted feeding can also help producers track a pig's health.
"There could also be feeding systems where when a sow doesn't eat as much as she normally does that will signal that there is an issue," Crawford said. "There are different applications and programs that are helping to assist producers in making those management decisions."
Technology is also helping with issues such as odor control on pig farms, something that will likely continue to be an issue as urban sprawl brings the suburbs closer to the animals. Claire Master-King, also with the pork checkoff board, pointed to electrostatic fences used in some barns to collect dust particles.
"One of the things that a lot of producers are starting to use in Iowa is electrostatic fences that collect dust particles," Master-King said. "We know dust particles are the culprit for carrying odor. There has been work in biofilters in odor mitigation."
While some consumers may see automated systems as a convenience, it's much more than that to the farmer, according to Schulte.
"Some of it is driven by the fact that the farmer is wanting to pay more attention to the animals," he said.
"They can spend more hands-on time with the animals rather than worrying about feed. Our farmers have a life too. They have kids, they have sports that they like to go to. Those robotics give farmers the freedom to get off the farm a little bit — availability to go to kid's basketball game when normally they would be milking."